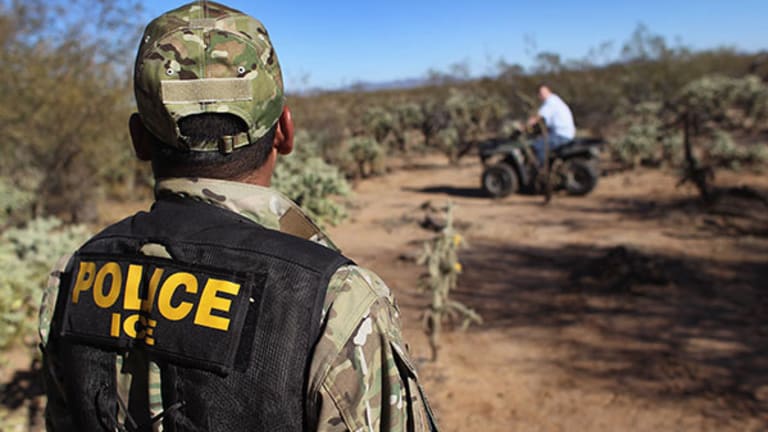 Is Civil Forfeiture Legalized Theft? Are Police Profiting from It?
Law enforcement tool once used to give Bernie Madoff's victims back their money - and Miami Vice's Sonny Crockett his car - is criticized by drug legalization proponents.
Law enforcement tool once used to give Bernie Madoff's victims back their money - and Miami Vice's Sonny Crockett his car - is criticized by drug legalization proponents.
NEW YORK (MainStreet) — Under federal civil forfeiture laws, law enforcement agencies can seize property involved in criminal activity. Of late, civil forfeiture has increased as a hot topic, with a hue and cry  being raised in many quarters about this law enforcement tool which has serious implications for the budding marijuana industry. The criticism is bipartisan.
Contrary to claims of the opponents of civil forfeiture the police cannot unilaterally take property without notice or without the burden of proof. Since it is a civil procedure against property, not a person, there need not be a criminal conviction. It is this aspect some find objectionable especially those who want drugs like marijuana legalized. If the Justice Department starts enforcing the law many marijuana businesses could see their property seized, therefore many opponents are involved in the medical marijuana trade or in recreational marijuana. 
The controversy has reached the halls of Congress. Senator Rand Paul (R.-Ky.) and Rep. Tim Walberg (R-Mich.) introduced legislation on January 27 called the Fifth Amendment Integrity Restoration (FAIR) Act of 2015. This bill will change current federal civil forfeiture law. For example, they want to change the legal standard of proof from "a preponderance of the evidence" to "clear and convincing evidence."
Meanwhile, President Obama's Attorney General nominee Loretta Lynch is getting a closer look because of a civil forfeiture case conducted by her office against a small business owner. The case occurred when she was the U.S. Attorney for the Eastern District of New York. Her office has been described by critics as a "major forfeiture operation."
It involved Bi-County Distributors in Ronkonkoma, N.Y. The owners were allegedly making multiple deposits of less than $10,000. This is the threshold for reporting deposits to the government and used by money launderers, terrorists and those wanting to hide money from the IRS. The money, close to $480,000 was recently returned to the owners and no charges were filed.
Read more: 
Civil Forfeiture Case Could Set Federal Precedent in Northern California if not Nationally
During her January 28 confirmation hearing, Lynch defended the process. She called it a "wonderful tool" by which money is returned to victims and the profit is taken out of crime.
But the two most notable actions currently on the national stage involve drugs.The City of Philadelphia is being sued by a libertarian public interest law firm because of the seizure of a home in which the son of the owners was arrested for dealing heroin. There is another case in Iowa that made headlines recently as well. It involved police seizing money from a driver and passenger after stopping the car for a bogus reason. They found marijuana paraphernalia - and unilaterally confiscated their money. Both of these cases involve drug deals. The property was returned in both cases.
Indeed, civil forfeiture has generated such controversy that Attorney General Eric Holder issued new guidelines about it on January 16 for federal law enforcement agencies under his control. He said participants in the Department of Justice Asset Forfeiture Program can "adopt assets seized by state or local law enforcement under state law in order for the property to be forfeited under federal law. Pursuant to this order, agencies are only permitted to adopt assets seized by state and local law enforcement agencies that directly implicate public safety concerns, namely firearms, ammunition, explosives, and property associated with child pornography."
Read more: Obama Marijuana Policy Criticized
But some feel Holder did not go far enough. Some want civil forfeiture abolished, and they are taking their case around the country to get political support.
"I feel it should be eliminated entirely," said Darpana Sheth, an attorney for the Institute of Justice, which is leading the lawsuit against the City of Philadelphia. "No one in America should lose their property without being convicted of crime." 
"That is what criminal forfeiture is for. There is no reason why they cannot use it," she added.
For those whose only familiarity with the process are headlines like "Cops Have a License to Steal" or "Police Profiting from the Forfeiture Machine" civil forfeiture sounds like something King John did to the Saxons in the Robin Hood movies. But that is far from the truth.
A little history is in order. Forfeiture has been around since the first statute authorizing civil forfeiture was enacted by Congress in 1789. Congress expanded the law in 1978 to permit forfeiture of all money used in, or acquired from, the illegal drug trade. It was expanded again in 1984 to include real property.
One direct benefit of civil forfeiture is that it deprives criminals of capital. Another is that the proceeds of some forfeited property, after it has been sold, are used to fund law enforcement efforts (think Sonny Crockett's car in the television show "Miami Vice").
Read more:Are Entrepreneurs Taking Big Risks in Recreational Pot Business?
Are abuses committed? Possibly, and if they are, they should be punished law enforcement officials say unanimously. But some insist those abuses are rare.
"When we file a forfeiture petition the burden of proof is on the prosecution to provide a nexus between the illegal activity and the property involved," Crawford County, Pa. District Attorney Francis Schultz told MainStreet. "Most of the time the defendant consents to the forfeiture because we make it a part of the plea agreement involving drug trafficking."
"If there are abuses we certainly do not see them in Crawford County," he added. "We are not doing forfeitures on one time drug deals here."
--Written by Michael P. Tremoglie for MainStreet