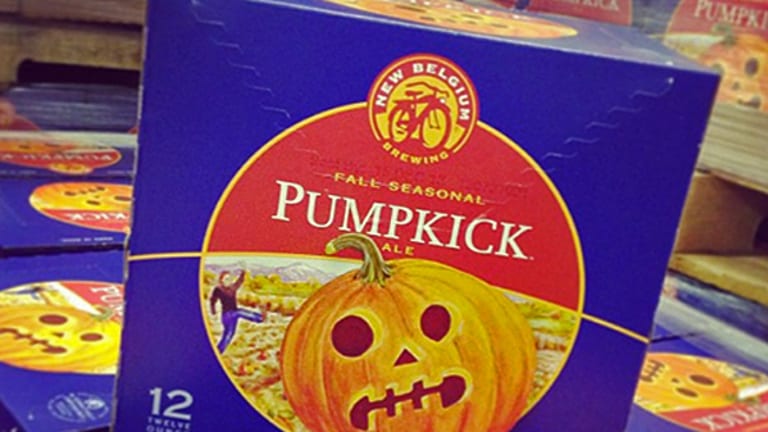 Is All That Halloween Candy and Pumpkin Beer Going To Keep?
Your seasonal treats have been on store shelves since the summer. Are the holidays already going bad on you?
PORTLAND, Ore. (TheStreet) -- There's been Halloween candy in grocers' seasonal aisles since the kids went back to school. There was still Fourth of July cookout remnant on your grill when the first pumpkin beers started appearing on shelves.
What's the chance that any of it is going to taste good when the first trick-or-treaters start ringing the doorbell?
Seasonal creep affects just about all corners of the retail world, as evidenced by anyone who's ever sighed at a
Costco
(COST) - Get Costco Wholesale Corporation Report
Christmas display in August, only to buy three rolls of wrapping paper and an illuminated reindeer lawn ornament. We drank our first bottles of
Full Sail Brewing
's Wassail and
Deschutes Brewing
's Jubleale in September and realize we're part of the problem, but this is basically what shoppers are forced to do if they want a seasonal offering at its peak.
We wrote our pumpkin beer preview
and went into great depth on exactly why brewers hustle that particular beer out so seemingly early. As
countless threads
on
message boards
for beer websites such as
point out, pumpkin beers often made with pumpkin puree and spices -- and little to no fresh pumpkin -- hit the shelves early because you basically stop drinking it after Halloween.
Pumpkin beers are increasingly popular, sure, but brewers including
Schlafly Beer
,
Weyerbacher
and the
Pacific Northwest
brewers grilled about the topic by
New School Beer last year
routinely explain that the only reason it's on shelves in July in August is because drinkers have already switched to winter seasonals by November or even late October.
Also see: Homebrewing's Fine, but Here's How to Start Home Cidering>>
Not that the beers being released early wouldn't keep, mind you. Because even beers produced with copious amounts of fresh pumpkin tend to be fairly malty, that profile keeps them relatively fresh for about 180 days. In the case of Pumking, produced by Lakewood, N.Y.-based
Southern Tier
and released in July, its 9% alcohol by volume makes it worth keeping in a cool basement spot until next Halloween. It's not necessary to do so, however, as the puree-based imperial is brewed specifically to sell out by October -- and has, despite the brewery increasing production from 400 barrels in 2008 to 1,100 barrels last year.
Even if you found yourself with a July bottle of
Shipyard
Pumpkinhead or an old keg of
Post Road
Pumpkin, it wouldn't necessarily be undrinkable. It takes a long while for beer to outright spoil, but its character can change the longer it stays in the bottle or keg. A typically sweet, spicy pumpkin-pie brew can take on an earthy, tepid character when it lingers a bit too long -- almost akin to soda flattening. Brewers and casual drinkers alike hate this because it robs the beer of its original odor and flavor and destroys the consistency. Folks inclined toward cellaring high-alcohol, high-gravity beers, meanwhile, bank on that kind of evolution.
The short answer is that if you find a bottle of pumpkin beer that you bought in July sitting in the fridge around Christmas, approach with caution.
But what about candy? Surely, all of that sugar and preservative will keep bags of sweets in good condition until next Halloween, no? No. A few years back, researchers at
felt the need to remind everyone that not only is it not a great idea to just stockpile cheap Halloween chocolate after the holiday and save it until next year, but eating that chocolate can give you a nasty case of salmonella.
That's not exactly the biggest issue with Halloween candy, but it's a reminder that even the confections consumers think are preserved for all time can take a turn. The problem with putting Halloween candy into a retail space in August comes down to one big issue: heat. Melting is the obvious issue, but even a bag of wrapped fun-size chocolates can get coated in white, powdery bloom when it goes through extreme temperature changes. It's fine to eat, but the flavor might be off a bit.
Also see: Craft Beer's 10 Best Seasonal Porters and Stouts>>
Berkshire Hathaway
(BRK.A) - Get Berkshire Hathaway Inc. Class A Report
-owned
, for instance, puts the lifespan of its chocolates at two to four months after production. Unfrozen M&Ms, meanwhile, will last for a solid year
, but just about any variety using nuts -- peanut, peanut butter, almond -- has its lifespan cut to six months as a result.
Even candy sellers have broadly different opinions on when candy is too old.
Sticklers for freshness
put the cutoff date for just about everything that's not hard candy at one to three months.
tends to get a longer leash, but even the most lenient sellers cap its freshness at six months.
As with pumpkin beer, Halloween candy won't necessarily go "bad" -- basically developing fungus or spoilage that will put your life in jeopardy. It just won't taste quite right, which isn't a small detail when you're making the decision to put down money on it in the days leading up to Halloween, when seasonal markups are at their highest.
That leaves shoppers with two options: Buy that bulk bag of
or four-pack of
Dogfish Head
Punkin early, store it in peak conditions and hope for the best or wait until a time you deem seasonally appropriate and hope a retailer cares as much about storage and freshness as you do.
That trust exercise is what keeps the retail calendar flexing.
-- Written by Jason Notte in Portland, Ore.
>To contact the writer of this article, click here:
Jason Notte
.
>To follow the writer on Twitter, go to
.
>To submit a news tip, send an email to:
.
RELATED STORIES:
>>10 Reasons This Is The Year To Watch The NFL
>>5 Legal Ways To Cut The Cord On Sports
>>T10 Most Expensive Beers In The NFL
Jason Notte is a reporter for TheStreet. His writing has appeared in The New York Times, The Huffington Post, Esquire.com, Time Out New York, the Boston Herald, the Boston Phoenix, the Metro newspaper and the Colorado Springs Independent. He previously served as the political and global affairs editor for Metro U.S., layout editor for Boston Now, assistant news editor for the Herald News of West Paterson, N.J., editor of Go Out! Magazine in Hoboken, N.J., and copy editor and lifestyle editor at the Jersey Journal in Jersey City, N.J.