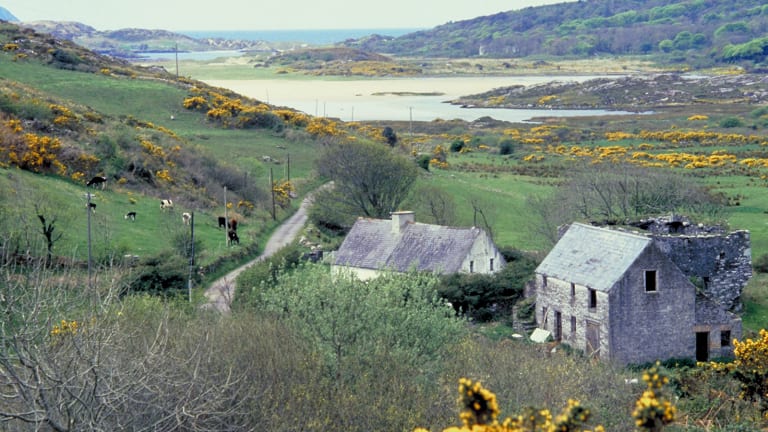 Ireland Budget Travel Tips: Experiencing the Emerald Isle Like the Pros
Now that the euro is the lowest it's been in 11 years, it's time to tackle that bucket list.
Now that the euro is the lowest it's been in 11 years, it's time to tackle that bucket list.
NEW YORK (MainStreet) — With St. Patrick's Day upon us, we consulted various travel experts for their best tips on voyages to Ireland -- how to get there, where to stay and which places to visit on a budget. Especially now with the euro at an 11-year low, there may never be a better time to experience all that the Emerald Isle has to offer.
Getting There. The two most popular airlines for flying into Ireland are Aer Lingus and RyanAir. RyanAir touts itself for being "Europe's only ultra low cost carrier" and guarantees the cheapest prices for flights to all of their destinations. A one-way flight on a Monday from London's Stansted airport to Dublin can cost as low as $40!
For travelers flying to Ireland from outside Europe, Rani Eng, travel writer at Taking the World with Rani and Katie, explains that Aer Lingus is the most popular option. A one-way flight on a Monday from New York-JFK airport to Dublin will run as low as $589, and Aer Lingus also accepts promotional codes for discounts. As an added tip, Eng suggests booking directly from the airline's website. Booking directly helps avoid potential cancellation fees, ensures that the reservation was made correctly and allows for the cheapest prices.
Where to Stay. Most travelers on a budget will opt to lodge in hostels, B&Bs or even vacation rentals as opposed to hotels, since hotels can get quite expensive. Since most hostels contain dormitory-like rooms and shared bathrooms, fees per night tend to be much less costly than private hotel rooms. Jody Halsted, freelance writer behind IrelandFamilyVacations, suggests the Doolin Hostel in County Clare, which is just north of the ever-popular tourist site the Cliffs of Moher. The hostel offers dorm-like rooms, some separated specifically by gender and others combined, as well as private and family rooms. Prices range from €16.98 ($17.86) for a shared dorm with one bathroom to €28.86 ($30.36) per night for a two-person private room with personal bathroom.
For those looking for a place offering a full Irish breakfast each morning, Halsted also suggests checking out B&B Ireland to search for a nearby bed-and-breakfast. Prices start at €35 ($36.81) per night per person, and while these prices are a bit higher than those of the hostel, they're still not as high as the typical hotel and they also come with at least one daily meal.
Getting Around. Depending on preference and location, renting a car may not be the best option. Since gas prices are fairly high—the approximate amount per gallon in Dublin is currently $4.78—the more cost-effective option for travel would be to use the public bus system. Bus tickets for city-to-city traveling can be easily found and priced on BusBud, a third party booking site. Ticket price examples are approximately $14 per person for a bus trip from Dublin to Cork, and $22 for a trip from Cork to Galway.
Many Ireland travelers are also big fans of the Hop On/Off bus service for touring Dublin, which consists of two tours—one 90-minute tour with 23 stops, and the other lasting 35 minutes with 8 stops. Riders are encouraged to "hop on and off" to explore at whichever stops they choose. Buses continually arrive at each stop every 10 to 15 minutes, making transportation and exploration easy, inexpensive and worry-free. Daily Hop On/Hop Off tickets are priced at €19 ($19.98) for adults and €8 ($8.41) for children. Student and senior citizen discounts are also available.
Where to Dine. Jody Halsted's tip about staying at a bed-and-breakfast will make a huge difference in food costs for budget travelers. As with any highly-visited country, dining out can be expensive in Ireland, especially if traveling in Dublin. That said, those hearty Irish breakfasts that the B&Bs provide in the morning should be more than enough to hold off an appetite into the afternoon. When it comes to lunch and dinner, Halsted also recommends opting for a meal at a pub. Lunch and "early bird," aka late afternoon, meals are the most budget-savvy, as they are usually priced lower than dinner fare.
Sightseeing. In addition to the country's loving charm and sense of family, Ireland's many attractions are what entice tons of travelers each year. Quite a few romantic spots, like the Blarney Stone and St. Patrick's Cathedral; multiple castles, such as Bunratty in County Clare; and gorgeous land attractions, like the Cliffs of Moher and the River Shannon, are all a part of what makes Ireland a wonderful place to visit and also to live. Many tours are available through different companies as well, as are day passes. Two of the most popular day passes, according to Jody Halsted, are the OPW Heritage Card and the Dublin Pass.
Day passes allow travelers to visit multiple places conveniently without paying multiple prices. Each card is one flat fee, and provides entrance into a list of attractions. The OPW Heritage Card is priced at €25 ($26.30) for adults and €10 ($10.52) for students and children. There is also a family pass for €60 ($63.11) for twp adults and a "reasonable amount" of children under 18 years of age. This card allows for free access to nearly 100 attractions in all areas of Ireland.
There is also the Dublin Pass, which allows access to 33 sites including museums and monuments, and it also offers various discounts at 20 additional venues, including restaurants. At the busiest attractions, cardholders are also allowed to skip ahead to the front of the line with "fast track entry." Costs for the Dublin pass are €39 ($41.02) for one-day adult and €21 ($22.09) for one-day child. There are also options for two-day, three-day and six-day passes.
Extra Money Savers. In addition to the basics, Rani Eng explains that there are also a few other ways to save cash while traveling. "While you are using your credit card in Ireland, the sales people will ask you if you want to pay in euros or dollars -- always choose euros," she explains, "because the conversion rate will not be rounded up."
In addition to this, Eng explains that all travelers should save their purchase receipts. When arriving at the airport to go home, travelers can turn in their receipts to collect back any taxes paid while in Ireland. Eng urges travelers to get to the airport early to do this, in order to take into account the time that will be spent to go through all the receipts and through customs. Tax cannot be collected back once the traveler leaves Ireland.
The third tip pertains to budget travelers who still want to come home with gifts for friends and family.
"Buy whiskey for your friends at the airport," Eng says. Picking up alcohol-related gifts at the duty-free shops is typically a much better deal than buying them elsewhere, since there are no inflated tourist location prices.
--Written by Ciara Larkin for MainStreet