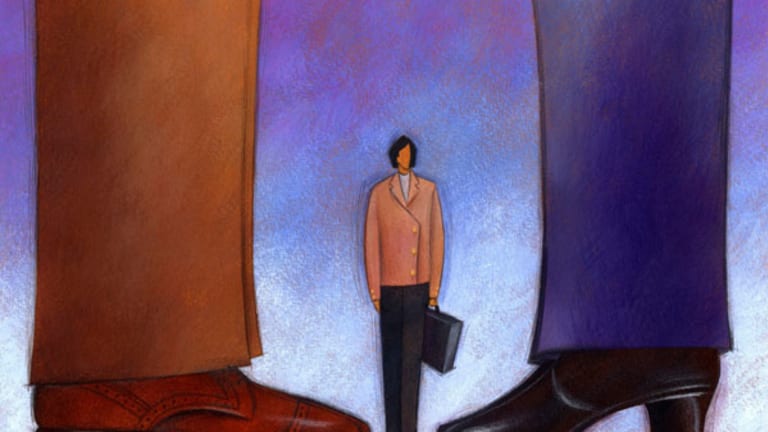 Publish date:
iPhone, BlackBerry, Pre ... Nokia? Yes, Nokia
Nokia makes a comeback in the U.S. with its sleek new smart phone.
Nokia makes a comeback in the U.S. with its sleek new smart phone.
For all the hype over the Palm Pre and the new $99 iPhone, for my money, the real small-business smart phone story of the hour is the re-entrance of Finnish handset ubermaker
Nokia
(NOK) - Get Nokia Oyj Sponsored ADR Report
into the U.S.
In the compendium of American tech-business dumbness -- after the slaying of the original Napster or the 1980s firing of Steve Jobs from
Apple
(AAPL) - Get Apple Inc. (AAPL) Report
-- there should be a lengthy chapter on Nokia getting skunked from the North American smart phone business.
Nokia's E71x smart phone.
Like all divorces, the actual facts are lost in the fog of time: Apparently, carriers like
Verizon
(VZ) - Get Verizon Communications Inc. Report
,
AT&T
and
Sprint
(S) - Get SENTINELONE, INC. Report
were furious when Nokia attempted to cut them out of a lucrative content business. Nokia insiders, in turn, had about enough of dealing with the idiotic, only-work-in-the-United-States American cell infrastructures and Balkanized politics. Either way, in spite of the fact Nokia is
the
planet's dominant smart phone maker -- with something on the order of 40% of the market -- Nokia is lucky to get 2% of the domestic smart phone business. Apple,
Research in Motion
(RIMM)
,
LG
and
HTC
simply get too much carrier support.
Well, no more.
In May, in a glasnost of sorts, AT&T started to sell an important Nokia smart phone: the sleek
($99 with plan and rebate).
I have been testing this unit for the past of couple of weeks, and while it is far from perfect, the E71x shows that Nokia has learned a thing, or three, about smart phones. And the company definitely has a bead on gaining back the North American smart phone market.
What you get:
This phone really does offer a third small-business option to the iPhone and BlackBerry.
Quite simply, the E71x is a
reaaaallly
nice smart phone for the small-business person. For starters, it's priced right. At $99, it is right there with the newly discounted iPhone and the BlackBerry 8800. It is durable, made of a fungible, scratch-resistant black metal. No iPhone condom needed, nor was I afraid of busting the cheap plastic found in some BlackBerrys.
The E71x has a unique, elegant, easy-to-use -- and read -- keyboard that even my stumpy fingers and fading vision could manage. I particularly liked how the numbers were laid out for call dialing, eliminating the keyboard bugaboo that plagues the BlackBerry and iPhone. The
Nokia has a decent, if small, 2.4 inch-display and all the smart phone bells and whistles: e-mail support (both Web mail and
Microsoft
(MSFT) - Get Microsoft Corporation (MSFT) Report
Exchange server), a decent HTML browser and the usual communications protocols: WiFi, Bluetooth and 3G connectivity on the AT&T EDGE network. Plus, 12 days of standby time, up to 8 GB of expandable storage, a 3.2 MP camera. You get the drill. This is a first-class smart phone.
And here is the best part: The E71x is just 0.4-inch thick and weighs a feather-light 4.4 ounces, a fraction of the iPhone and BlackBerry Bold. As much as I love my Bold, it's a beast. I could put the E71x in my pocket and not have to worry if I had my belt on to keep my pants up.
What you don't get:
This isn't a smart phone you instantly know how to use. Nor does it have tons of software support.
The E71x runs on the Symbian OS, a popular mobile standard worldwide, but one that gets no love here in America. GetJar, a San Mateo, California-based mobile-content distributor, pegs the total Symbian market share at around 2%. I think that is high, actually.
And, given the gee whiz, "there's an app for that" factor with the iPhone and BlackBerry, the Symbian-based environment on this E71 is old school in the way wrong way. Icons are poorly rendered. The interface can be a bit rugged and sluggish. Basic tasks like configuring e-mail take a purple belt in gadget jujitsu. The thing is definitely not the plug-and-play networking affair that is the typical American smart phone.
Also, you will definitely miss the depth of the apps available. I found several development gaps from third-party business software players like Salesforce.com and Netsuite.
Bottom line:
For all the E71x's limitations, and there are many, these are all short-term issues. I suspect Nokia will not let them last long and I expect the company to ship a smart phone that offers a comparable software experience to the iPhone or G1 from
T-Mobile
. And, slowly, Nokia will become as major a smart phone player here in North America as LG, BlackBerry or maybe even Apple.
Listen up, my fellow communications-addicted small-business owners: Nokia is the dominant world leader in this category for
a reason
. Nokia makes solid phones at good prices. If you are jammed by choosing a BlackBerry over an iPhone -- and who really isn't -- give the E71x a try. If it doesn't do the job quite yet, wait. Nokia is on track to become a legitimate smart phone choice for your business.
You might as well take advantage of it.
Jonathan Blum is an independent technology writer and analyst living in Westchester, N.Y. He has written for The Associated Press and Popular Science and appeared on FoxNews and The WB.