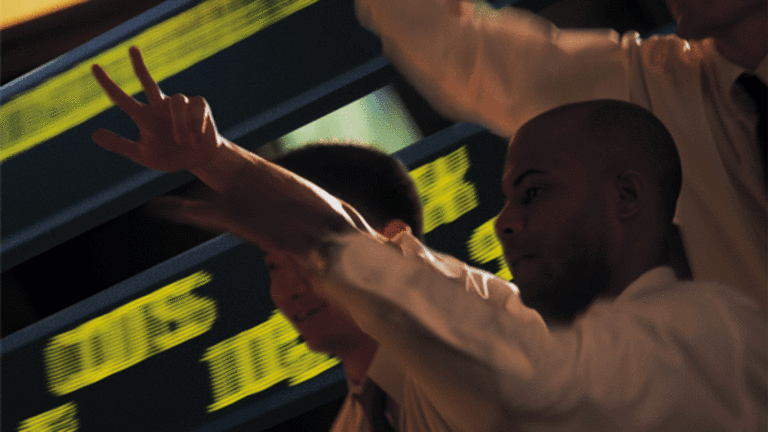 Publish date:
Investors Move from Money Funds to Markets
Municipal bond funds continue to hemorrhage assets.
Municipal bond funds continue to hemorrhage assets.
By Hal M. Bundrick
NEW YORK (
)--Earnings season has offered mostly good news so far and investors are responding by moving out of cash and back into the stock and bond markets. With some 146 companies out of the S&P 500 reporting second quarter results as of July 24, two-thirds have beaten analyst estimates, according to Thomson Reuters Proprietary Research.
"Mutual fund investors pulled cash out of money market funds and favored equity and taxable bond funds," says Tom Roseen, head of research services with Lipper. "Municipal bond funds continued to hemorrhage assets, but equity ETFs continued to be in favor."
Read: Delinquent Student Loans Get Out of Detention
A net $5.4 billion moved into equity funds for the week ending July 24, marking a fourth consecutive week of inflows. Fixed income funds gained $4.6 billion of net assets. Investors enthusiastically cashed out of money market funds with $12.7 billion in net redemptions while municipal bond funds saw outflows for the ninth consecutive week, with $1.2 billion exiting the tax-free bond market.
"As in the prior weeks, investors added money to a few "risk-on" assets as well as to benefactors of interest rate increases," says Roseen. "So, it wasn't surprising to see the Financial Select Sector SPDR (+$487 million), WisdomTree Japan Hedged Equity Fund (+$399 million), and iShares Russell 2000 ETF (+$372 billion) at the top of the leader board for ETFs. At the bottom of the pile were the SPDR S&P 500 ETF, handing back some $1.3 billion net; iShares MSCI USA Minimum Volatility ETF, witnessing net outflows of $0.6 billion; and ProShares QQQ Trust 1, giving back some $0.3 billion."
Read: 5 Ways To Solve College Sticker-Shock
Investors preferred domestic equity mutual funds for the sixth consecutive week, with inflows of $2.4 billion, with large-cap funds leading the class -- adding some $1.3 million in net money.
Emerging market funds are still in favor over other world equity funds, taking in a net $0.3 billion.
Continuing to feed on adjustable-rate loan participation funds, investors poured $1.8 billion into the asset class, the 58th week of consecutive net inflows, the strongest on record since Lipper began tracking weekly flows for this classification on August 13, 2003.
--Written by Hal M. Bundrick
Read: The Secret Behind McDonald's Coffee