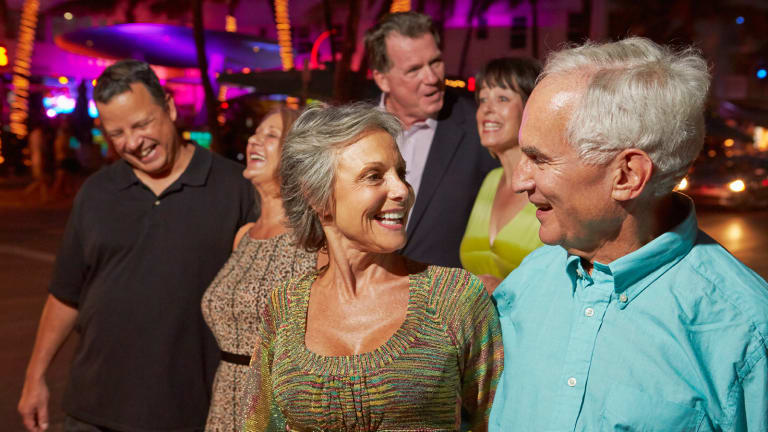 Wow, Investors Are Really Optimistic on Trump's Presidency
Bullish much?
Editors' pick: Originally published Jan. 20.
Investors seem to be optimistic about what the future holds under President Trump.
In fact, fifty-seven percent of investors are now optimistic about economic growth — up from 45 percent in the third quarter — while only 27 percent are pessimistic, down from 35%, according to new Wells Fargo research.
"The primary reason that investors have become more positive and the market has rallied since the election is that the two biggest unknowns for 2016 were eliminated in the last quarter of the year," said J.J. Kinahan, chief market strategist at TD Ameritrade. "That is we know who our political leadership is going to be in both the White House and Congress and we had he ever anticipated interest rate raise with a plan for rate policy."
To that point, the survey showed the impact this year's presidential and congressional elections had — with 46% of investors saying the outcome of the election makes them feel more optimistic about the U.S. economy over the next 12 months.
"Much of the optimism in the market is due to the potential of major changes that can be brought forth in Washington," said David Bickerton, president of MDH Investment Management in Ohio. "Republicans have talked about overhauling the tax code for many years. With control over the White House and both houses of Congress, the odds of them passing tax reform legislation is very high."
Robert Johnson, president and CEO of The American College of Financial Services, agreed overall investors are optimistic about economic growth because of changes promised by the incoming president, including lower tax rates for both corporations and individuals, a more business-friendly regulatory environment and increased infrastructure spending are the main drivers of this optimism.
However, he added a potential warning.
"While overall, investors are optimistic, it is worth noting that expectations are bifurcated -- polls show a sharp difference in optimism between Republicans and Democrats," Johnson said. "Fundamentally that shows how the different parties view the economic world. In any case, this optimism could either be short-lived or could increase depending upon the direction of economic performance early in the Trump administration — thus, fueling the belief that most investors expect the market to be highly volatile in 2017."
Myles Clouston, Nasdaq's lead U.S. macro analyst, said investors have gained more confidence in the stock market since early last year.
"Volatility is near multi-year lows, which some would argue shows a level of comfort and satisfaction with the markets, while on the flip side others would argue complacency and that a spike in volatility could be on the horizon," Clouston said.
The market, at least for now, has shown an ability to take in stride Brexit, geopolitical tensions, global growth concerns and the U.S. election cycle, Clouston said. He attributed that in part to the fact the underlying economic data has been trending in the right direction especially when it comes to low unemployment and inflation getting closer to the Fed's long-term goal of 2%.
"The U.S. Fed, having the luxury to raise rates in an accommodative manner, is also a confidence booster," he said. "It signals that the economy is improving in a world where most countries have been in a declining interest rate environment or not in a place to raise rates."
Investor optimism, however, is just one part of the economy when looking at overall economic health, Clouston warns.
"Anytime the stock market is near or at all-time highs investor sentiment tends to be high and so there is also a psychological aspect to it," he said. "Investor optimism is just one variable among a myriad that need to be factored into the equation when evaluating and so it should not be taken in isolation."