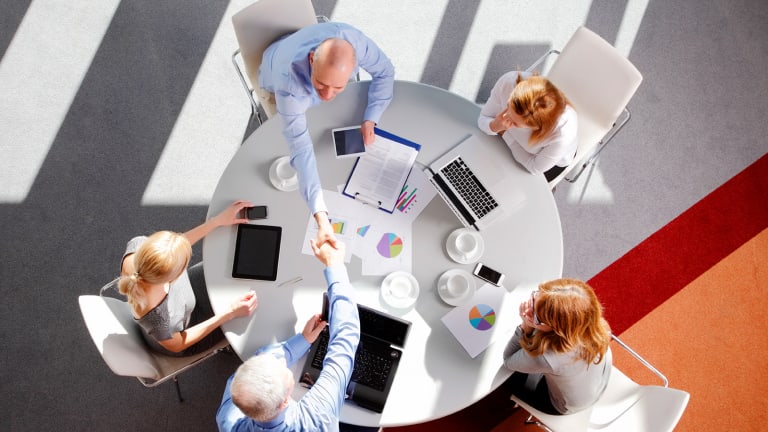 Investment Clubs -- Can You Boost Retirement Savings With a Social Network?
Buying stocks for fun -- and profit. Social networks can play a big role in your retirement savings strategy.
NEW YORK (TheStreet) -- Social networks can play a big role in your retirement savings strategy. And we're not talking about tapping Twitter (TWTR) - Get Report for stock tips or Facebook (FB) - Get Report for financial insight. Investment clubs and meet-ups –- real life social networks –- can provide education and even a pretty decent profit.
Eric Aker is one of the founding members of the Silicon Valley Model Investment Club, a group of investors comprised of "engineers and regular people." The club is affiliated with BetterInvesting, a national nonprofit organization dedicated to "commonsense investing practices." There are 42,000 members nationally and 4,000 local BetterInvesting clubs.
Members meet once a month to review the club's portfolio, analyze holdings, discuss potential purchases -- and basically have a good time.
Aker says the Silicon Valley club is a nearly equal mix of men and women. He is also a member of another area investment club, comprised strictly of engineers – and mostly men. How does the performance between the two clubs compare? Perhaps surprisingly, the all-engineer club lags behind the more diversified group.
"It's a testosterone thing," Aker says. "Women are just better investors than men." He points to the fact that nationally, BetterInvesting clubs comprised of mainly women perform better overall, too.
How much of the investment club is nuts-and-bolts stock analysis -- and just plain social?
"It's about 50/50," Aker admits. After all, the club's annual report is headlined with the motto, "Having Fun Making Money."
The club's portfolio is surprisingly conservative for a group headquartered in the tech start-up capital of the world. Holdings include Berkshire Hathaway (BRK.A) - Get Report, Duke Realty (DRE) - Get Report and Johnson & Johnson (JNJ) - Get Report. Wait. Where are the tech stocks?
"We learned our lesson on that," Aker says. "But we do have Microsoft (MSFT) - Get Report." He proudly notes that the group has been profitable since its inception in 1999 -- except for 2009, of course. The club's stock holdings are mostly large cap. "We have had real problems finding good small companies."
And this is certainly a group adhering to a buy-and-hold strategy. Its single portfolio move last year was to buy McDonald's (MCD) - Get Report. The most recent prior acquisition was four years ago. But this mirrors the overall BetterInvesting investment philosophy. The organization says affiliated clubs tend to have an average holding period for stocks of three years.
"Holding quality stocks selling at reasonable prices for the long term allows clubs and individual investors to benefit from the return these stocks often earn when the market recognizes their excellence," the organization says in a release. "Long-term investing also reduces the costs of trading, which effectively increases return." 
In February, the most common stocks held by the national group of investment clubs were Apple (AAPL) - Get Report, Gilead Sciences (GILD) - Get Report and Disney (DIS) - Get Report.
So, how does the real-life social network investment strategy work? The group reports the consolidated performance of its members' clubs as the BetterInvesting Top 100 Index, reflecting the "actual portfolio decisions by individual investors." Through March 31, the index was up 15.2% annually for the previous five years.
Not bad for a 50/50 mix of fun and profit.