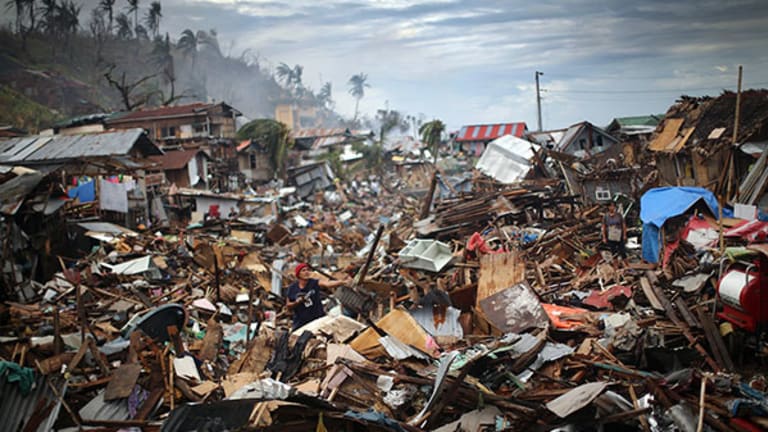 Investing in Catastrophes
As natural disasters rise to a 30-year high, insurers turn to the capital markets to hedge risk.
By Hal M. Bundrick
NEW YORK (MainStreet) The frequency and cost of natural catastrophes have increased over the last 30 years. In fact, 2011 was a record year for natural disasters with Asia Pacific accounting for two-thirds of total losses, including the Tohoku earthquake and tsunami, according to Munich Re. But recent flooding in Central Europe, Alberta and Colorado may surpass the flood losses of that catastrophic year.
The human toll of these horrific events is staggering and incalculable. But the financial impact, while insignificant in comparison, is measurable and mounting. Through the first half of this year alone, global economic losses have been estimated to top $45 billion. And financially, the gap between the expenses incurred and those insured is widening. The insurance industry covered $13 billion of the worldwide losses -- less than one third -- leaving a global disaster gap of $32 billion. Historic typhoon Haiyan will add to the massive insurance shortfall for 2013.
Insurance companies are seeking additional financial instruments to hedge the risk and are increasingly seeking that relief from the capital markets.
Catastrophe bonds, or cat bonds, are one such device. Issued to cover a particular risk in a specific region, such as a hurricane or earthquake, cat bonds can pay a generous coupon to investors if the event doesn't occur or default and pay nothing if it does.
"Insurers and the capital markets can help reduce the disaster gap by working together with big data to deploy new capital to cover new perils in new regions," says BNY Mellon's international head of insurance Paul Traynor. "This will reduce the cost of rebuilding for governments and provide a positive contribution to society."
He argues that the experience of the insurer has never been needed more; deploying capital against previously uncovered risks requires deep underwriting and technical expertise.
This expertise, as well as the comfort that comes from seeing insurers using their own capital, will encourage the capital markets to invest in more cat bonds," Traynor said.
BNY Mellon acts as a trustee, paying agent and collateral agent on cat bonds. It was trustee on 68% of all cat bonds in 2012.
The market for cat bonds is tiny but rapidly expanding. BNY Mellon estimates the current $19 billion market could more than double to $50 billion within five years, the fastest growth for the sector in six years.
"The initial investor base was dominated by hedge funds and private equity, but we are seeing more long-term investors such as pension funds buying cat bonds," says Dean Fletcher, head of EMEA corporate trust at BNY Mellon. "Investors are attracted by the high yields in the current low interest rate environment. Cat bonds also offer investors a chance to diversify their portfolios because of the low correlation of risk between catastrophic events and broader financial markets."
--Written by Hal M. Bundrick for MainStreet