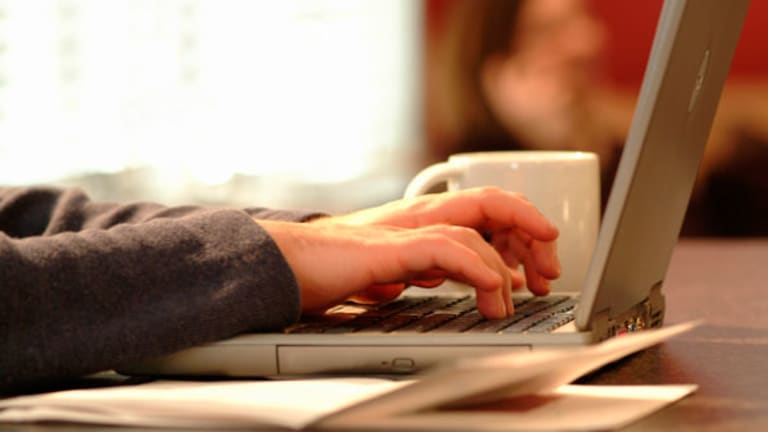 Intuit May Make Acquisition, Erasing Rival
Intuit reportedly is buying rival Mint.com, which was started as a response to the larger company.
Intuit reportedly is buying rival Mint.com, which was started as a response to the larger company.
BOSTON (
) --
Intuit
(INTU) - Get Report
, the maker of QuickBooks, Quicken and TurboTax software, has reportedly agreed to purchase personal-finance Web site Mint.com for $170 million.
Mint.com is a free online service that tracks customized spending and savings behavior. Once registered, the site downloads transaction data from more than 7,500 bank, credit card and investment accounts on a daily basis. It categorizes transactions and provides a view of all account activity. It also alerts users to low balances, bank fees, upcoming bills and suspicious account activity.
The company, launched in 2007, claims to have more than 1.4 million registered users, adding upwards of 3,000 new registrations a day. It boasts of tracking $175 billion in transactions, $47 billion in assets and having identified more than $300 million in potential savings for users. Since its founding, Mint has secured $31 million in venture capital funding.
Founded in 1983, Intuit posted revenue of $3.1 billion in fiscal 2008. The company, based in Mountain View, Calif., employs 7,800.
Mint.com offers a product similar to that of Quicken, an online personal-finance service that Intuit began offering for free last year.
The deal, reported by TechCrunch citing confirmed sources, is ironic in that Mint was initially created as a frustrated response to Quicken. At least that's the history presented on its Web site.
"Back in 2005, while using Quicken to catch up on his personal budgeting,
founder and CEO Aaron Patzer realized that he was in for an afternoon of tedious accounting-type work: poring over his statements, filling in gaps in entries, and categorizing dozens of purchases. All this effort just to get to the answer to one, seemingly simple question: How much did I spend this month? So, instead of finishing his Quicken update that day, he began thinking about building what would become Mint.com."
For Intuit, the purchase would accomplish two goals. First and foremost is the defensive move of bringing an increasingly successful competitor under the company umbrella. Though Quicken has a following among those who use Intuit's small-business and tax services, it may not be considered cutting edge enough to reel in the younger demographic that has bolstered Mint.com.
-- Reported by Joe Mont in Boston.