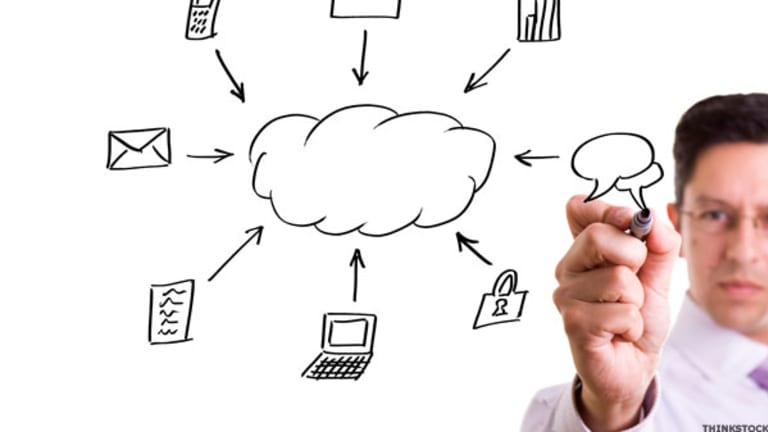 Intuit Enters Logo Business With QuickBooks
Intuit's QuickBooks 2010 offers design and market aides along with accounting tools.
MOUNTAIN VIEW, Calif. (
) -- In one of the strangest twists in small-business software, accounting giant
Intuit
(INTU) - Get Free Report
has started providing design services.
Mountain View, Calif.-based Intuit's has 4.1 million active users for its desktop-based QuickBooks software and less than a million for its online product. That might sound small considering there are 26 million private businesses in the U.S. But keep in mind that only 1.2 million of those have more than 12 employees.
There are other Web-based business accounting packages, but Intuit is the market leader. The company now has to find new ways to grow.
Intuit has embarked on a multi-front campaign to expand its products and services. It now offers sophisticated Web hosting and graphics. On Monday, the company released its annual update of QuickBooks 2010. (The Pro edition most businesses of any size would want is $199). This accounting package comes chock full of new products and services: easier-to-use interfaces, e-mail marketing and even logo design.
What you get:
QuickBooks 2010 is a softer, smoother version of the accounting classic.
First of all, Intuit has drastically reduced the time it takes to install the program. Previous editions of QuickBooks to 45 minutes to install. This time, it took me 12 minutes.
The company has done a nice job of giving users improved Excel integration, which is Microsoft Accounting's great advantage. There are some nice database management tools for managing inbound accounts. I liked the improved presentation of financial information, which ape online finance tools like such as Mint.com, which Intuit recently purchased.
There is a check scanning feature that theoretically saves trips to the bank. There is an iPhone-like Apps Center for third party software, though the library only offers 25 programs. There is an e-mail marketing service tied in.
And get ready for this: The program offers access to customizable business forms that can help you design a logo. Yes, the accountants have broken out the smocks.
What you don't get:
QuickBooks 2010 does not give you the exact functions your business needs.
It's an impressive problem, but the company is entering dangerous waters. Accounting software is not about being sexy or fun. It is about counting your money. So while logos, graphics and marketing services are interesting, are they central to maintaining your firm's fiscal integrity? It is fair to wonder.
The company offers sophisticated accrual and cash accounting options, and other powerful bean-counting tools, but do these centralized algorithms treat your specific ledger entries as they should? Is QuickBooks doing the basic things like depreciating your assets properly? Again, it's a fair question when you consider the number of poorly deployed QuickBooks ledgers out there.
And then there's Intuit's captive customer mentality. The fact is, this company has made a nice business out of upcharging. And it can hit your pocket hard. Just check out the check-scanning service. For $10 a month for those who use Intuit's credit card services, or $20 a month for those who don't, you can scan and deposit checks directly into your account. That's fine. But that grosses up to $240 a year, plus per-check fees. That's more than QuickBooks costs. Ouch.
Bottom line:
I rate QuickBooks 2010 a healthy 7.5 out of 10. That means recent QuickBooks buyers can probably wait. But if you are nursing a stinky five-year-old edition, get this one. The $199 gets you a lot of software.
However, the bean counter in me rolls his eyes about offering e-mail marketing and fancy graphics with accounting tools. Call me old-school, but nothing is nicer than a clean ledger that has more money at the end of the month than it had at the beginning. That's what lets us live another day. Not logos.
I worry that Intuit, in all its might, is forgetting that.
-- Reported by Jonathan Blum in New York
.
Jonathan Blum is an independent technology writer and analyst living in Westchester, N.Y. He has written for The Associated Press and Popular Science and appeared on FoxNews and The WB.