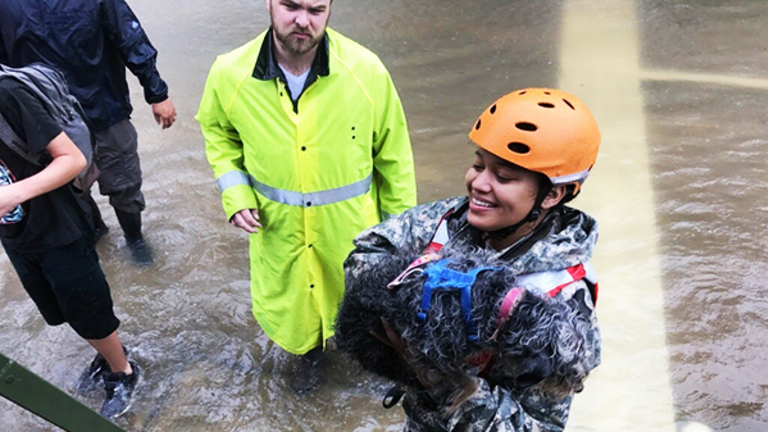 Why 19 States and D.C. Have Costly Hurricane Deductibles That Drain Victims Dry
Coastal states have adopted more stringent insurance laws, boosting the deductibles for homeowners.
Coastal states in the U.S. who have faced severe natural disasters have adopted more stringent insurance laws, boosting the deductibles for homeowners who are faced with paying a higher percentage for hurricane damage.
While each individual state and all the insurers have a different set of rules governing when the higher deductible is activated, 19 states and the District of Columbia do have hurricane deductibles, according to the Insurance Information Institute (III)in New York. Homeowners who are not familiar with hurricanes or tropical storms are often caught off-guard in the aftermath of a disaster such as Harvey, which was a category 4 hurricane in Texas before it was downgraded to a tropical storm, and must shell out thousands of dollars before repairs can be made.
The factors used as the triggers include high wind speeds, hurricanes and earthquakes and exist in Alabama, Connecticut, Delaware, Florida, Georgia, Hawaii, Louisiana, Maine, Maryland, Massachusetts, Mississippi, New Jersey, New York, North Carolina, Pennsylvania, Rhode Island, South Carolina, Texas and Virginia and the District of Columbia. A hurricane or a storm deductible means that instead of paying a typical $500 or $1,000 deductible, homeowners are on the hook for 1% or 2% of the insured value of a home or even as high as 10%, said Loretta Worters, spokesman for the III. That means if your home is insured for $200,000, a 2% hurricane deductible is $4,000.
"A hurricane or named storm deductible is applied separately from standard perils deductibles and is typically a higher dollar amount, meaning a policyholder would be responsible for a larger portion of any loss," Worters said. "Consumers also complain about lack of meaningful disclosure about the deductibles. While there are similarities among the state laws, no two laws are identical; triggers vary from state to state, as well as from insurer to insurer."
Deciphering the insurance coverage for your car and home is an onerous task, because many of them are fraught with loopholes and complicated language, and to make matters worse, each insurer has slightly different rules. Most companies apply the deductible when damage occurs from a hurricane, typhoon, tropical storm or cyclone which has been categorized by the National Weather Service or U.S. National Hurricane Center, said the National Association of Insurance Commissioners.
Follow @TheStreet on Twitter for updated storm coverage as Hurricane Irma moves the market:
Hurricane Irma Will Make Orange Juice Unaffordable and Destroy Your Grocery Bill
The hurricane deductible will impact people living in Florida and facing the impending wrath of Irma, said Laura Adams, senior insurance analyst for InsuranceQuotes.com, an Austin-based insurance data company.
"This is the percentage that they will have to pay out of pocket first before they get any regular homeowners coverage," she said. "It can range from 1% to 5% in Florida, depending on what you choose and it will make a big difference in what you have to pay."
Some states or insurers will trigger the hurricane deductible even if it is a category 1 and deemed a lower risk, while others only activate it once it rises to a category 2, Adams said.
"In Florida, the hurricane deductible will be triggered even if there is a tropical storm watch or a warning goes into effect and will last 72 hours after it is in effect," she said.
The bottom line is that the burden of paying for repairs has largely shifted to homeowners instead of the insurance companies, Adams said.
"The consumer pays more out of pocket," she added. "With all the storms, the rates for insurance will go up next year and it all comes back to the consumer who will have to compensate for the losses."
Some insurers attempt to give homeowners a break and only assess the deductible once during hurricane season which ends November 30. in case there are multiple storms which occur.
What else you need to know.
Flood Insurance Coverage
Just having homeowner's insurance is not sufficient because any damage which occurs from a hurricane or storm will not be covered. Homeowners must buy a separate flood insurance policy which is administered and subsidized by the federal government. Although you purchase it from your agent such as Allstate or State Farm, it has its own set of rules.
A survey conducted by the III showed that more than 40% of homeowners believe that the typical homeowners insurance covers damage caused by heavy rain. The number of homeowners who purchase flood coverage administered by the National Flood Insurance Program (NFIP) has dipped by 549,000, nearly 10% since 2009 while more homes are built along coastal areas and sea levels increase.
The III's 2016 survey found that only 12% of homeowners have flood insurance which covers up to $250,000 for the structure of the home and $100,000 for personal possessions. Only actual cash value coverage is available for your belongings, so if were purchased years ago, the value has declined.
"When you on have a homeowners policy, that only covers damage from the sky, such as roof damage," said Adams. "Flooding in your house is not covered and these are considered two separate types of damage."
CLICK HERE FOR ALL OF THESTREET'S COVERAGE OF HURRICANE IRMA
Vehicles with comprehensive coverage that are damaged by flooding are included in a typical auto insurance policy. What often is not included is renting a car while consumers wait for their insurance company to assess the amount of damage and determine a value and payment amount, she said.
"Consumers are likely to get more coverage from the insurer with a lower deductible," Adams said.
Homeowners who only have flooded homes, but no damage that was caused by a hurricane such as a leaky roof, cannot apply for both types of coverage, she said. The same policy also applies when seeking FEMA assistance unless they meet the income level set by the federal government. FEMA provides grants for individuals who did not purchase flood insurance.
"You can not double up if you are already getting a flood payout or some other insurance payout," Adams said. "It can not be for the same type of benefit."
If you lease an apartment or house, you can also purchase flood insurance and renters insurance to cover the items you own because the landlord is not responsible for furniture, clothing and electronics.
"Anyone can buy flood coverage," she said.
People who have spent a lot of money on laptops or other electronics can opt to put a rider on their coverage and increase the base level of $2000 to $10,000 or even $20,000.
"It doesn't increase your premium that much and is typically well worth it," Adams said.
More of What's Trending on TheStreet:
Hurricane Irma Will Make Orange Juice Unaffordable and Destroy Your Grocery Bill
This Is How I Protected My Money While Living Through Epic Hurricanes