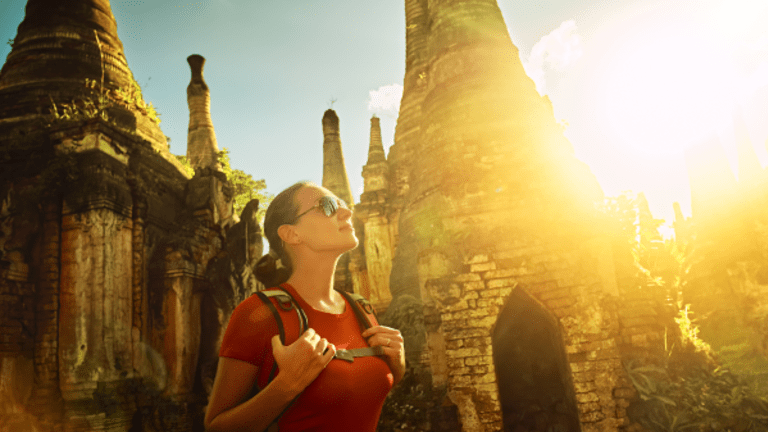 Unexpected Reasons You Just Might Need Travel Insurance
Getting insurance for conventional reasons, i.e., you're going cliff diving in Puerto Escondido, is a no-brainer. But there are other reasons you need that insurance, too.
Getting insurance for conventional reasons, i.e., you're going cliff diving in Puerto Escondido, is a no-brainer. But there are other reasons you need that insurance, too.
Travel insurance can be a necessary component when traveling overseas, especially if you're heading into potentially dangerous geographical havens, where your safety can't always be guaranteed.
At an average cost of between 4% and 10% of the cost of your trip, according to InsureMyTrip.com, travel insurance can really come in handy. The question is - when do you really need it and under what scenarios?
Besides the danger and risk factor of, say, jetting off to Guam right about now, there are plenty of other reasons you could use travel insurance - even if you don't realize it.
To pitch in, travel and insurance industry insiders weigh in below on specific instances where you might need travel insurance, be it for conventional or unconventional reasons:
More of What's Trending on TheStreet:
Warren Buffett Dumps GE Stake to Invest in a Lender With GE Roots
Insuring your passport - Yes, you can, in a way, insure yourself against a lost passport. That's exactly what happened to Emily Florence, a business coach and founder of Savvy Miss, a Forbes Top 100 Website for Women. "We've all heard the excuse 'my dog ate my homework,'" she explains. "Well, last year when I was all packed and ready to go to Europe, my puppy ate my passport." Florence was getting ready to leave for the airport when she noticed her dog chewing on something under the kitchen table. "When I got up close I noticed it was, in fact, my passport," she says. "Thankfully I was able to get an emergency passport two days later but missing the first part of my trip would've been financially terrible had I not had the right insurance."
Lost baggage - Beth Godlin, president at Aon Affinity Travel Practice, says that while airlines will offer some help with lost baggage, it may not be in time, and not be enough. That's where "lost baggage" insurance can help. "Baggage delays, loss, damage and theft are innate risks on the road, but many travel protection plans include benefits that range from providing a few dollars to pick up some clothes for the night to thousands of dollars for more significant losses," Godlin says. "Airlines do provide some recourse for bags lost or damaged during flight, but travel protection will typically cover belongings throughout the course of the entire vacation."
You get sick, just before or during the trip - No one wants to get sick or have an accident, especially during a dream vacation, but it happens, says Godlin. "That's why medical benefits are often included in travel protection plans, especially those customized by the supplier based on their destinations and passenger demographic," she explains. In addition, you could become ill during their trip, have to return home early and incur extra expenses to change flights, Godlin adds. "This scenario, called trip interruption, is a common benefit of travel protection," she says.
You lost your job, and now you can't afford the trip - An unexpected loss of a job, a sudden health crisis, or a death in a family often happen without notice, says Greg Antonelle, co-owner of MickeyTravels, a Disney-related travel agency. "Because of that, we always recommend to our clients to buy travel insurance," he says. "Travelers can purchase travel insurance directly through us with a vendor such as Travelex, Allianz Travel Insurance, or Berkshire Hathaway Travel Insurance, for example."
Bad weather fouls up your trip - You can even get bad weather insurance if Mother Nature acts up. "We make travel insurance mandatory for our weather-dependent programs, like our great white shark dives in San Francisco and great hammerhead trips in the Bahamas," notes Jane Reifert, vice president of marketing at Sun Coast, Fla.-based Incredible Adventures. "You never know when rough seas or a surprise hurricane will change your plans."
You split up with your significant other, just before a planned trip - Relationship issues are one of the biggest reasons to buy coverage that allows travelers to cancel for any reason. "More than once, we've had customers plan holidays together and then break up before the scheduled trip," Reifert says.
All vacations have their own nuances to consider, so be sure to ask plenty of questions of any travel insurance provider and read the policy thoroughly to ensure the investment matches both trip and the traveler. "Sometimes a relatively small investment can have a huge payoff for traveler safety and peace of mind," Godlin states.
If you do decide to buy travel insurance, make sure to check the benefits, exclusions and restrictions of your coverage. "If your plan includes a 'Cancel for Any Reason' option, be sure you understand the terms - if it is included or available as an upgrade, and what percentage of the trip might be either refunded or returned in a credit," she adds.