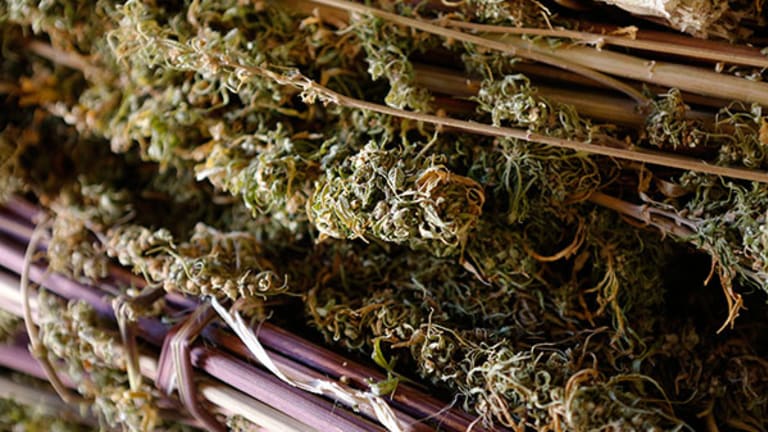 Marijuana Edibles Companies Face Challenge of Child-Proofing Product
Dixie Elixirs has spent several hundred thousand dollars developing new packaging for its signature sodas.
DENVER (MainStreet) — When new regulations for packaging edibles went into effect this month, infused-product manufacturer Dixie Elixirs pulled its signature sodas out of dispensaries.
The company has been working on developing a new to comply with the Colorado mandate that all packaging for edibles be child resistant. For beverages, manufacturers also must provide a one-dose measuring cup with the product.
Dixie has spend several hundred thousand dollars developing a package that has the measuring cup integrated into the child-resistant lid, said Joe Hodas, Dixie's chief marketing officer.
"There are some solutions that would have worked for a non-carbonated beverage, so we went about the process of inventing on," Hodas said. "They do not make a resealable child-resistant bottle that holds carbonation."
The company also has developed Dixie Lift, a single-serving one-ounce drink the size of an energy beverage.
Under Colorado law, child-resistant is defined as packaging that is designed or constructed to be significantly difficult for children younger than five to open and not difficult for normal adults to use properly. The law also requires packaging to be opaque so that the product cannot be seen without opening it. The packaging also must be resealable for any product intended for more than a single use or containing multiple servings.
The state has officially set the serving size of active THC in each edible marijuana product at ten milligrams. It also has set the maximum serving size of an individual marijuana product at 100 milligrams of THC. The rules also require edibles to be capable of being easily separated into a delineation that matches the serving size amount. For instance, if a chocolate bar contains ten serving sizes in a single product, it mast have indents that allow it to be easily broken into ten pieces.
Though all edibles sold in a dispensary must be in a child-resistant container, that hasn't stopped makers of exit packaging from improving their products and developing new ones. Some dispensaries do not put products into child-resistant packaging, so they still need exit bags.
"We've already sold over a half million bags this year, and it's only February," said Ross Kirsh, president of Stink Sack, which has been manufacturing child-resistant packaging since 2010.
Stink Sack, a modified version of the zip-top bag, is sold to more than 200 dispensaries in Colorado, as well as supplying edibles manufacturer Incredibles with all of its packaging. In addition, Stink Sack has customers in Oregon, Nevada and Canada. It's also got interest from potential customers in Florida, Massachusetts and other states that are moving toward recreational sales.
Kirsh hired New Jersey-based Perritt Laboratories Inc. to test the effectiveness of the product. Through one-way glass, his staff and he observed children trying to open the Stink Sack.
"It turns out the locking closure worked well for a few minutes," Kirsh said. "Then they'd ignore the closure and focus on the zipper track."
Kirsh modified the Stink Sack with a locking white bar that spreads across the top of the bag.
"Once we moved over to that design, we passed our testing with flying colors," Kirsh said."It's tough on edibles manufacturers, because their products have the potential to confuse children the most. If there's one thing that would really disrupt this industry, it would be an irresponsible owner."
Another child-resistant product is The Satchel, a pouch-like case for cannabis and cannabis-infused products that was tested and approved by the American Society for Testing and Supplies. Dispensaries can use The Satchel as a branding tool by having their logos put onto the product.
"It's very patient and consumer friendly," said Trent Woloveck, chief operating office of American Cannabis Co. "You can put additional items in there such as paraphernalia to keep it confined. People are using it as their tote bag."
--Written by Margaret Jackson for MainStreet