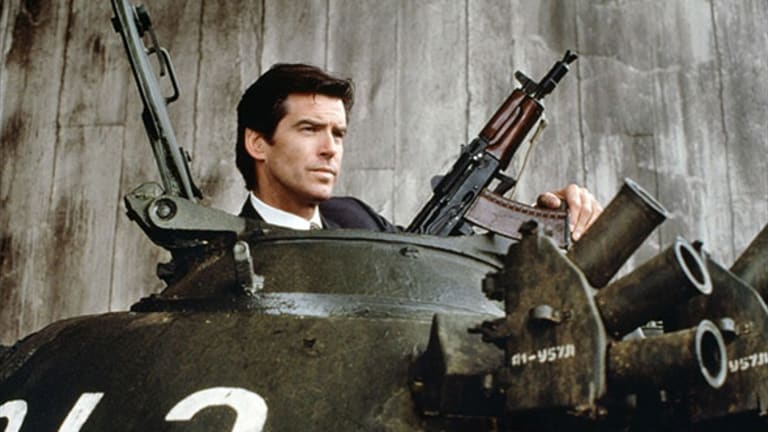 What Homer Simpson and James Bond Can Teach You About Life Insurance
Americans may think they don't need life insurance - but they do.
You don't know as much as about your life insurance than you thought you knew - especially when it comes to the life insurance policy you really need but may not have.
Life Happens, the nonprofit insurance education website, recently revealed new survey that uses familiar cultural icons to demonstrate just how much average Americans misunderstand the necessity of life insurance.
"When asked to indicate which fictional character needs life insurance the most, Americans were five times more likely to say that the high-risk lifestyle of James Bond (34%) demands a life insurance policy over a family man, like Phil Dunphy (6%)," the site reports in comparing the famous fictional spy with the 'cool dad' character on Modern Family. "Goldfinger may have expected Mr. Bond to die, and many Americans see that as reason enough to warrant life insurance. However, 007 has no family or dependents that depend on his earnings, while parents and breadwinners like Homer Simpson and Phil Dunphy...are the ones most in need of life insurance, which would allow their families to be O.K. financially if they were to die."
That's a big reason why so many U.S. adults find themselves without life insurance when their family and loved ones really need it. "While James Bond dances with death just about every day, the truth is he has no one relying on him financially," says said Marvin Feldman, CEO of Life Happens. "Parents and breadwinners like Homer Simpson and Phil Dunphy are the ones most in need of life insurance, which would allow their families to be OK financially if they were to die."
"The data supports the fact that Americans need to better understand the important role that life insurance plays for people just like them," he adds.
Yet most people think they don't need life insurance, as they believe they'll never die, and because it's an expense that has no value until they're gone, says Debbie Gianelli, a certified financial planner at Whole Family Financial Services in Bothell, Wash.
"Additionally, the insurance industry has made most life insurance so complicated and arduous to obtain -- i.e., paperwork, medical exams -- that the average person doesn't even understand how it works except for the part about being dead and leaving money behind," she says.

Other financial experts agree.
"Almost nobody likes to face his or her own mortality," says Christopher V. Kimball, a financial planner and president of CK Financial Services, in Lakewood, Wash. "Let's face it - talk of death is depressing. Secondly, people generally don't like paying for something that is intangible; something they may not see as useful or helpful to them, personally. Most people would rather enjoy a new sports car than pay a monthly premium for something a lot less fun."
A subtle shift in attitudes about family and money is in play no, too, Kimball adds.
"In the past, more people were concerned about leaving a legacy to their children," he says. "In recent years parents seem to be having to help their adult kids financially, so they feel less obligation to leave something to them in the future. Some people simply seem to be getting more self-centered and less generous."
After all, life insurance is generally purchased because someone loves someone else.
"It's a sacrifice for the policy owner to provide for someone else," Kimball says.
The life insurance industry isn't helping its own cause, mainly because of the complexities of life insurance and agents' inability to explain those complexities to customers.
"The biggest thing wrong with life insurance is that most of the policies are sold by agents who don't know what they are doing and they are purchased by people who don't know what they are buying," says Timothy W. Holt, president of Holt Law Group in Glendale, Calif.
Some consumers are getting the message. "I have very basic life insurance through work," says John Arroyo, founder of Arroyo Labs, Inc. in Los Angeles. "Now that I have a family and mortgage I realized this year I have to stop putting it off and get real coverage in case of something devastating."

"I recently turned 40 and just got a large policy this year," Arroyo adds.
Arroyo gets the point that Life Happens is trying to make. American adults, especially household breadwinners, need life insurance. It's not just for those in harm's way with a license to kill.  It's no luxury - it's a necessity.