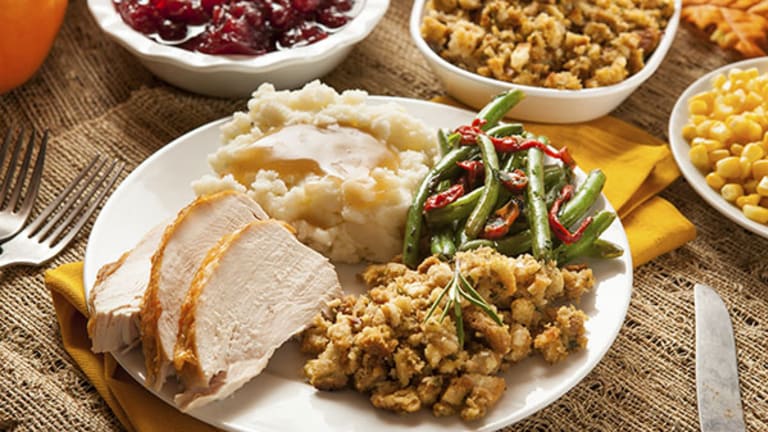 Simple Ways to Stay Healthy and Still Enjoy This Thanksgiving
The mentality behind holiday dieting and how to conquer it for good!
NEW YORK (MainStreet) — It has become quite typical these days for people to plan to "cheat" on their diets over the holidays. With all of the temptation that now comes along with these multi-course meals, it is understandable that the majority of the population is destined to consume more calories than normal. However, since the average Thanksgiving meal revolves around turkey, vegetables and pie, the idea of assuming that there is no other choice but to permit a full-on binge day is somewhat larger than necessary. Luckily, there are a few simple tricks to keeping healthy through the holidays, and not all of them are about food choices. Check out the following tips on how to stay healthy—while still enjoying—this Thanksgiving. 
View Today's Highest Savings Account Rates
While stress can be a leading factor when it comes to preparing for the holidays, registered dietician Lindsay Martin explains that one of the most important things to do to ensure proper eating habits is to maintain a consistent sleep schedule.
"Traveling and work schedules around the holiday can feel very hectic," says Martin, "but getting a consistent six to nine hours of sleep every night helps regulate hormones, promote recovery from workouts and prevent daily fatigue."
Since there is no such thing as "catching up" on sleep, maintaining a consistent pattern is key in making decisions.
Exercise on Thanksgiving Day does not need to be banished just because the gym may be closed. As crazy as it may sound, there are ways to squeeze in some moves between mashing the potatoes and basting the turkey. Exercising in five- or ten-minute intervals, also known as fractional exercise, has gained some publicity as of late. The basic mantra behind fractional exercise is this: multiple short periods of exercise spread throughout the day have the power to reduce blood pressure more than a single thirty-minute exercise session can.
"During the holidays, finding a block of time to exercise can seem impossible," said Coleman Fung, CEO of Blue Goji, a company that creates interactive fitness products to bring fun and motivation to workout sessions. "However, just five minutes of activity can make a difference. Studies have proven that these short sessions can improve cardiovascular health."


WATCH: More personal finance videos on TheStreet TV | More videos from Ross Kenneth Urken
Periodic five-minute exercise breaks throughout the day are definitely quicker and easier to accomplish. 
There's something to having a buddy when it comes to behaving on a diet, regardless of the holidays or not. According to relationship expert April Masini of AskApril.com, enlisting a partner in the healthy holiday eating journey will provide the fuel to assist the change in behavior after years of being less than healthy.
Masini says that "having a partner will provide a confidant to eat and drink with at the holiday, or, at the very least, have someone to text food selfies back and forth with." Foodie partners can also take after-dinner walks together, to up the exercise factor and reduce the craving for second helpings of dessert. Forming a support team is always a great way to succeed at any goal, and nothing says "Thanksgiving" quite like a creatively portioned plate of food posted on social media.
Save Cash on Payments! Compare Low-Interest Credit Cards Now
When it comes to plate sizes, Lindsay Martin recommends opting for a ten-inch plate as opposed to a fourteen-inch plate. She explains that those who use the larger plates often unknowingly serve themselves up to 30% more food compared to those using plates of a smaller size.
Fitness and lifestyle coach Rona Lewis explains that color scheme of the table setting affects mentality, as well.
"Color can be a big factor in how much people eat," Lewis says. "Studies have shown that bright colors such as red, yellow, and orange stimulate the appetite, while calming colors like blue and green can stave off over-eating." She suggests setting the table with a neutral palate and adding some blue vases with flowers and lots of greenery. By making educated decisions on things like plate choice, the "cleaning the plate" mentality is a lot more reachable, guilt-free, and waistline-friendly.
When it comes to some of the biggest offenders in the basic main dishes, Lewis provides some tips on how to lessen the fattening guilt.
"Sweet potatoes are naturally sweet on their own and should not be made sweeter by adding gobs of sugar in the form of mini marshmallows," says Lewis. By instead whipping the potatoes with some butter, (which Lewis notes is not the enemy here; sugar is!), and adding some cinnamon and nutmeg, this tasty side is just as sweet and satisfying. If this still doesn't satisfy the expected level of flavor, adding half a cup of orange juice is sure to do the trick by adding some tang. She also lends some advice when preparing the age-old green bean casserole. Traditionally made with canned, condensed soup, which contains quite a bit of fat, salt, sugar, preservatives and other chemical additives, cooks can instead try their hands at fresh green beans sautéed with natural ingredients like garlic, ginger, and grapeseed oil. Tossing the mixture with other healthy ingredients like low sodium soy sauce, toasted sesame seeds, and green onions makes for a side so tasty that no one will miss the casserole version. By pairing these sides with a perfectly cooked turkey, dinner guests are sure to be thrilled.
Aside from the thick gravies and the sugar-loaded sweet potato casseroles, it's safe to say that dessert is the most difficult part of the Thanksgiving meal when it comes to dieting. Celebrity chef Robert Irvine, known most popularly for his appearances in a variety of Food Network television shows, believes that ending every meal with something sweet is a good thing. Still, he also explains that there is a way to do it that will not end in an all-night binge fest between you, a fork and three-quarters of an apple pie.
"I make individual servings so that everybody gets one and that's it," Irvine says. "This way, there are no seconds, and therefore there are no leftovers. I don't have to deal with it staring at me the next day."
This idea perfectly masks the fact that the person supplying the dessert is watching his or her waistline, because who wouldn't love a personal pie?
Keep these tips in mind when preparing for Thanksgiving, or any other big event or holiday that is looming on the calendar. With simple tweaks to average routines, stretchy pants will not be necessary!
--Written by Ciara Larkin for MainStreet