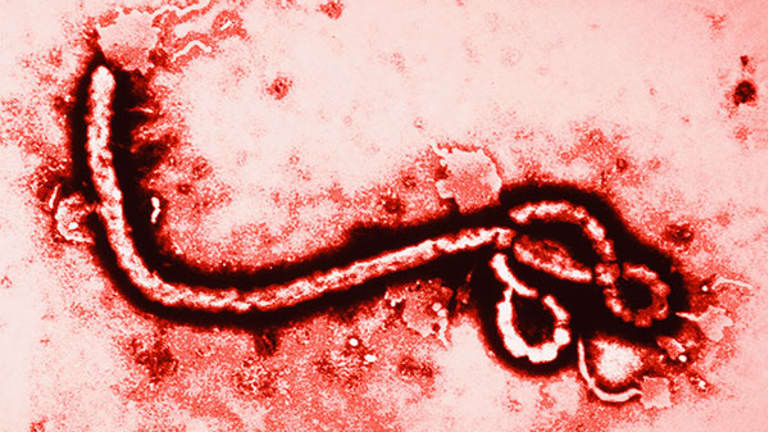 Scammers Prey on Ebola Fears: There's Danger Beyond Your Health
Your wallet could be in jeopardy.
NEW YORK (MainStreet) — Ever since a few cases of Ebola have reached the U.S., scammers have been preying on the public's fears by promoting fake medicines, products and "cures" for the fatal virus. One email, for example, touts a "surplus personal protection kit" for $29 that alleges to provide infection defense for Ebola emergency response teams and law enforcement agencies. But these products can quickly lead consumers down a shaky path.
Once an individual clicks on this type of email, he is prompted for his credit card information, allowing personal data to fall into the hands of a cyberthief. Other Ebola-themed emails include phishing links and malware.
The Better Business Bureau emphasizes that although some experimental treatments are in the early stages of development, there are currently no FDA-approved vaccines or drugs to prevent Ebola.
Other disingenuous emails appear as breaking news alerts, with titles such as "People Being Quarantined" and "Ebola Pandemic Update," according to the BBB.
"We suspect these emails are the handiwork of scammers seeking to take advantage of people's understandable fear and anxiety surrounding this international public health risk," said Illinois Attorney General Lisa Madigan. "It's extremely important that you delete these messages and instead consult legitimate resources for more information about prevention measures underway."
Scammers are also devising Ebola-themed schemes targeting the generous at heart. These efforts aim to con people into donating to fake Ebola charity organizations. Last week, for example, a fundraising page on GoFundMe was created to raise donations for Amber Joy Vinson, the nurse who traveled from Dallas to Cleveland and is currently being treated for Ebola. Members of Vinson's family told the BBB that they did not authorize the effort.
The page has since been shut down, but as of October 16, there were at least 100 GoFundMe pages raising money for various Ebola campaigns.
There have also been phone solicitations from an organization supposedly raising money to assist with Ebola, but the caller, when pressed, explains he is from a famous charity's chapter in the Bronx, New York – but the BBB has determined this is likely a ruse.
Scams have spread so quickly that the BBB has already issued several warnings.
The BBB emphasizes that consumers should be leery of any email or product related to Ebola that promotes a "cure" or "miracle." Some of these products allegedly claim to cure a wide range of diseases, which is another red flag.
Products or medicines that tout personal testimonials in place of scientific evidence also signal trouble. If a legitimate product includes patients' success stories, they most always include scientific evidence as well – and any product lacking that should seem suspicious.
For those looking to donate to Ebola-themed charities, the BBB encourages consumers to check out charities at give.org, which is the agency's charity reporting arm. To confirm that the group is an actual charity, consumers can also investigate factors such as whether the organization has received tax-exempt status.
When in doubt, ask your local BBB for help detecting a possible scam. Since con artists typically strike while emotions are high, they are a particular threat during this time when anxiety and fear surrounds Ebola, the BBB explains.
--Written by Renee Morad for MainStreet