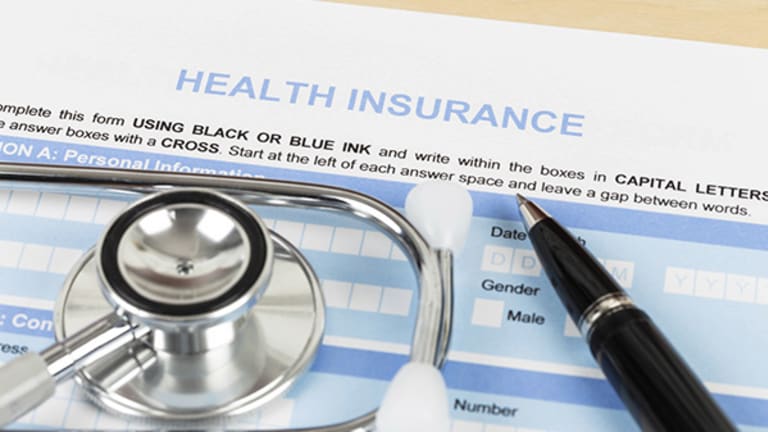 Premiums for Employer-Sponsored Health Insurance Plans to Rise in 2016
Health insurance premiums are expected to rise modestly in 2016, even among employee-sponsored plans, increasing the burden for consumers who are already saddled with high deductibles.
NEW YORK (MainStreet) —Health insurance premiums are expected to rise modestly in 2016, even among employee-sponsored plans, increasing the burden for consumers who are already saddled with high deductibles.
Employer-sponsored health insurance plans rose an average of 4% in 2015 for both individuals and families after a decade of moderate growth, according to the Kaiser Family Foundation/Health Research & Educational Trust survey of nearly 2,000 small and large employers. The rate of increases has slackened in the past ten years at an average of 5% annually since 2005. Between the years of 1999 and 2005, the increases were much larger at 11% each year. The average annual premium for single coverage is $6,251 with workers paying an average of $1,071. The average family premium is $17,545 with workers on average contributing $4,955.
This rate of increase is seen across the U.S. with single premiums rising an average of 5.6% in 2014 and 6.2% this year, according to a survey of almost 10,000 employers, said Les McPhearson, CEO of United Benefit Advisors, the Indianapolis-based organization of independent benefits advisors. Many companies are giving their employees more choices in their plans, depending on their individual needs.
The increases remain "modest," because larger employers can implement "negotiating power," he said. "As premiums continue to increase at rates greater than inflation, the vast majority of employers have little choice but to pass on more and more costs to employees," he added. 
During the past five years, employees have been hit with a double whammy since both the share of workers with deductibles and the size of those deductibles rose sharply, according to Kaiser. The combination of these two factors resulted in a 67% increase in deductibles since 2010, much faster than the rise in single premiums of 24% and about seven times the rise in workers' wages of 10% and general inflation of 9%.
"With deductibles rising so much faster than premiums and wages, it's no surprise that consumers have not felt the slowdown in health spending," Kaiser's President and CEO Drew Altman said.
Companies Paying Less of Your Coverage...

Employees still bear high expectations that their companies will pay a large portion of their health insurance premiums, believing that the responsibility lies with them. This expectation is not waning even though employers are increasingly shifting a larger percentage of health insurance costs to their workers. A recent survey by Aflac found that 52% of employees expect their employer to pay at least 80% of the cost of their medical insurance, and another 14% said they expect an employer to pay the total cost or 100% of their health insurance.
"These expectations may be just a bit too high as the average employer pays about 70% of an employee's health insurance premium, according to the U.S. Bureau of Labor Statistics," said Matthew Owenby, chief human resources officer at Aflac, the Columbus, Ga.-based supplemental health insurance company.
The rise of health insurance costs varies among the size of companies and some are receiving hikes in the range of 20% to 40%, said Aaron Huang, vice president of marketing of Lumity, a San Mateo, Calif. health insurance provider to small and medium-sized companies.
"We expect the trajectory to continue well into the future, he said. "This will have a profound effect - not only on consumers, but also on small businesses."
The expectation from workers on how much employers should pay toward health insurance varies by the industry from 50% in the hospitality sector to 100% for white collar companies, said Jay Starkman, CEO of Engage PEO, a Fort Lauderdale, Fla. human resources outsourcing organization.
Working at small or medium-sized companies means workers might fare worse and have to dedicate a larger percentage of their salary toward premiums. The Affordable Care Act defines affordability where the employee does not pay greater than 9% of their wages for the premium, Starkman said.
The majority of companies only match to the required level or "generally 50% of the employee-only rate," he said. "Often times, companies will bridge this gap by providing more benefits whether its employee or employer paid, such as 401(k) or life insurance."
Employees Chose High Deductible Plans...

Employees are still leaning toward health insurance plans where the cost of the premium fit their budget needs instead of considering the doctors in the plan or the amount of the deductible.
A recent survey conducted by Aflac found that 30% of employees chose the plan based on the monthly premium, while 23% determine it based on the doctors.
"Many employees -- 53% -- are still choosing a major medical plan based on factors that may have little to do with the total cost of care for which they are increasingly responsible," he said.
Some workers are turning to high deductible plans to help defray some of the costs, with 46% of employees who selected a major health insurance plan with a high deductible of $1,000 or more last year, up from 34% who said the same in 2014, according to the survey.
Many employees have regretted this choice in hindsight, with 52% who found the high deductible plans to be a poor choice while 59% said the plans were financially detrimental. Millennials expressed the greatest amount of regret with 65% who said they disliked the plan.
Other Options...


Some employers are offering other benefits to offset the costs of increased premiums such as unlimited vacation days, unlimited maternity leave, flexible spending accounts, workplace wellness programs and telecommuting opportunities, said Huang.
Contributing to a health savings account is also becoming more widespread since the employer can help offset medical costs. HSAs operate much like IRAs and any unused portion rolls over each year.
"It also allows the employee a pre-tax mechanism for saving money to help cover future health care costs," said William Anderson, a vice president at PrimePay, a West Chester, Pa.-based third party benefits administrator.
Another mistake employees make is not reviewing the plans each year and simply keeping the plan they had the previous year again.
"We often see people choosing a health plan based on the lowest monthly premium cost, which can be a mistake depending on how often you need healthcare," said Egon Smola, a senior vice president of GetInsured.com, a Mountain View, Calif.-based health insurance broker.
"They don't realize that plans and formularies often change annually and what might have been a comprehensive or cost-effective plan last year might not suit all of your health and financial needs in the upcoming year," he said. "Plans change, providers often drop carriers and health needs change, so it's critical to take a hard look at all of your options."