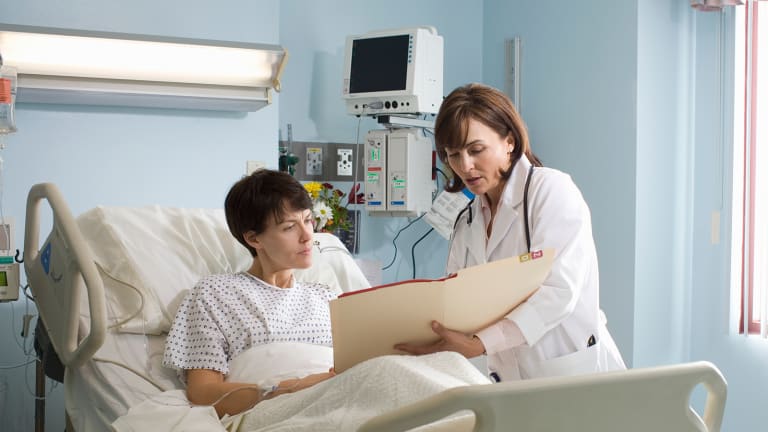 Obamacare Decoded: Why Learning Health Insurance's Metal Plans Is Important
Learning what bronze, silver, gold and platinum plans entail can help you choose among the health insurance options. Is your deductible about to get out of control?
Learning what bronze, silver, gold and platinum plans entail can help you choose among the health insurance options. Is your deductible about to get out of control?
Health insurance companies are increasingly adding the metal plans to the names of the plans, which can add to the confusion of which option to choose.
Since 2014, all the health insurance plans being offered are now designated by a metal level - platinum, gold, silver or bronze. The names of the metal levels are intended to be a shortcut on how much a consumer will pay for their coverage. Figuring out what they mean is crucial to all consumers, not just ones who are receiving subsidies.
Metal levels provide a guide to the amount of cost sharing consumers will be paying for all plans. Cost sharing is the amount you pay for deductibles, co-pays or co-insurance, said Nate Purpura, vice president of consumer affairs at eHealth.com, an online health insurance exchange based in Mountain View, Calif.
Choosing a higher metal such as gold or platinum means the out of pocket costs at a doctor's or hospital visit will be less. The silver and bronze plans, which are the lowest metal plans, "tend to have higher cost sharing" and consumers will have to spend more money on deductibles and co-pays, he said.
The amount of the premiums you pay each month increase as you go up the metal level ladder, but the amount of the cost sharing declines.
The metal plans were created to differentiate between the amount of cost sharing or actuarial value for each option – bronze plans cover the least amount at 60% of a person's medical costs while silver plans covers 70%. As the names imply, the more precious the metal, the more coverage it provides -- with gold plans covering 80% and platinum covering 90% of the costs.
"The actuarial value breaks out what percent of costs are paid by the insurer or by the consumer so silver plans have an actuarial value of 70%," said Theresa Stenger, an account manager for Trion Group, a King of Prussia, Pa.-based employee benefits marketplace company. "For every dollar spent on health care expenses, the insurer pays $0.70 and the member would pay the $0.30 difference through their deductibles, co-pays and co-insurance."
Factors to Examine...


All the metal plans have their pros and cons, and examining them in a simple fashion can help the consumer determine which one works best for him.
Gen X-ers and Millennials who have no health issues and rarely go to the doctor might opt for a bronze plan, said Purpura. Make sure you can pay the deductible in case of an accident and maximum out of pocket amounts.
Consumers who take prescription drugs on a regular basis or have other ailments like diabetes should consider buying a silver, gold or platinum level plan. Although you pay more in your premium each month, that money could be "more than made up for in the money you'll save when you get medical care over the course of the year," he said.
Other factors are equally important such as your doctor, hospital network and prescription drugs, so don't overlook them.
Consumers should calculate how much they can afford to pay not only the monthly premium, but also the deductible over the course of a year.
"The bronze plan will be less expensive from a premium perspective, but could the consumer afford to pay $6,600 out of pocket in one year should a medical issue arise?" Stenger said. "A consumer needs to consider what they can afford to pay in premium for better, more comprehensive coverage versus what they can afford to pay in premiums alone."
A bronze plan sold by one insurer is not the same as a bronze plan sold by its competitor, so check out the details such as the cost of a prescription drug. If you rarely take medications, then a plan where you pay a slightly higher amount, such as $40, might make more sense than one where you pay nothing but has a more expensive premium or higher deductible.
"You could have a bronze plan that pays for all prescriptions and nothing else," said Jack Hooper, CEO of Take Command Health, an online health insurance exchange based in Dallas. "Another company might make another bronze plan that covers no prescriptions, but pays for mental health or emergency care or whatever to reach the 60% level. You win when you can correctly discern which plan is skewed to cover your needs the best."
Receiving Subsidies...

The subsidies make all plans more affordable, so consumers who receive them tend to buy plans which are higher up the metal level ladder, Purpura said. People who receive subsidies are "most likely" to enroll in a silver plan while consumers not receiving them lean toward bronze plans.
"The dollar value of your subsidies is tied to the so-called 'benchmark' plan in your area, which is always a silver plan," he said. "That means that the value of your subsidies relative to your premiums begins to diminish if you climb too far up the metal ladder."