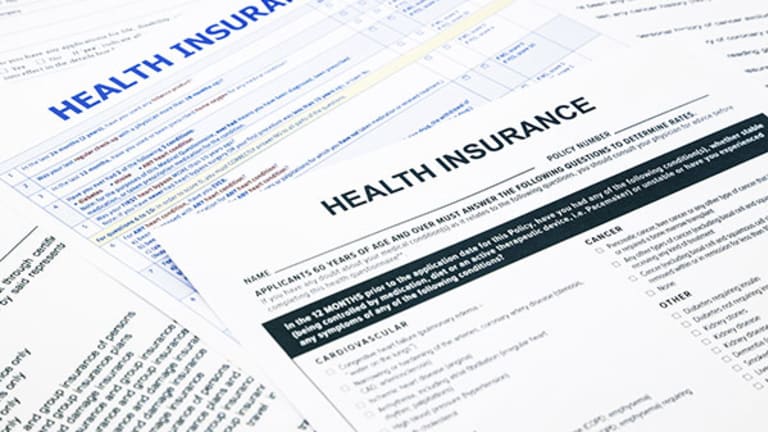 Mistakes to Avoid When Applying for Health Insurance Subsidies
Government subsidies can make your monthly health insurance premiums more affordable, but make sure you avoid some common mistakes when signing up for them .
NEW YORK (MainStreet) —Government subsidies can make your monthly health insurance premiums more affordable, but make sure you avoid some common mistakes when signing up for them.
Consumers should conduct some research to see if they qualify for any subsidies as they search for the right plan and coverage during open enrollment, which does not end until February 15. Eschewing the purchase of health insurance altogether is not a solution since consumers are on the hook for 2% of their salary to the government for 2015.
Health insurance subsidies are given out to household incomes which typically fall between 133% and 400% of the federal poverty level or up to about $46,000 for a single person or $95,000 for a family of four. Applying for subsidies can be a bit of a challenge and it can be easy to slip up.
One of the three key mistakes to avoid when applying for subsidies during the current open enrollment period is not to get carried away with your deductions, said Carrie McLean, director of customer care at eHealth.com, an online health insurance exchange based in Mountain View, Calif.

WATCH: More personal finance videos on MainStreet | More videos from Ross Kenneth Urken
View Today's Auto Loan Refi Rates
"When applying for health insurance premium subsidies, applicants are sometimes tempted to treat the process like doing their taxes and get a little over creative with their deductions," she said.
While you should report any deductions that are appropriate, be aware that adding too many can push your income too low; in that case, you may no longer be eligible for subsidies, but potentially eligible for Medicaid instead.
"Whether you're truly eligible for Medicaid, however, is a different story," McLean said. "Applying for Medicaid involves a different process in many states."
Another error many people make is underestimating their income, especially if they are self-employed and are used to "low-balling their income for tax purposes," she said.
"Underestimating your income can actually push you below the threshold for subsidy eligibility," McLean.
You could be creating another headache for yourself unnecessarily, because people who underestimate their income will simply have to pay the difference later on.
"Remember that once you qualify for subsidies, any discrepancy in the subsidies you were actually due and what you received during the year will be reconciled when you file your federal tax return for the year," she said.
If your income changes after you enroll in a health plan, be sure to tell your insurance company or enrollment agency, said Michael Mahoney, senior vice president of consumer marketing for GoHealth, a Chicago-based online exchange for health insurance. They will adjust your subsidy amount so you avoid an unpleasant surprise at tax time which can throw your budget out of whack.
Be prepared when you are ready to choose a plan, and don't forget your personal details and dependents. The eligibility of the subsidy is based on your household income and the people who will be covered by any plan you may choose to enroll in. The information you supply in your subsidy application will be double-checked against government records.
"Don't forget you will need their Social Security numbers when applying for subsidies and double check the personal information you enter into the form such as birth dates," McLean said.
There are several other scenarios and factors that can complicate your subsidy application or disqualify you:
• Applicants who file taxes "married, filing separately" – Married couples must file jointly to qualify for subsidies.
• Applicants who are under age 18 - Someone in the household must be 18 or older to qualify for subsidies; this means you can't apply for subsidies for just your kids.
• Applicants who don't file taxes – In order to qualify for subsidies, you must file a federal tax return; earning so little that you don't need to file usually means you're eligible for Medicaid. 
• Eligibility for other health insurance coverage – people who are eligible for coverage under an employer-based health insurance plan (even for COBRA) typically aren't eligible for subsidies.
Now is the time for you to do some research, because if you submit your application by January 15, coverage under a new plan can begin as early as February 1. Consumers who enroll by February 15 can get coverage starting March 1. Just because you have several weeks to choose a plan, don't put off your enrollment until the last minute and "get out there and enroll today," McLean said.
Failing to purchase health insurance last year because you could not afford it or did not think you needed it, means you are getting fined by the IRS for the first time. You will notice when you file your taxes since you will owe the government 1% of your income.
"This tax season is the first time people will experience the financial consequence of the individual mandate," Mahoney said. "That's a $298 fine for someone who earns $40,000 a year, according to the IRS. When people see that money taken out of their tax refund, the individual mandate will start to sink in."
Paying the penalty is not the solution either. In 2015, the fine for not having health insurance increases to 3% of a person's household income. For someone who earns $40,000 a year, the fine would be nearly $600.
"As the tax penalty becomes more severe, it'll become a greater deterrent for people considering going uninsured," he said. "Fortunately, there is still time to avoid the tax penalty this year."
If you think filing your taxes is confusing now, there is more paperwork on the horizon. With the rollout of new tax forms concerning the Affordable Care Act's tax subsidies and individual mandate, this upcoming tax season is going to be more complicated than usual, Mahoney said.
--Written by Ellen Chang for MainStreet