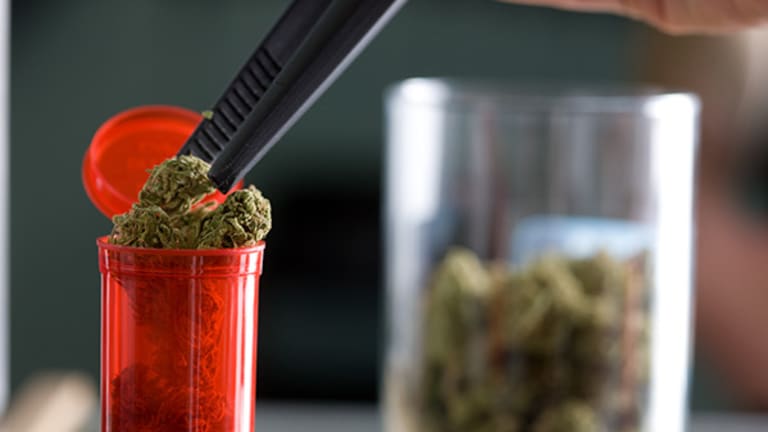 Marijuana Protein Bar Brings Health Craze to Cannabis Edibles
Edibles such as candy bars infused with CBDs pass through the stomach where the compounds are destroyed by acid in the gastrointestinal tract.
NEW YORK (MainStreet) — The hungry market for marijuana edibles is part of the recreational pot craze, but that doesn't mean the medicinal benefits get short shrift. Dr. Marlon Fuller, the founder of Budgetweed.com, is trying to carve out a healthy niche in edibles by launching a candy bar made with hemp-based cannabidiol (CBD) and containing less fattening ingredients.  
"The CANNABAR contains a form of cannabis sativa without the THC so it will be something that people globally can eat legally," said Fuller, who is also a pharmacist in North Carolina.
CBD edibles, of course, are nothing new.
"These sorts of products have been legal before any sort of marijuana movement began," said Scott Giannotti, president of the Cannabis and Hemp Association (CHA) in New York. "It is possible that the brand name CANNABAR could have some short-term value while America is learning about the virtues of cannabinoids, but it won't be long until national brands are bringing forth versions of American classics, such as Cliff Bars infused with CBDs."
For now, Fuller says his comparative advantage is his healthy-leaning recipe. Made with almonds instead of peanuts, honey instead of brown rice syrup or agave and hemp protein instead of soy or whey, the hemp protein bar will sell at BuyCannabar.com for $2.99 as well as at 600 convenience stores in New York, California, Florida, Texas and Oregon.
CANNABAR differs from other hemp bars on the market due to its creator's medical training.
"The 70g CANNABAR is pharmacist-formulated, baked, gluten-free, soy-free, dairy-free and vegan plus twice the size of most 35g bars," said Fuller, who has worked as a retail and hospital pharmacist.
With coconut-chocolate and goji berry-cranberry flavors, Fuller manufactured the protein hemp bar without FDA approval and without a license from the U.S. government's 2003 patent on CBDs as antioxidants and neuroprotectants.
"We did not have to get authorization to use our natural CBD hemp bars from the government because we make no health claims," Fuller said.
The CANNABAR is being marketed as a hemp edible, not a marijuana edible, even though both are in the cannabis family. 
Although Fuller says CANNABAR is naturally CBD-infused, critics question how the compounds will be delivered.
"There are a lot of CBD preparations, but the question is what is the optimal delivery system for these compounds," said George Anastassov, CEO with AXIM Biotechnologies, which manufactures products made with Cannabigerol (CBG).
The problem with edibles such as protein or candy bars is that they pass through the stomach.
"The compounds get destroyed by acid in the gastrointestinal tract, so there's not much left of the benefits of CBDs to be delivered to the blood stream," Anastassov told MainStreet. "It's not only about a product containing CBDs but how much your body absorbs."
Fuller stands by the unique benefits of CANNABAR and its planned sister products that include CannaWater, CannaVit and CannaBlast energy drink.
"The appeal of the CANNABAR is the ability to consume legal cannabis in a healthy hemp protein bar with all natural ingredients," said Fuller. "There are other CBD/THC infused bars in the marketplace being sold exclusively in medical marijuana states however they are federally illegal and cause a high."
-Written by Juliette Fairley for MainStreet