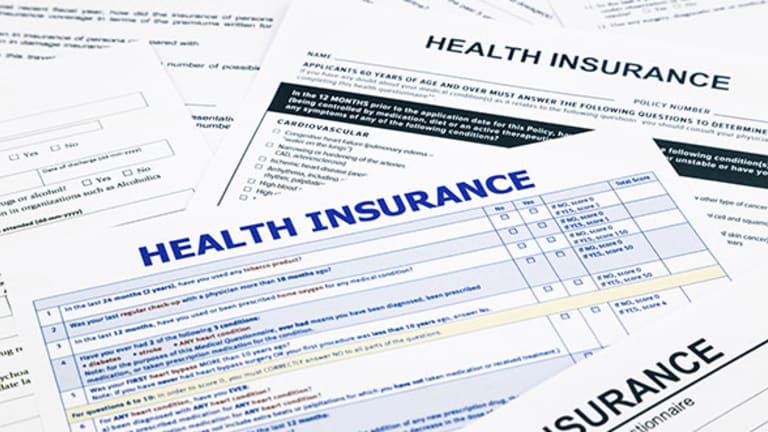 Employers Are Not Paying as Large a Share of Workers' Health Insurance Premium
Employees still have high expectations that their companies will pay a large portion of their health insurance premiums, believing that the responsibility lies with them.
NEW YORK (MainStreet) — Employees still have high expectations that their companies will pay a large portion of their health insurance premiums, believing that the responsibility lies with them.
This expectation is not waning even though employers are increasingly shifting a larger percentage of health insurance costs to their workers. A recent survey by Aflac found that 52% of employees expect their employer to pay at least 80% of the cost of their medical insurance, and another 14% said they expect an employer to pay the total cost or 100% of their health insurance.
"These expectations may be just a bit too high, as the average employer pays about 70% of an employee's health insurance premium, according to the U.S. Bureau of Labor Statistics," said Matthew Owenby, chief human resources officer at Aflac, the Columbus, Ga.-based supplemental health insurance company.
After a decade of moderate growth, premiums for both individuals and families of employer-sponsored health insurance increased by an average of 4% this year, according to the Kaiser Family Foundation/Health Research & Educational Trust (HRET) 2015 survey. Premiums haven risen an average of 5% annually since 2005, compared to 11% annually between 1999 and 2005. The average annual premium for single coverage is $6,251 with workers paying an average of $1,071. The average family premium is $17,545 with workers on average contributing $4,955.
Since 2010, both the share of workers with deductibles and the size of those deductibles have increased severely. The combination of these two factors result in a 67% increase in deductibles since 2010, much faster than the rise in single premiums of 24% and about seven times the rise in workers' wages of 10% and general inflation of 9%, the Kaiser survey found.
"With deductibles rising so much faster than premiums and wages, it's no surprise that consumers have not felt the slowdown in health spending," Foundation CEO Drew Altman said.
What Percentage Should Your Company Cover?...


The expectation from workers on how much employers should pay toward health insurance varies by the industry. In the hospitality sector, most employees expect only 50% of the coverage to be paid by the employer, said Jay Starkman, CEO of Engage PEO, a Fort Lauderdale, Fla. human resources outsourcing organization. Employees of a consulting firm or other mostly white-collar companies often "expect the employer to cover the entire cost," he said. "It truly depends on the landscape of the industry."
Employees at small or medium-sized companies might fare worse and have to devote a larger percentage of their salary toward health insurance premiums. The Affordable Care Act defines affordability where the employee does not pay greater than 9% of his wages for the premium, Starkman said.
The majority of companies only match to the required level or "generally 50% of the employee-only rate," he said. "Certain employers in specific industries do bridge the gap by covering more. Oftentimes, companies will bridge this gap by providing more benefits whether it's employee or employer paid, such as 401(k) or life insurance."
The cost of health insurance is now shared between businesses and their employees, and this prevailing trend will continue, said Tariq Hilaly, CEO of Lumity, a San Mateo, Calif. health insurance provider to small and medium-sized companies.
"Where it was once solely the employer paying a majority of healthcare for employees, today employees pay up to 40% of the cost of their health plans," he said. "Both parties have a vested interest in collaborating and understand needs in order to make the right decision that saves both of them money while driving the highest value for employee well-being."
Solutions to Bridge the Gap...
Companies that mandate that employees pay a larger share of the premium will sometimes offer other benefits such as vision, dental and accident coverage and even pet insurance, Starkman said.
"Often a professional employer organization (PEO) is brought in to help provide Fortune-500 level benefits and benefit choices to employees," he said. "Some PEOs will even offer a full private exchange and the services of benefit coaches to help employees select the best insurance alternatives for them."
In addition to traditional medical plans, other employers are offering ancillary coverages such as hospital indemnity insurance, critical illness coverage and accident insurance, which provide additional protection. As the use of private insurance exchanges grow more popularity, employers have the opportunity to offer more of a choice to employees, said William Anderson, a vice president at PrimePay, a West Chester, Pa.-based third party benefits administrator.
"While it is always a plus for the employee to have their employer cover a majority of their medical plan premiums both for employee-only or dependent coverage, employees are still very concerned with access to quality care," he said.
Contributing to a health savings account is also becoming more widespread since the employer can help offset medical costs. Health Savings Accounts (HSAs) operate much like IRAs and any unused portion rolls over each year.
"It also allows the employee a pre-tax mechanism for saving money to help cover future health care costs," Anderson said.
Employees not only have high expectations of financial support from their bosses, but they also want to be able to choose their doctors within their insurance plan, said Shawn Pynes, head of employee benefits for San Diego-based Barney & Barney, a Marsh & McLennan Insurance Agency.
"High health insurance costs are a very real fear for many employees, so from an employer's perspective, it's of vital importance to keep employees satisfied with their health insurance offerings," he said. "Not only does this boost morale and lead to higher job satisfaction, it's also a strong selling point and an effective way to attract new, high level talent to any organization."