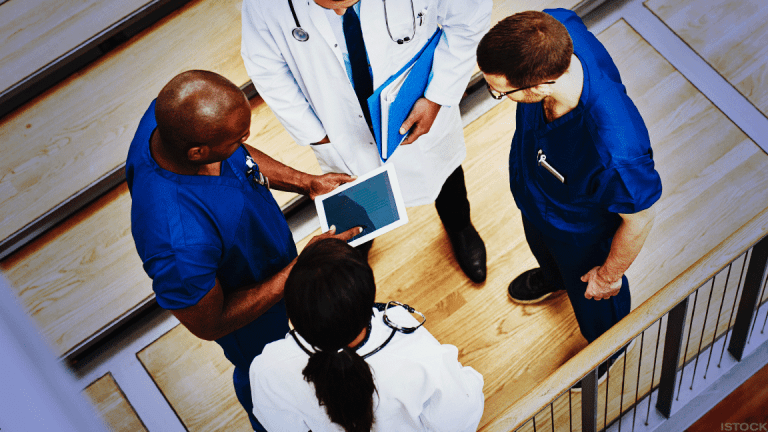 Deadline to Buy Health Insurance for 2018 Is Super Close
The window is shrinking for consumers who are facing Friday's impending deadline to purchase health insurance coverage for 2018.
The window is shrinking for consumers who are facing Friday's impending deadline to purchase health insurance coverage for 2018 and those who miss the deadline could encounter a potential tax penalty.
Health retailers including Blue Cross Blue Shield and eHealth (EHTH) - Get eHealth, Inc. Report , a health insurance exchange, say the next 72 hours to buy coverage will be "very busy" as many consumers who procrastinated will be scrambling to choose a plan. 
Obtaining coverage after Dec. 15 can be extremely difficult unless individuals move, change jobs, get married or divorced, or consumers qualify for other factors considered under the special enrollment period.
"We anticipate a significant increase in calls as we are in the last week of open enrollment, so don't wait until the last day to review your options," said Kurt Kossen, president of retail markets at Health Care Service Corporation, a Chicago-based health insurer and the parent company of Blue Cross Blue Shield plans in Illinois, Texas, Oklahoma, New Mexico and Montana.
Open enrollment could also end earlier for people who are covered by an employer,  especially if they work for a smaller firm. People who miss their company's open enrollment period may be automatically enrolled in their previous plan or lose coverage altogether, said Sach Jain, CEO of Carrum Health, a San Francisco-based healthcare procedures software company.
Consumers who anticipate obtaining a subsidy if their salary is below $48,000 can face even larger hurdles, said Lisa Zamosky, senior director of eHealth, a health insurance exchange based in Mountain View, Calif.
"The last day or two of open enrollment gets really, really busy," she said. "Unfortunately, most people didn't get the note about open enrollment ending early this year. If you're shopping through a government-run health insurance exchange, you can probably expect to end up in a serious bottleneck."
Millennials and other people are likely to qualify for "free" bronze plans, Zamosky said. A recent eHealth report showed that most subsidy-eligible individuals earning $25,000 or less will have access to zero-premium coverage if they use their subsidy dollars toward a bronze plan rather than a silver or gold plan, but deductibles and copays still apply.
Related links:
Both Millennials and Gen X-ers need to decide how often they go to the doctor and if there are any special circumstances, such as having a higher risk lifestyle by participating in extreme sports where injuries are a higher probability, said Mildred De Jesus, manager of enrollment support services at L.A. Care Health Plan, the largest publicly operated health plan in the U.S. with over two million members in Los Angeles county.
Another option to standard health care coverage is to buy a short-term plan, which can average $83 per month for people who are 25 to 34 years old, Zamosky said. These plans are helpful because they avoid putting consumers into a financial catastrophe if an emergency occurs, but they do not meet the coverage requirements of the Affordable Care Act, do not cover any pre-existing conditions and a tax penalty is likely to occur.
"Try to pick the plan that provides just the right amount of coverage -- not too much and not too little," said John Barkett, senior director of policy affairs at Willis Towers Watson in London. "If you don't think you'll need much care, look for bronze or silver plans, but if you expect you'll need care or take expensive prescriptions, consider gold plans."
Some consumers may find themselves exempt from tax penalties under the proposed tax bills.
"A recent study has shown that as many as 20% of Obamacare shoppers will be exempt from the tax penalty since the cost of 2018 coverage is so high this year," she said. The Senate tax bill would repeal the "individual mandate," which is the part of the Obamacare law that requires most people to have coverage or pay a tax penalty.
Consumers who opt to not purchase health insurance during open enrollment can still obtain plans under the ACA if they experience a qualifying life event. These qualifying life events give people a 60-day window to enroll in a new plan and include the following: Marriage or divorce, the birth or adoption of a child, loss of coverage under a parent's plan or through an employer or moving to a new city or state where new coverage options are available.
More of What's Trending on TheStreet: