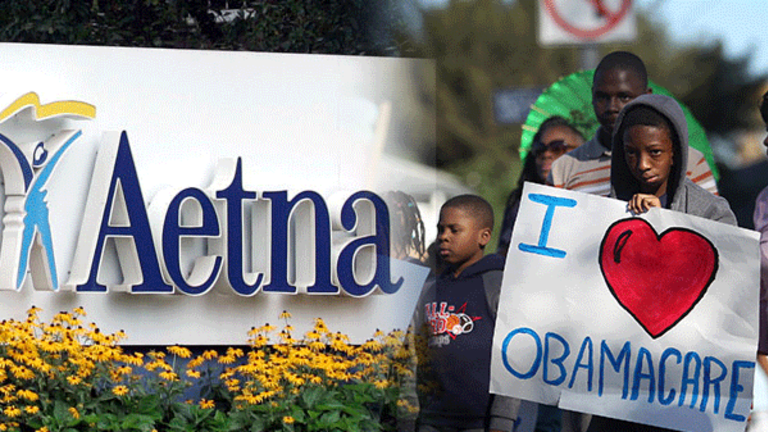 Publish date:
Ahead of Obamacare Open Enrollment, Are Health Care ETFs a Risk?
The health care sector's ties to the increasingly unpopular Affordable Care Act, plus an uncertain U.S. presidential picture, give some financial experts pause.
The health care sector's ties to the increasingly unpopular Affordable Care Act, plus an uncertain U.S. presidential picture, give some financial experts pause.
On several levels, the U.S. economy seems to be gaining steam, but with Obamacare open enrollment period beckoning in November, there's some doubt as to whether or not the health care sector will be coming along for the ride.
"Earnings have been outperforming expectations globally and growth appears to be resuming, and global economic expansion keeps going," says Jason Pride, director of investment strategy at Glenmede Trust Company, near Philadelphia. "Signs point to a continuation of this long, slow economic expansion."
But trouble lurks for the health care sector, as insurers continue to bail on the Obamacare open exchanges.
"Premiums will go up sharply next year under President Barack Obama's health care law, and many consumers will be down to just one insurer, the administration confirmed Monday," the Associated Press reported this week. "Before taxpayer-provided subsidies, premiums for a midlevel benchmark plan will increase an average of 25% across the 39 states served by the federally run online market, according to a report from the Department of Health and Human Services."
Further uncertainty for health care stocks and funds comes with the current race for the White House, as analysts wait for the U.S. presidential election results to see whether Donald Trump or Hillary clinton will win.
"A Trump victory could mean the repeal of Obamacare would cause for plenty of uncertainty in the health care sector," says Mitch Zacks, president of Zacks Investment Management. "In that event, investors would most likely sell first and ask questions later, waiting until a new plan is realized before getting back into stocks. However, recent earnings conference calls from a variety of insurance companies have indicated that Obamacare patients are too expensive and get sick too often. They have started to reduce their coverage because there is no financial incentive to offer insurance in certain areas."
"A Trump victory should unleash competitive advantages for larger insurance companies and get investors interested in a stock like Aetna (AET) ," he adds.
But a Clinton victory would expand Obamacare if she's elected, allowing more visits before deductibles and tax credits for out-of-pocket expenses, Zacks says. "Hospitals would profit with an expansion of Obamacare as more people would be encouraged to get care when it's needed," he says. "For example, HCA Holdings (HCA) - Get Report operates 164 hospitals and 116 freestanding surgery centers that would benefit."
Meanwhile, health care stocks and funds are in decline leading up to the first week of November, as the S&P 500 Health Care Index is off 2% so far in 2016, and the S&P Biotechnology Select Industry Index has slid steeply this year, down by 15%.
"This should come as no surprise," says Heidi Richardson, head of investment strategy for U.S. iShares. "A key factor in the recent selloff has been investor concerns that new regulations could impact the prices of drugs."
Richardson says political rhetoric connected to the presidential election are also feeding the fire, and right now, she doesn't see any signs of "significant" health care reform. "Although both U.S. presidential candidates have very different approaches to health care, each has proposed significant changes to the current system," Richardson says. "And as politicians suggest plans to rectify an imperfect system, many health care companies feel the heat, particularly biotechnology companies, which then see weakened stock prices."
While Richardson says the health care sector may be "over-penalized," the timing just isn't right for any aggressive health care sector plays. "Markets in autumn have historically seen an uptick in volatility, according to Bloomberg data," she explains. "Given that we are in the final weeks before the election, we expect volatility to continue in the health care sector. With so much focus on the sector, health care companies could continue to pay the price for political rhetoric in the near term."
There is hope stemming from positive third quarter earnings from key industry heavyweights, like Johnson & Johnson (JNJ) - Get Report and United Health (UNH) - Get Report , with average industry earnings coming in at 3.7% for the quarter, on average, according to Zacks .
For the short-term, at least, that could help popular health care ETFs like the Health Care Select Sector SPDR Fund (XLV) - Get Report , Vanguard Health Care ETF (VHT) - Get Report  and iShare Health Care ETF (IYH) - Get Report , Zacks says.
"Given that some companies have an unfavorable Zacks ranking and a lower probability of beating this quarter, healthcare ETFs might struggle to hold onto gains in the coming days," Zacks reports. "However, the above-mention ETFs are rated (by Zacks) as a 'strong buy.'"
On Wall Street, timing really is everything. That's one big reason why investors may hit the "pause" button on health care funds, until the smoke clears from both the election and the 2017 ACA open enrollment season.