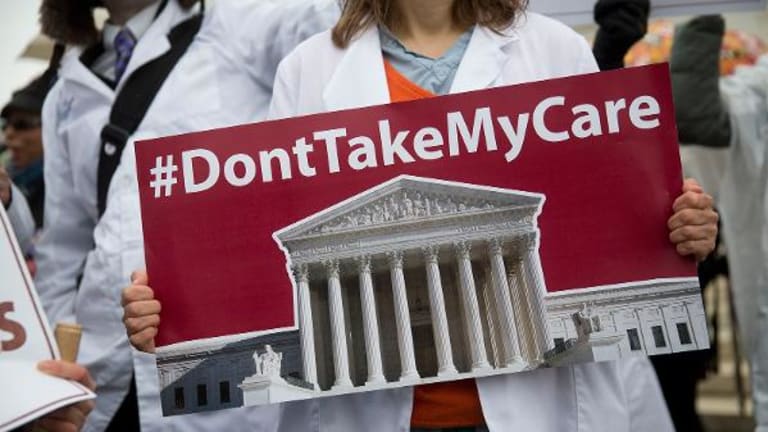 Publish date:
Affordable Care Act Ruling Expected to Intensify Health Care M&A
Hospitals, insurers and REITs are likely to benefit from the Supreme Court's decision in King v. Burwell.
Hospitals, insurers and REITs are likely to benefit from the Supreme Court's decision in King v. Burwell.
NEW YORK (The Deal) -- Hospital stocks popped Thursday after the Supreme Court rejected a challenge to the Affordable Care Act, an indication that deal-making will quicken in the industry and in adjacent sectors such as insurance and real estate investment trusts.
The 6-3 ruling in King v. Burwell, with Chief Justice John Roberts Jr. writing the opinion for the majority, means that hospitals can confidently broaden their geographic reach and widen their care offerings by acquiring physician groups, imaging businesses and urgent-care facilities. And they can also buy other hospitals.
The ruling is a positive for hospitals looking to buy and sell, said Trey Cobb, a managing director at Ziegler and Co., who focuses on both not-for-profit and for-profit health care organizations.
"People have been paying close attention to the ruling, and now it is clear that the Supreme Court has allowed the federal subsidies to continue with insured people in the U.S. and pave the way for additional insured lives in 2016," he said. "It helps to remove an unknown that could cause sellers of hospitals to remain on the sidelines until this ruling became clear or could have caused acquirers to sit on the sidelines."
Large players in the hospital sector include Tenet Healthcare (THC) - Get Report, which formed a joint venture with Welsh Carson Anderson & Stowe'sUnited Surgical Partners International this year in a deal valued at $1.9 billion. Others include Community Health Systems (CYH) - Get Report, acquisitive HCA Holdings (HCA) - Get Report, Universal Health Services (UHS) - Get Report, which also operates in the behavioral health sector.
Pure-play behavioral health provider Acadia Healthcare Company (ACHC) - Get Report may also be looking to buy.
The ruling may spur more public-private partnerships in the hospital space, a practice prevalent in Canada and the United Kingdom, said Patrick Pilch, of BDO's Healthcare Advisory practice.
Health care REITS, which are already active acquirers, also stand to benefit, he said.
"The right capital goes back to redesigning your health care model and to help improve outcomes for patients," said Plich of the possibility of health care REITs being able to scoop up more real estate in the space as hospitals seek to offer more services. "Hospitals are moving from a facilities-driven outlook to a patient-driven outlook."
By the end of the summer there will be 17 public health care REITS in the United States, Pilch said.

Health Care REIT (HCN) has previously suggested that it would be acquisitive in all areas of health care facilities.
This year, Ventas (VTR) - Get Report purchased Ardent Health Services for $1.75 billion from its private-equity backer Welsh Carson Anderson & Stowe. The company owned and operated health systems across the United States including 12 acute-care hospitals, a rehabilitation hospital and three multi-specialty physician groups.
For the post-acute and health care services sector, the primary change is that the valuations are at a point where buyers are willing to sell, something one industry watcher said wouldn't be affected by the King decision.
The person identified post-acute giants HealthSouth (HLS) and Kindred Healthcare (KND) as the large consolidators.
Deal activity will likely follow the model that those companies use: scooping up mid-sized and smaller companies to extend their reach and enter new care areas.
Home health care has been a sector the two companies have pursued, the industry watcher said, noting that HealthSouth and Kindred and are passing up traditional nursing home targets.
HealthSouth purchased EHHI Holdings, the holding company of Encompass Home Health and Hospice, in November from sponsor Cressey & Co. for $750 million. The deal expanded the strategic post-acute operator's bandwidth in the home health.
HealthSouth said that it plans to make add-on acquisitions to build the platform. Kindred purchased Gentiva Health Services last October for $1.8 billion after five months of chasing the company.
One person familiar with the industry characterized Thursday' trading activity in hospital stocks as a relief rally, suggesting that insurers are likely to reap the most benefit from the King ruling.
"At the margin it makes a deal easier to do for Humana," he said.
Humana (HUM) - Get Report has been the subject of numerous reports that Goldman Sachs is helping to sell the company. The insurance provider would be the first of the dominoes to fall among the big five insurers, a spate of consolidation mainly driven by the ACA.
Fellow insurer Cigna (CI) - Get Report rejected a $54 billion overture from insurer peer Anthem (ANTM) - Get Report this past weekend.
The Deal reported on Monday that Anthem is likely to reach out to shareholders to push the deal along.
In its King ruling, the Supreme Court handed the Obama administration a huge victory. The justices also added more fuel to the health care industry's deal-making engine.
Read more from: