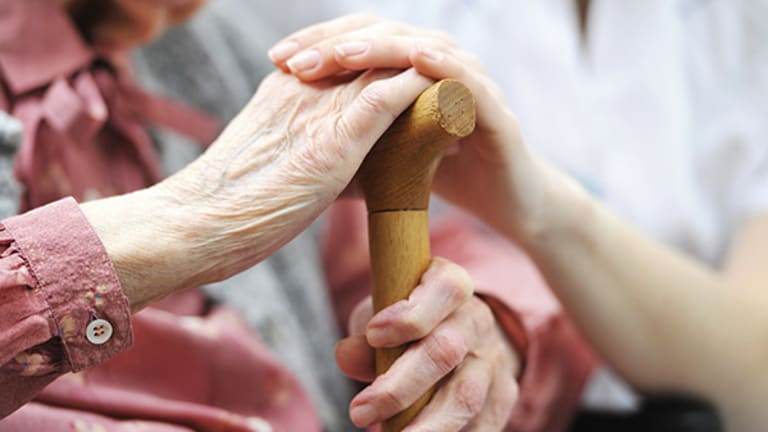 Lewy Body Dementia Is a Lesser Known Disease That Can Part You From Your Money
Underdiagnosis is just one reason LBD remains unfamiliar to the public and many doctors and why funding for research is lagging.
NEW YORK (MainStreet) — Not many people have heard of Lewy body dementia, yet it's the second most frequent cause of progressive dementia, and there are more people with Lewy body dementia than Parkinson's disease.
The cost of caring for someone with this different kind of dementia also differs. In 2008, the average cost of caring for an individual with Lewy body dementia was $35,000 a year compared with $25,000 for a person with Alzheimer's, according to research led by Carolyn W. Zhu of the Mount Sinai School of Medicine in New York that was published in the journal Alzheimer's & Dementia. Direct costs included drugs, hospitalizations and home health care. Indirect costs included lost wages, unpaid caregivers and stress.
An estimated 1.3 million people in the U.S. suffer from Lewy body dementia while as many as 1 million people are thought to have Parkinson's and more than 5 million people are thought to have Alzheimer's disease.
Lewy body dementia is the most commonly misdiagnosed form of dementia, and it takes an average of more than 18 months and three doctors for people who have the disorder to get a proper diagnosis, according to the Lewy Body Dementia Association (LBDA). As a result, most people are already at moderate or severe stages when diagnosed with the disease, and patients have been left vulnerable to potentially deadly side effects of certain drugs.
Lewy body dementia is so unheard of that the LBDA enlisted the aid of Whoopi Goldberg to launch its "Lewy Who?" awareness campaign.
One reason for the lack of awareness is that Alzheimer's disease is the most common dementia and Parkinson's disease is the most common movement disorder," says James E. Galvin, M.D., M.P.H., director of the Pearl I. Barlow Center for Memory Evaluation and Treatment at New York University. The most common diagnosis in a field predominates medicine and media, he notes.
Lewy body dementia is more difficult to diagnose, because it often has symptoms of both diseases. As a result, many doctors also have a difficult time recognizing it, and those specialists who are better able to recognize it have a difficult time diagnosing it. However, there are differences. For example, people with Lewy body disease have fluctuations in their cognitive abilities whereas those with Alzheimer's typically do not.
Diagnosis of Lewy body dementia is based on symptoms, which can vary widely among individuals with the disorder, then ruling out other causes. A dopamine transporter SPECT (DAT) scan can be used to support a diagnosis.
Lewy body dementia is named for the Lewy bodies, alpha-synuclein protein deposits found in specific areas of the brain. Over time, they accumulate and cause the brain cells to die. Lewy body dementia affects thoughts, language processing, mood, memory, emotions, behavior, movement and sleep, and it can cause visual hallucinations. In fact, REM sleep disturbances, where people appear to be acting out their dreams moving in ways that may appear violent or where they fall out of bed, in many cases are its earliest symptoms, sometimes occurring years before the onset of other symptoms. These sleep disturbances result in excessive daytime sleepiness. Other symptoms include fluctuations in cognitions, blood pressure, heart rate, and temperature, constipation, dry eyes, dry mouth, and sexual dysfunction.
One of the most important reasons for getting a diagnosis is that certain medications can worsen the symptoms of Lewy body dementia and can cause severe side effects or a potentially fatal reaction. Compounding the problem is when doctors try to save money by prescribing generic drugs. Older neuroleptics are cheaper than the newer ones, because they are all available as generic drugs; however, they may be dangerous for people with Lewy body dementia, Galvin says. Doctors who don't recognize this condition can see bad outcomes in patients, he warns.
Specialists and generalists need to be aware of Lewy body dementia, Galvin says. Doctors know the disease and the symptoms, but don't recognize it in the patient sitting there, because they lack experience with it, he says.
Correct diagnosis is important for other reasons. "[T]he doses of medications and titration schedule is sometimes different," "the disease progression is different," and "the symptoms one might anticipate are different" from Alzheimers and Parkinson's, says Carol F. Lippa, M.D., director of the Memory Disorders Program at Drexel University College of Medicine.
Because Lewy body disease is relatively unheard of and, hence, lacks funding, no drugs have been developed to treat this disease. Drugs used to treat both Alzheimer's and Parkinson's, and sometimes drugs used to treat schizophrenia, are used off label to treat it.
The only way to address the disease is to increase awareness, Galvin says.
--Written by S.Z. Berg for MainStreet