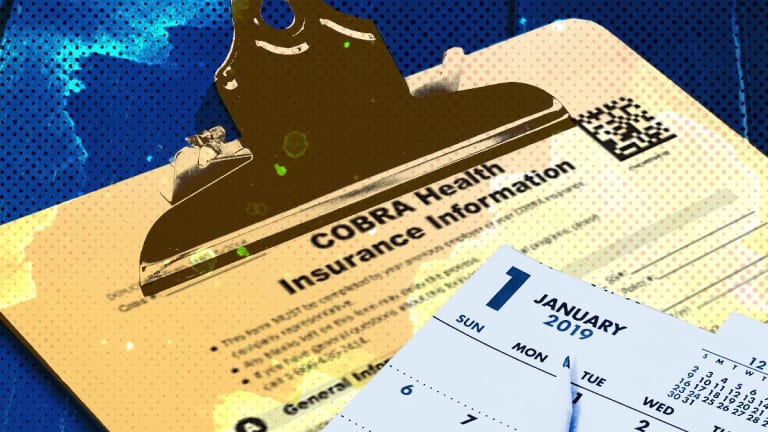 Publish date:
How Does COBRA Insurance Work?
COBRA can literally be a lifesaver if you're out of a job, but you still need health care coverage.
COBRA can literally be a lifesaver if you're out of a job, but you still need health care coverage.
Leaving a job has enough potential headaches without having to worry about losing your health insurance plan.
That worry can largely be taken off the table via a 1985 law that guarantees any worker who leaves his or her job - for any reason - can continue to have health insurance coverage.
That legislation, known formally as the Consolidated Omnibus Budget Reconciliation Act, and more informally known as COBRA, can be a lifesaver for newly jobless individual dependent on a health care plan.
How to Qualify for COBRA
That's where Uncle Sam pitches in. Under COBRA, workers who leave a job can keep their exact same health care plan, with the exact same benefits. They'll need to pass several generally easy to pass conditions, including:
Having the right health plan coverage. The worker's health care plan, delivered by his or her employer, must be covered by COBRA. In general, that means employer-based health plans from companies with more than 20 employees. Several states have "add on" laws that allow for Cobra coverage for smaller companies.
You lost or left your job due to a qualifying event. COBRA can only go into effect if the employee left a job due to a qualifying event, like a layoff, illness or injury, or if the company went out of business. Basically, any way you lose your job outside of extreme negligence or gross misconduct likely means you qualify for COBRA coverage.
You're a qualified beneficiary. Any COBRA plan must be a qualified beneficiary, and be up to date on his or her health plan coverage. That includes the employee, the employee's spouse and family, and any ex-employees who were covered by a qualifying health care plan by a company that went out of business.
The downside with COBRA coverage is that the price tag rises when you accept plan coverage.
That's because the employer, who used to contribute to an employee's health care costs, is out of the picture now. That leaves the burden of cost coverage on the ex-employee who will likely still pay less than he or she would pay for individual health care coverage on the open market, but pay more than under the employer's plan while on the job.
The COBRA recipient will also have to pay an additional fee for administrative costs for handling the plan. By and large, that cost represents 2% of the plan cost.
COBRA Plan Limits
To qualify for COBRA coverage, an ex-employee has to follow the bureaucratic blueprint laid out by Uncle Sam.
In doing so, the COBRA recipient must take the following action steps and meet the following dates:
The 30-day limit. To gain COBRA coverage, a former employee must first work with his or her ex-employer (specifically the health care plan administrator) and register the employee's departure as official, and that the qualifying event is legitimate. Generally, that means the employer must inform the health care plan administrator that the employee wants to keep their health care plan through COBRA, once they're out of a job.
The 14-day limit. The employer's health care plan administrator then must notify the employee within 14 days that COBRA coverage is available.
The 60-day limit. At this point, the employee has 60 days to decide whether or not he or she actually wants COBRA medical care coverage.
The 18-month limit. If the employee decides to go forward and accept COBRA coverage, that employee is allowed 18 months of coverage after the official loss of employment date. That coverage time period can be extended out to 36 months for other qualifying events, and be maintained as long as the insured's health care premiums are paid and the account is up to date. If not, the insured's COBRA coverage could be terminated.
The insured individual is under no obligation to remain on the plan for the full 18-month time period (or a longer period, depending on individual circumstances.)
The insured can cancel his or her COBRA plan at any point in time. This often is the case when an employee regains full employment, participates in the new employer's health care plan, and no longer needs COBRA coverage (and likely does not want to pay the higher costs of COBRA health care plan relative to employer-sponsored plans.
Alternatives to COBRA Plans
There are several alternatives to health care plans if COBRA, for whatever reason, doesn't fit your health care needs once you leave a job.
If that's the case, these are your best health care options:
Purchase an individual health care plan. Under the Affordable Care Act rules, an individual who loses his or her job outside of the ACA enrollment period can buy health care coverage on the open exchange marketplace. ACA statutes also forbid insurance companies to load up on extra charges for new enrollees who need insurance immediately. Insurers also can't reject an applicant, even if he or she has a pre-existing medical condition.
Purchase a policy directly through an insurance company. Individuals out of a job can still buy a health insurance policy directly from an insurance company, as well. Start by shopping on health insurance company web sites, or go through a local insurance agent who can help you find the best deal. Most plans are Affordable Care Act-compliant, meaning you can't get turned down for pre-existing conditions. It's worth noting, however, that you can't get subsidized financial help from U.S. taxpayers if you buy a health care plan outside the ACA exchange, even if you need such a policy to see your primary caregiver or get the special medical treatment you may require.
Get a new policy. Maybe the best idea is to land a new job and get a new health insurance policy from your new employer, who'll likely cover a substantial part of the costs. Easier said than done? Yes. But getting a new job is the quickest path to new health insurance at a lower cost.
Get spousal coverage. If your spouse is working full-time and has health insurance, it's possible to add your name to the policy, under the conditions established by your spouse's employer. This will add costs to the plan, but the move doesn't have to be permanent. Once you land a new job, you can remove yourself from your spouse's plan and enroll in your new employer's health plan.
Buy a short-term health care plan. New rules from Washington, D.C. allow Americans to purchase so-called "short term" health insurance plans. They don't cover everything and the deductibles are high, but you'll have coverage for three or six months or so (depending on the plan) in case of serious illness or injury.
For more information about COBRA, just ring up the Employee Benefits Security Administration at 1-866-444-3272. Additionally, you can check out the EBSA website. More research can be found via An Employee's Guide to Health Benefits Under COBRA, a government research guide.