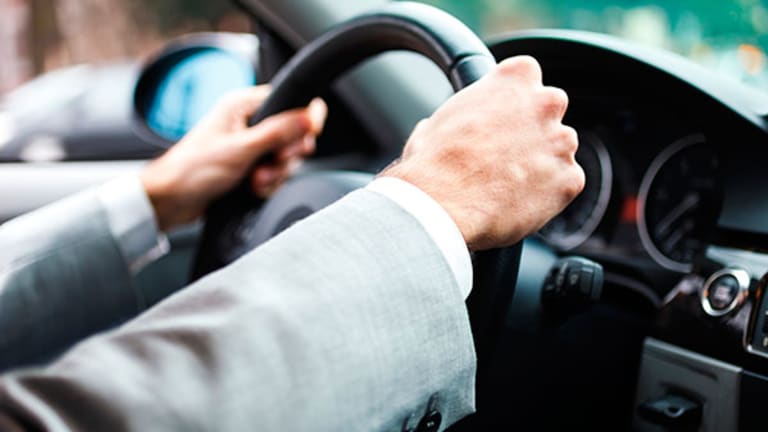 Why Millennials Aren't as Afraid of Pay-As-You-Drive Insurance as Half the Country
It's not that drivers don't like the potential discounts of pay-as-you-drive insurance. It's the remote monitoring that worries them.
NEW YORK (MainStreet) – There's a way to potentially lower your car insurance costs, but it involves letting an insurer put a monitor in your car. Not surprisingly, U.S. drivers are skeptical.
In fact, a majority (51%) say they would never join a pay-as-you-drive insurance program, according to a report from InsuranceQuotes.com. That reluctance isn't exactly dissipating as the option becomes more widely available, either. Just last year, only 37% were dead-set against pay-as-you-drive insurance last year.
Still a relatively new offering in most states, this form of insurance tracks driving behavior through a small sensor installed in a car or through an existing on-board communications system. That sensor feeds certain information back to the insurance company. It has drivers already feeling watched by in-car tracking and payment technology increasingly fearful, though folks within the insurance industry say those fears are just a bit overstated — especially since there can't be any negative repercussions to the pay-as-you-drive program.
"Insurers are not allowed to use the information to raise rates," SAYS Laura Adams, a senior analyst at insuranceQuotes.com. "Many carriers give a premium discount in exchange for signing up for a pay-as-you-drive program and subsequently raise or lower the discount according to a driver's mileage and performance."
Read More: 5 Electric Cars You Can Totally Buy Now for Less Than $35,000
The National Association of Insurance Commissioners predicts that 20% of all U.S. auto insurance companies will incorporate some form of pay-as-you-drive program within the next five years. Insurers can use a vehicle's telecommunications and information telematics system, smartphone apps or even existing technology such as General Motors' OnStar to record driver behavior data regarding driver behavior and help set discounts that range between 10% and 30% off the annual premium.
Progressive's (PGR) - Get Progressive Corporation Report Snapshot program, for example, places a small wireless device under the dashboard of a car to record how many miles are driven each day, how often a vehicle is driven between midnight and 4 a.m. and how often a drivers slams on the brakes. Other insurers including Allstate (ALL) - Get Allstate Corporation Report , State Farm, The Hartford (HIG) - Get Hartford Financial Services Group, Inc. (HIG) Report , Liberty Mutual, GMAC and Travelers (TRV) - Get Travelers Companies, Inc. Report have similar programs.
There's a lot of distrust of the service, based largely on misinformation. More than half of respondents said they think insurers can monitor whether they've been drinking and driving (nope), while 35% say they think insurers can jack up rates for driving in "neighborhoods with a lot of crime" (1. What? 2. No!).
As the above answers imply, privacy is a huge concern with pay-as-you-drive insurance. Of people who said they'd never consider it, 21% said their primary concern was sharing personal information. Of course, it doesn't help when much of that fear comes from ignorance, as was the case with 26% of respondents who dismissed pay-as you-drive insurance solely because "I don't understand how it works."
Read More: 5 Cars You'll Want to Be Driving When the Snow Starts Falling
That isn't the drivers' fault, though. Awareness of such programs has actually decreased over the past year, to 36% of respondents from 42% in 2013. Considering that almost three-quarters of Americans who have heard of pay-as-you-drive insurance learned about it from a television commercial, that's just insurance companies doing a terrible job of getting the world out.
There is one demographic that's having no problem picking up what insurance companies are putting down: Millennials. That group of under-30s was more than twice as likely as their older counterparts to hear about pay-as-you-drive insurance from friends or family. According to the survey, 47% of drivers between the ages of 18 and 29 are aware of pay-as-you-drive programs, while only 22% percent of drivers 65 or older have heard of it. Not only that, but only 15% of Millennials share their elders' concerns about strange alien technology stalking their every move and following them everywhere they drive.
As a result, millennials are the most likely age group to enroll in a pay-as-you-drive program. A full 43% of drivers between the ages of 18 and 29 said they would consider enrolling. That's compared with just 36% between the ages of 50 and 64 and just 28% of respondents over 65 who said they would consider it.
Pay as you drive isn't popular with mom, dad or the grandparents, but it seems to be meeting their kids and grandkids where they're at.
That's not as big a win for insurers as it would have been a generation ago. The share of new cars being bought by Americans between 18 and 34 is down 30% in the past five years, according to auto pricing site Edmunds.com, while the Pew Research Center study notes that people under 35 bought 12% fewer cars than they did in 2010.
— By Jason Notte for MainStreet
>To contact the writer of this article, click here: Jason Notte.
>To follow the writer on Twitter, go to http://twitter.com/notteham.
>To submit a news tip, send an email to: tips@thestreet.com.
RELATED STORIES:
>>Millennial Investors Care More Than Boomers, Gen X
>>Millennials Don't Want Your Risky Investments