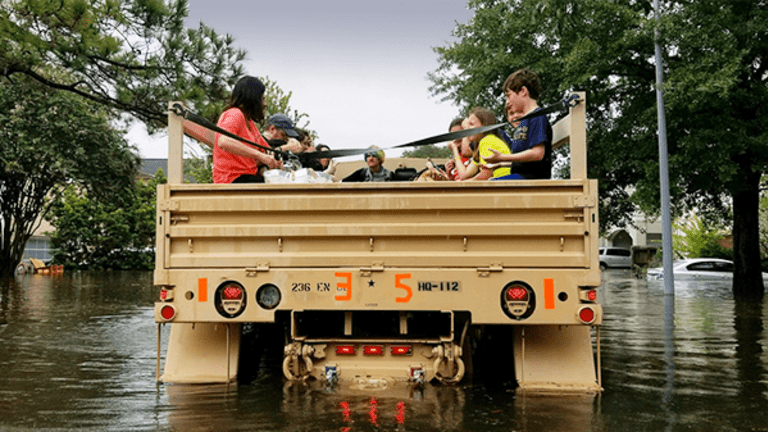 What to Do After a Catastrophic Hurricane Harvey Type Flood Damages Your Home
Must-know tips.
Homeowners who have been affected by a flood need to take measures for rebuilding even before the water recedes.
The catastrophic flooding in Houston and Corpus Christi has affected hundreds of thousands of people whose homes have been damaged or destroyed. The financial losses can add up quickly, especially for consumers who only purchased home insurance, but not flood coverage.
Homeowners should contact their flood and home insurance companies immediately even if rebuilding will not occur for several weeks. Their next step is to notify their mortgage company or auto loan lender, said Greg McBride, chief financial analyst for Bankrate, the New York-based financial content company.
"After first contacting your insurance company, homeowners and car owners with damage should also notify their lenders," he said. "Late fees are typically waived for those residing in areas impacted by a natural disaster and in extreme cases monthly payments may be deferred for a period of time."
Many affected areas will lack power not only for days, but for weeks. Purchasing food, medical supplies and other necessities may have to be conducted by using cash instead of credit or debit cards.
Consumers will often find that their financial institution will have more than one location located centrally in the aftermath of a hurricane, tornado or other natural disaster.
"In areas without power, it is back to a cash-only economy," McBride said. "Many banks and credit unions will set up mobile 'branches' so affected consumers are able to access cash or easily apply for loans needed to repair damage. These won't involve the typical bankers' hours."
Homeowners who do not live in areas that are prone to flooding should reconsider it, because a few hundred dollar a year will cover rebuilding the house and paying for the contents such as appliances and furniture.
"If you don't currently have flood insurance, rethink your stance," he said. "Look no further than the images from south Texas if you need any justification."
The most common electrical danger is with people being electrocuted in flooded homes, said Keith Pinkerton, owner of Mr. Electric of Huntsville, Ala.
"If your home is in danger of flooding, it is imperative to turn off the main breaker or you run the risk of being electrocuted when stepping into the water," he said.
Review Policy Before Flood Hits
Before a storm makes landfall, homeowners should review their policy with their agent to determine what their current one provides coverage for and the amount of their deductible. Many consumers mistakenly believe that a simple homeowners policy will also cover wind and flood damage, making them vulnerable to being denied a claim.
Depending on the region where you live, coverage for fires or earthquakes could be a necessity. Make sure you check to see if the policy includes protection for wind, hail and flood coverage, said Bruce McClary, spokesperson for the National Foundation for Credit Counseling, a Washington, D.C-based non-profit organization. The typical insurance policy does not cover those incidences and must be purchased separately.
When a consumer is considering coverage, consider paying for the full replacement or replacement cost coverage instead of opting for the cash value since items depreciate in value, he said. Renters of apartments or homes can buy coverage for stolen or destroyed personal property.
Flood insurance takes 30 days to become effective, so homeowners must purchase it ahead of a storm, said Laura Adams, senior insurance analyst for InsuranceQuotes, an Austin-based insurance data company.
"There is a waiting period, so you can't wait until the storm is bearing down," she said.
A regular homeowners policy will only protect you from damage caused by rain, but any flooding that is the result of excess water from a bayou, river or ocean will only be covered by a flood policy, Adams said.
"Once the water is on the footprint of your property, then it is your problem," she said.
Homeowners should be aware that even with the combination of FEMA, homeowner and flood coverage, not all repair costs will be paid.
"They won't pay 100% and there will be some gaps there to make your home as good as before," Adams said.
A March survey commissioned by InsuranceQuotes found that 56% of respondents mistakenly believed that a standard homeowner's policy covers flood damage while 67% of Millennials ages 18 to 36 agreed.
"Being misinformed about your home policy can be an extremely expensive mistake — especially when a few inches of water in a 1,000 square-foot home can easily cost over $10,000 in repairs," said Adams.
Insurance companies typically provide additional living expenses for hotels and meals if homeowners can not live in their house while the repairs are being made, she said. Consumers should expect to shell out their own money first but will get reimbursements within 30 days for expenses typically. The companies will also pay for the purchase of a sump pump, generator or supplies like wood for do-it-yourself repair.
"By filing your claims now, it would be a smart thing to do and get your name on the list," Adams said. "That will help you get the most out of the benefits.
These Are Some of the Most Dramatic Images From Hurricane Harvey
Claims are processed much faster when an inventory can be provided. Taking photos or videos will expedite the process, she said. Ensuring the photos are accessible is also paramount, so consider emailing it to yourself or your agent or saving it in the cloud.
Taking photos or scanning important financial documents such as deeds and wills ahead of time will save you the headache of searching for them under dire circumstances.
Notify your utility and cable companies if your residence is uninhabitable so the bills will be halted, said McClary.
Another step is to notify the three credit bureaus and the Federal Trade Commission and have a fraud alert placed on your on accounts and lower the chance of becoming a victim of identity theft.
Creditors are often willing to negotiate a payment plan and review your budget, he said.
"Don't be embarrassed about seeking assistance since many employers offer access to an Employee Assistance Program as a benefit," McClary said.
These are some must-know hurricane terms.
More of What's Trending on TheStreet: