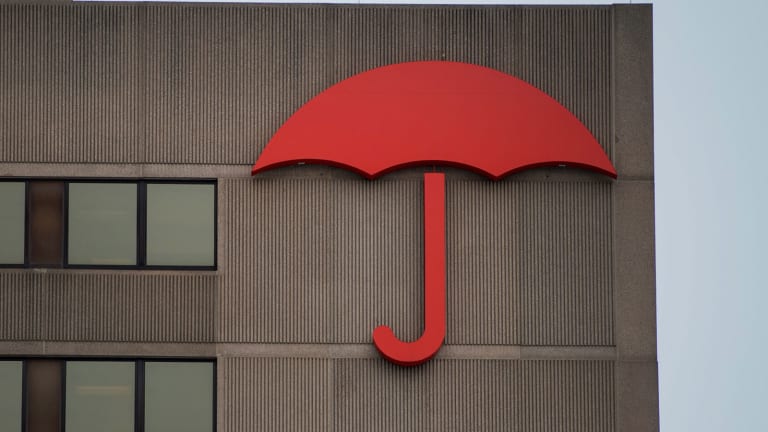 Travelers Is Looking for Acquisitions; The Hartford Could Be a Target
Hartford Group has been caught in a flurry of takeover speculation, with its shares spiking on the heels of Chubb's acquisition of ACE. Some see Travelers as a potential suitor.
NEW YORK (TheStreet) -- Travelers Cos. (TRV) - Get Travelers Companies, Inc. Report signaled on Tuesday that is looking for acquisitions, and at least two analysts think that Hartford Group (HIG) - Get Hartford Financial Services Group, Inc. (HIG) Report could be a target.
Hartford shares have spiked roughly 13% since July 1, when Swiss insurance giant  ACE (ACE) announced its $28.3 billion acquisition of New Jersey-based Chubb (CB) - Get Chubb Limited Report. That deal fueled speculation that other property-casualty insurers would be forced to merge to remain competitive, with Hartford being the next likely takeover target.
Shares of its peers such as Hanover Insurance Group (THG) - Get Hanover Insurance Group, Inc. Report, Navigators Group (NAVG) - Get Navigators Group, Inc. Report and Argo Group (AGII) have respectively gained 7%, 3%, and 2% respectively since the announcement.
Travelers, which reported earnings on Tuesday morning, clearly indicated that it's in the market to buy.
"No primary (property and casualty) insurer has come together over the past two decades through acquisition activity more than we have," Travelers CEO Jay Fishman said on the earnings call. "We are very good at it, and while we haven't announced any mega transactions in a number of years, our shareholders should expect that we're aware of the possibilities and that we are expert at evaluating them. That evaluation comes down to determining the best way to create shareholder value."
Travelers' last major acquisition was its $16 billion merger with St. Paul Cos. in 2003.
Fishman also noted that if Travelers makes a bid in the insurance sector, it would most likely come through debt financing.
"If a transaction makes sense, you get it financed, and treating your shareholders' money like it's a bank account to just sit on is really not appropriate," he said. "So I think we've done exactly the right thing, and when there is a transaction that we want to do, we will do it."
A Travelers bid for Hartford would make sense, John Heagerty, an analyst with Atlantic Equities, said in an email.
"Overall, a deal would be a good option for HIG and would crystallize the value that we see HIG delivering over the next two-three years," Heagerty wrote. "For Travelers, it looks like quite a defensive option, but I would probably back the management team to make it work."
Heagerty added that Hartford's stock has risen in expectation that the company would fetch a premium, and could rise further. He estimates "a takeout price of $56.38" for Hartford, whose shares are now trading for about $47.
Other possible bidders for Hartford include Allstate (ALL) - Get Allstate Corporation Report and AIG (AIG) - Get American International Group, Inc. Report, and while Germany's Allianz (AZSEY) is large enough to be a bidder, recent U.S. selloffs signal that it's an unlikely suitor, according to Heagerty.
According to reports, Citigroup (C) - Get Citigroup Inc. Report has also run the numbers on what a Hartford acquisition would look like for investors, noting that a takeover would most likely come at more than $55 per share, while Credit Suisse says Hartford may entertain an offer only at upward of $60 per share, Bloomberg News reported. Citigroup declined to respond to a request for comment.
But despite speculation that Travelers could finance a bid for Hartford, such a combination would not effectively handle the size and reach of the new ACE-Chubb giant, according to a recent Dowling & Partners report.
"We suspect Travelers would be better served to consider an acquisition with a more international focus," the report said. "In a world of blogs, emails, and rumors of the day... one has to step back and ask: Does it make sense?"
A Travelers-Hartford tie-up would also only further roil the insurance marketplace, perhaps even bringing Warren Buffett into the fray with a defensive bid, especially with over $40 billion in cash on Berkshire Hathaway (BRK.A) - Get BRK.A Report books, according to Heagerty.
The Hartford Group and Travelers Insurance declined to comment. Berkshire Hathaway did not immediately respond to requests for comment.
"If The Hartford Group really is in play, then we believe that the obvious counter-bidder would be Berkshire Hathaway," Heagerty said. "Berkshire has been steadily building its presence in commercial insurance over the past few years and recently announced that they're looking to diversify more rapidly away from reinsurance given that the returns have decreased substantially in that space."
ACE CEO Evan Greenberg, son of former AIG CEO Hank Greenberg, has shaken up the insurance field with his pick up of Chubb, and now rivals must compete with a company that will generate a combined annual $30 billion in premiums, based on last year's figures.
The Hartford Group earned about $13 billion in premiums, according to its annual SEC filing.
This article is commentary by an independent contributor. At the time of publication, the author held no positions in the stocks mentioned.