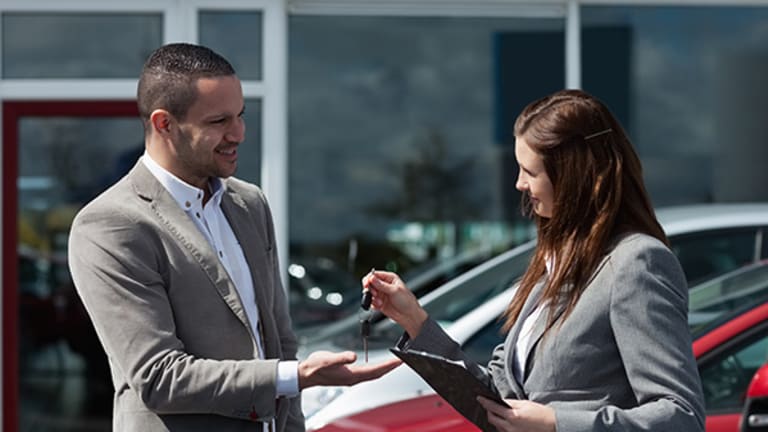 The Truth About Rental Cars and Insurance
If you're renting a car, here's a look at how much insurance you really need.
NEW YORK (TheStreet) -- The next time you're standing at the car rental counter, do you know what you'll say when asked if you want insurance? While it's certainly better to walk away with too much protection than not enough, you don't want to waste money on insurance you don"t need.
With rental insurance, what you need depends almost entirely on what you already have. Whether you carry insurance for a personal vehicle or you don't own a car, our experts weigh in on what's best for you:
If you already have personal car insurance:
If you already have car insurance, you more than likely do not need to buy additional insurance. The coverage on your policy is going to protect you, says Laura Adams, senior insurance analyst for InsuranceQuotes.com.
"If you have comprehensive and collision coverage, which pays for the theft of or damage to your car regardless of who is at fault, it may pay for damage to the rental car as well," she says. "Likewise, your auto liability coverage could pay for damage or injuries that you cause to others in an accident in your rental car."
For example, customers of Progressive car insurance generally have the same coverage on a rental car that they have on their own car, says Mike Sablack, the company's managing attorney for legal operations.
"If you have comprehensive, collision and liability coverage on your personal insurance policy, there's a good chance that you'll be covered in a rental car," Sablack says. "It's important to note that laws differ from state to state, and to be safe, consumers should ask their agent or call Progressive directly to find out."
If you don't already know what's included in your auto insurance policy, find out as soon as you can, stresses Stacey Vogler, managing director of ProtectYourBubble.com, a company that insures smartphones and computers and offers rental car insurance policies.
"Consumers have to understand what they have in their wallet," she says. "If you don't know, you're going to be more likely to pay for the upgrades the rental company is selling. They"re going to be pushy, encouraging you to get everything from additional insurance to GPS to prepaid gas. Very little of that do you actually need."
Also see: Why Checking Social Media on Vacation Is Just as Bad as Working
Also see: Why Checking Social Media on Vacation Is Just as Bad as Working>>
Calling your insurance company to find out the particulars on your policy isn't something most people look forward to, but those five minutes can really give you peace of mind, Adams says.
"Just give them a call and hear it from the horse's mouth. Once you get them on the line, have someone show you exactly where in your policy it describes your protection in a rental. Get it in writing if you can -- have them send you an email and save it on your phone or tablet so every time you go on a trip you can take a look and see exactly what you have," she says.
Even though you have auto insurance, think seriously about whether you'd want to go through the process of filing a claim with your insurance company if you have an accident, Vogler cautions.
"If something were to happen, would you really want to go through the time and trouble of filing a claim?" she asks.
Also, be aware that if you use your personal auto insurance, your premium may go up if you file a claim, Adams says.
"If this is a concern, the rental car coverage would keep you from having to get your auto insurance provider involved if you have an accident. Especially if you have a high deductible on your insurance policy, you may want to take the coverage offered by the rental car company so you wouldn't have to pay the deductible."
If you don't have a car or car insurance:
If you have no insurance before you start your trip, It's safest to take out all the insurance the rental company offers, Adams says.
"You're going to want to get full coverage. At the very least you have to make sure you have liability coverage for the worst-case scenario," she says.
Also see: 10 Ways You Invite ID Theft Trouble on Vacation
Also see: 10 Ways You Invite ID Theft Trouble on Vacation>>
Liability insurance -- the insurance that protects you when you are liable for personal injury or property damage -- is the most important insurance one can have. It's included on most all personal auto insurance plans.
If you don't want to take out insurance offered by your rental car company, there are other options. Companies including Travel Guard and Protect Your Bubble offer insurance plans for rentals that may be cheaper than what you'll find at the counter, but they must be bought in advance. If you buy one of these plans, note that the protection is for you -- not the rental company.
"The rental car company may tell you 'Oh, we don't accept other insurance,' but that's irrelevant. It's not for them to accept -- if something happens, we deal directly with our customers and reimburse them, then they pay the rental car company."
The truth about coverage from a credit card
Some credit cards will cover you for collision damage to the rental when you use their card to pay, but no credit card covers you for liability, Adams explains. If you're planning to rely on protection from your credit card company, make sure you check with them first.
"Credit cards geared towards travelers may have particularly good rental car insurance coverage," Adams says. "On the other hand, some credit card insurance agreements have very specific exclusions to coverage. For example, Visa cards typically won't cover what Visa calls 'expensive or exotic' vehicles, including Aston Martins and Bentleys."
Some cards offer a waiver of deductible coverage. This means that if you have an accident, the card company will reimburse you the cost of your insurance deductible.
"It varies from card to card, but if you're renting a car, it makes sense to put the rental on one of the cards that has some level of protection," she says. "It can't hurt."
Note that credit card companies do change their policies from time to time, so if you think you had some form of rental car coverage in the past, call before you drive.
"Just tell the representative that you're renting a car and ask to see whatever protection they offer in writing. They should easily be able to point you to it on their website or email it to you."