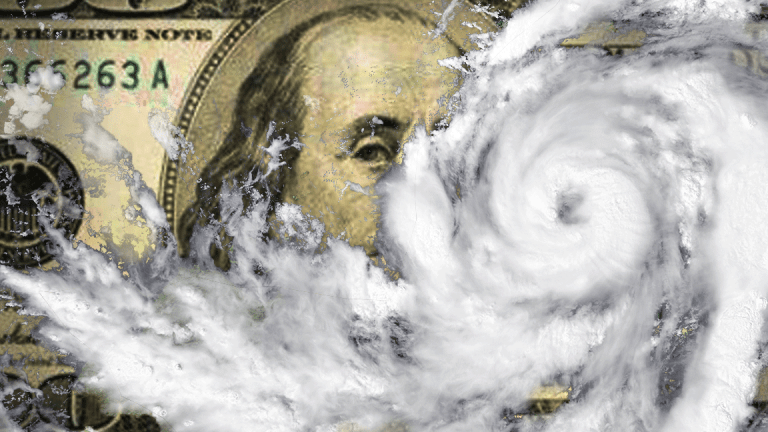 Hurricane-Relief Bill Passed by House Includes This Major Perk for Big Insurers
The U.S. House of Representatives on Thursday passed a bill that would allow private insurers to compete with the government for flood-coverage policies. One problem is that lawmakers still haven't approved new funds for the National Flood Insurance Program, which could run out of money next month.
Allstate Corp. (ALL) - Get Allstate Corporation Report , Progressive Corp. (PGR) - Get Progressive Corporation Report and other property-insurance companies could more easily compete with the U.S. government on flood policies under a bill passed Thursday by the House of Representatives in which industry lobbyists piggybacked on unrelated relief measures for victims of Hurricanes Harvey, Irma and Maria.
The bill, called the Disaster Tax Relief and Airport and Airway Extension Act of 2017, faces a tougher hearing in the Senate, where some lawmakers of the majority Republican party have criticized efforts to reform flood-insurance through what many critics have described as a piecemeal approach. The measure was tacked onto a broader bill granting tax breaks to hurricane victims and extending the Federal Aviation Administration's authority, set to expire Sept. 30. 
The U.S. government's 49-year-old National Flood Insurance Program, or NFIP, has racked up more than $25 billion in debt by providing subsidized policies to homeowners in flood-prone areas, and the program is expected to run out of money next month based on the pace of claims following the recent trio of catastrophic hurricanes.
The insurance industry and Republican leaders in the House have argued that private insurers can provide better coverage at lower rates to customers, thus helping to reduce the government's role in the market. Many Democrats, along with Republican lawmakers from the flood-prone state of Louisiana, say it's irresponsible to provide an easy entree for private insurers into the market while failing to address broader shortcomings in the government-run program. 
Louisiana's two U.S. senators, Bill Cassidy and John Kennedy, both Republicans, said in a joint statement on Wednesday that it was "greatly concerning" that the flood-insurance provisions were included with the FAA reauthorization bill "rather than as part of comprehensive flood-insurance reform." 
During debate Wednesday in the House, Garret Graves, a Louisiana Republican, said that the new bill might allow private insurers to steal business from the NFIP, further undermining the government program's solvency. 
"You're going to cause premiums to be diverted from the program," Graves said. The NFIP is "going to have to be borrowing more." 
The NFIP provides about 98% of all flood policies for homeowners. While much of that coverage is provided at subsidized rates, industry executives say that improved flood maps, elevation-monitoring tools and better underwriting practices have made it easier in recent years to undercut the government on policies where premiums are set artificially high.
The Property Casualty Insurers Association of America, an industry group, said in a statement Monday that it supported the legislation. The association's board is led by John Barbagallo, president of the commercial-lines group at Mayfield Village, Ohio-based Progressive.
Officials with the Federal Emergency Management Agency, which administers the flood-insurance program, say the government has never failed to make good on a legitimate claim, and that they are confident Congress will allocate new funding before current resources are exhausted. 
More of What's Trending on TheStreet: