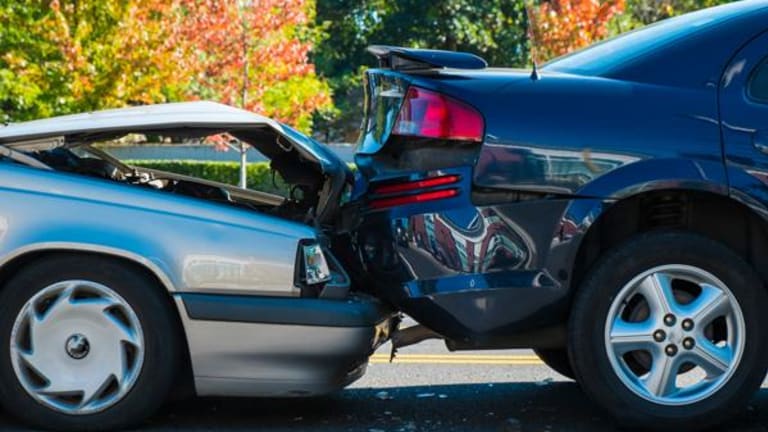 Publish date:
One Auto Insurance Claim Can Cost You a Lot
Just one auto insurance claim of more than $2,000 can raise your rates by 44%, but even that national average can rise depending on the state you live in.
Just one auto insurance claim of more than $2,000 can raise your rates by 44%, but even that national average can rise depending on the state you live in.
Your insurance only helps you if you file a claim, right? Depends on the claim.
If you can cover the cost of damages without doing yourself much financial harm, that may be less disastrous to your finances than filing a claim.
As we've noted before, what the U.S. driving public doesn't know about car insurance is frightening. About 40% of you don't know what it means when your car is totaled. About 28% of drivers think insurance pays the post-crash value of a totaled car, while 12% aren't sure what happens when a car is totaled.
About 14% of people, including 23% of Millennials and people making $30,000 or less wrongfully believe insurance covers auto repairs. Even worse, 17% don't know that where they live affects their insurance. Finally, a full 44% of you -- especially those ages 18 to 29 (53%) -- think driving a red car increases your insurance rates (it doesn't).
Late last year, a survey by insurance pricing and data site InsuranceQuotes.com found that a U.S. driver who drives 5,000 miles a year pays 8.61% less on average than a fellow driver who logs 15,000 miles a year -- or just slightly more than the 13,476 the average American drives annually, according to the Department of Transportation.
"Most consumers aren't aware of the relationship between mileage and auto premiums," says Laura Adams, senior insurance analyst for insuranceQuotes. "If your daily commute decreases, be sure to notify your insurer quickly so you don't overpay for coverage."
However, according to a new report from insuranceQuotes.com, filing just one auto insurance claim can raise a policyholder's premiums by hundreds of dollars each year. The average rate hike for the first claim nationwide is 44.1% (up 6% from just three years ago) after filing a single claim of $2,000 or more. That rate spike costs consumers $371 per year on average, but the pain is far worse in North Carolina (where rates increase 57.3% on average after one claim), Massachusetts (57.3%), Texas (59.9%), New Hampshire (60.3%) and California (63.1%).
"The rate increases drivers pay after filing a claim keep getting bigger, and this trend is likely to continue," Adams says, "It underscores just how important it is for consumers to shop and compare rates on a regular basis."
Especially if you think you'll ever need to file more than one claim. According to the report, the average nationwide premium increase for a second auto insurance claim is 99.4%, up 13% from 2014. According to the National Association of Insurance Commissioners (NAIC), California drivers pay an average annual premium of $783. That means a single auto insurance claim in that state could result in paying an additional $494 per year for auto insurance. A second claim would raise that initial premium above $1,500.
"Medical inflation has been lower, but it may be that increasing numbers of people with insurance and in government programs are reducing hospital profits, which means insurers are making up the difference with higher auto insurance premiums," says Eli Lehrer, president of the nonprofit R Street Institute. "It may be that the average accident resulting in a claim is getting more serious, even as accident rates decline."
The type of claim you file factors heavily into its effect on you premium. A single bodily injury claim — filed whenever you cause injuries to someone else in an accident — yields an average premium increase of 48.6%. However, a single comprehensive claim — which pays for damage that results from something other than a collision, such as fire or theft— boosts premiums by less than 2%.
There's a big reason for that: a human body costs a whole lot more to fix than a car. According to the NAIC, the average bodily injury claim cost $17,024 in 2015 while the average property damage claim was just $3,493. The average cost of a comprehensive claim in 2015 was $1,671, but even that cost has little impact on overall premiums because it has almost nothing to do with how you drive a car.
In fact, geography is a far greater influence on your premiums than a comprehensive claim. We've noted that certain states can be brutal to drivers who file just one claim of $2,000 or more, but Kentucky (30.6% increase), Montana (30.2%), Oklahoma (27.9), Michigan (26.1%) and Maryland (21.5%) are far more lenient than others. However, you give up a little bit more on the front end of your insurance agreement to prevent paying later. In Maryland, for example, insurers can set premiums by using a whole bunch of factors that have nothing to do with your driving history. Gender, age, marital status, occupation and a driver's credit score are all fair game for determining a Maryland driver's premium.
No matter what state you live in, your rates to remain high for about three to five years after filing that first claim. After that they'll slowly lower to pre-claim levels, but only if you don't file another claim.
"If you don't like that, shop around," says Michael Barry, spokesman for the non-profit Insurance Information Institute. "Different insurers treat prior claims differently, so you could end up with a better deal elsewhere."
This article is commentary by an independent contributor. At the time of publication, the author held no positions in the stocks mentioned.