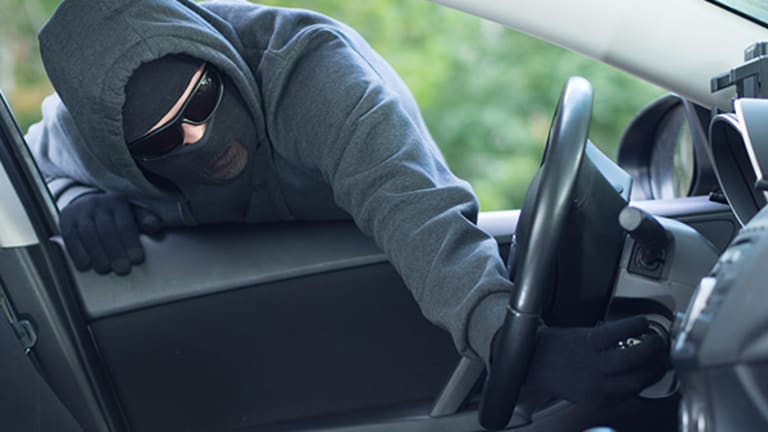 Nightmare in Your Driveway? Halloween Is Fright Night for Auto Thefts
Halloween is scary enough without having your car stolen.
Halloween can be all tricks and no treats for car owners, whose vehicles are highly vulnerable for theft on the last day of October.
In fact, Halloween ranks second behind New Year's Day as the biggest day for auto thefts, holiday-wise, on the calendar in the U.S., with almost 2,000 reported car heists in 2013, according to the National Insurance Crime Bureau  
Why Halloween?
Distraction is the main reason. Holiday revelers often leave the car running while trick-or-treating, park in an unattended area while at a Halloween party or leave the car at home or work while attending a holiday event - all are open invitations for car thieves. Couple those factors with Halloween being on a Saturday in 2015, with more opportunities for parties and late trick-or-treating, and auto owners may be ripe for a theft attempt if they're not careful.
Zeheria Brown, who has worked in insurance for over ten years in the Miami area -- including two recent stints include in fraud management and total theft management -- says drivers are too relaxed around the holiday.
"An increase in thefts around Halloween leads to mischievous behavior," she said. "That, coupled with people letting their guards down, leads to disastrous results. I have seen many instances where people have carelessly left keys in their vehicles, assuming they are in a safe neighborhood where things like stealing don't occur."
Brown says there are theft rings that target neighborhoods, "and those thieves will especially look for people caught off guard that are partying or not paying attention to them, like they normally would," she says.

To protect your vehicle on Halloween night, be vigilant and extra careful before you don that Donald Trump costume and head out into the night.
"Don't forget about your valuables," advises Pat Clancy, vice president of law enforcement at LoJack, the auto security company. "Even if you are just traveling around the neighborhood, never leave valuable assets inside the car." 
Also, always remember your keys. "If you do decide to venture out on Halloween, never leave your keys or key fob inside the car or leave the car running," Clancy says.
To keep thieves at bay, also make noise - lots of noise. "The easiest way to protect your car is through the combination of an alarm and a recovery device," Clancy adds. "Anything that makes noise can help ward off thieves." Another tip - make sure to park your vehicle in well lit, populated areas. Thieves are more inclined to target dark, unattended areas for theft, Clancy notes.
Another good move? "Whenever possible, keep your car in a garage that has a secure lock - as an added bonus this will also keep your paint and interior looking like new," says AutoPartsWarehouse in a recent  tip sheet. "If you park on the street at night, try to park under a streetlight."
Be "brighter", too, the company says.
"If a car alarm is activated, on most vehicles that means the lighting activates as well, and the brighter the lights, the better," AutoPartsWarehouse states. "Most modern cars have perimeter lighting built into headlights, taillights, and mirrors to enhance safety and visibility. Make sure that all lights are working correctly and if they are cloudy, cracked, or flat-out broken replace them today."

Above all, know that auto thieves are out and about on Halloween and are aggressive about grabbing your wheels. It's a scary thought, but there are good moves you can make to avid being a victim of auto crime on the most frightening day on the calendar.