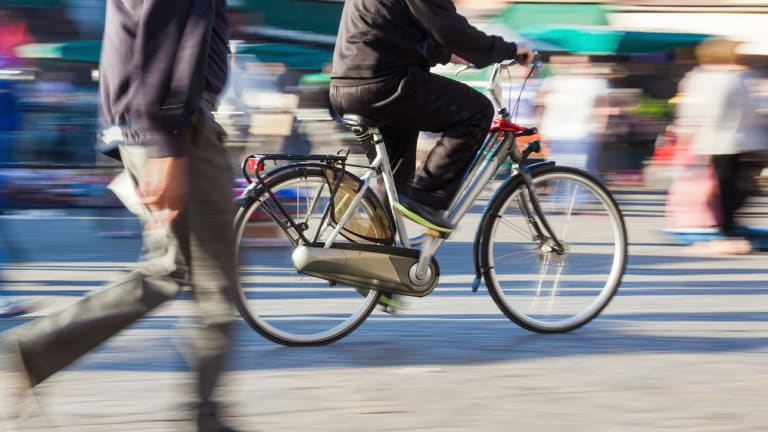 Most Big Auto Insurers Are Just Taking Advantage of Your Low-Mileage Driving
Auto insurance companies seem to be taking low-risk drivers for granted, but consumers aren't standing for it.
NEW YORK (MainStreet) — The less miles on the road, the lower the risk of an auto accident — but most insurers, especially big ones, don't want to offer low-mileage deals, as those drivers help insurance companies absorb the risk of higher-volume drivers. And risk, after all, is what auto insurers try to avoid.
But what the industry is really avoiding, says the Consumer Federation of America, is rewarding low-mileage, safer drivers with better rates.
"Large auto insurers frequently fail to reward drivers with low mileage despite a strong relationship between this mileage and insurance claims," the CFA says in a study. "In fact, three of the five largest insurers often give low-mileage drivers no break at all" — despite 61% of U.S auto insurance consumers saying mileage should be a factor in determining auto insurance costs.
Worse, in the opinion of the CFA, is that the auto insurance industry is sticking it to demographic groups who can afford it the least. "The failure of most large insurers to adequately reward low mileage especially harms lower-income and older drivers, because they drive the least," says Stephen Brobeck, executive director. "This lack of concern for mileage, along with an emphasis on other non-driving factors such as occupation and income, help explain why insurers charge many lower-income drivers such high prices for minimal, state-required liability coverage," he adds.
The CFA looked at some of the biggest auto insurers in the nation, including State Farm, Allstate, Progressive, Geico and Farmers. Using a sample driver (a 30-year-old single women with no history of accidents or traffic tickets driving a 2005 sedan on a $30,000 salary), the CFA compared insurance quotes for 5,000 and 20,000 miles annually. In 49 states — California mandates that auto insurers use mileage when formulating insurance costs — Farmers, Progressive, and Allstate provided the same yearly premium for both the 5,000 and 20,000 miles driven.
"In most cases, Farmers and Progressive did not even ask consumers for their annual, estimated mileage in preparing the quotes," the CFA reports. "State Farm is the only major insurer that consistently rewards drivers for low mileage." 
Some auto insurance consumers are avoiding the mega insurance companies to find low-mileage discounts elsewhere. "My insurer adjusts rates based on type of use and mileage driven," says Bruce Merkin, a Berkeley, Calif., media relations professional with Liberty Mutual insurance who takes public transit to work. "In addition to being rated as 'pleasure use,' they survey me each year on total miles driven, and it absolutely makes a difference."
Others say it's more complicated, with auto insurance providers holding the best cards. "I'm a Boston driver and commute about 2.5 miles by car to get to work, so it's a drag that I'm not rewarded for low mileage," says Kirian Szwed, a yoga instructor. "When I lived in Connecticut years ago, Allstate used to offer low-mileage discounts, but I think the bottom line is that now companies don't want the extra complexity or lost revenue."
To give drivers more insurance options on low-mileage driving, new companies are hitting the market and loading up on the driving discounts.
"I'm with Metromile, which provides a base rate plus per-mile insurance model, and my monthly bill depends on how many miles I drive that month," says Craig Streaman, a freelance digital marketing professional. "I work from home and drive less than 300 miles most months, and I drive a 2011 BMW 328i with the best coverage I've ever had, and my insurance bill is less than $60 most months."
Dan Preston, chief executive at San Francisco-based Metromile, says big insurers have grown accustomed to low-mileage drivers' insurance rates to "carry" higher risk drivers — but that practice has to stop. "It's been known for many years that mileage is the dominant factor in pricing for insurance, but because there was no way to verify mileage, only very small discounts have been given to drivers." Preston says. "Traditional insurers today have not yet offered per-mile insurance because the low-mileage drivers are the ones subsidizing the high-mileage drivers, and thus if they were to offer per-mile insurance or reward low-mileage drivers they'd have to raise rates on high-mileage drivers, which would cause those drivers to leave and disrupt their whole model."
— Written By Brian O'Connell For MainStreet