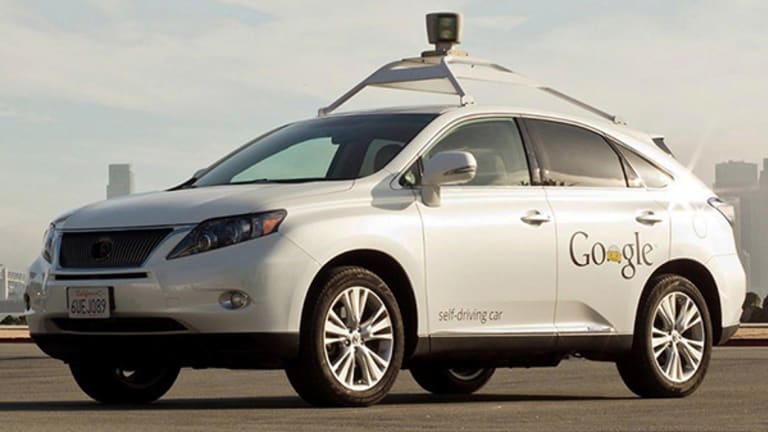 Driverless Cars Won't Disrupt the Insurance Industry Anytime Soon, Here's What Will
Investors and insurers should be worried about autonomous technologies in traditional vehicles, and not driverless cars.
NEW YORK (TheStreet) -- There has been recent discussion that driverless cars could disrupt the insurance industry, but this concern is premature.
Autonomous vehicles aren't going mainstream anytime soon. Too many issues remain, including standardizing the behavior of these cars and determining who would be liable in accidents.
What will disrupt the insurance industry in the near term is the increasing application of driverless car technology to traditional vehicles. This is what insurers and investors should be worried about right now.
These technologies could reduce accident claims dramatically. As the Los Angeles Times reported late last year, automakers are now making autonomous technologies standard offerings in autos.
They include monitoring of drivers' blind spots, warnings about unsafe drifting and seat vibrations that alert drivers that objects are too close. Emergency braking systems are also finding their way into traditional autos. There are also technologies that use sonar, radar and GPS to determine that a crash is imminent.
The automatic emergency braking system alone could reduce accidents by 45%, according to an article in The Telegraph.
Volkswagen (VLKAY) , Hyundai Motor (HYMLF) , Honda Motor (HMC) - Get Report and Fiat Chrysler (FCAU) - Get Report are among the automakers that are already offering autonomous technologies in their cars. 
These technologies are bound to reduce accident rates in the near term. Matthew Avery, an auto safety researcher, was quoted by The Telegraphas saying that many commentators predict these technologies will reduce by 80% the number of people killed or injured on U.K. roads.
Let's consider the infographic below to point out the easiest way these technologies could change the insurance industry.
Source: Buy Auto Insurance

As autonomous features become more popular in traditional autos, we can expect to see the rate of fender damage claims drastically drop. In the near term, it may mean a better bottom line for insurance companies. In the long term, however, the "fender bender factor" will become less relevant, which will mean less insurance risk, and ultimately, lower premium.
In addition, the statistic of claiming an accident every 17.9 years is mostly based on the security offered by traditional autos. As a result, as autonomous features become more common, this statistic is also likely to improve, ultimately, meaning fewer accident claims.
Lastly, the part that says you never know what will happen once you're behind the wheel will be made obsolete, as automatic technologies will make it easier to predict what can and what can't happen to properly maintained cars.
Autonomous technologies in traditional cars also are likely to improve drivers' driving histories, which are a big factor in determining insurance premiums.
The debate remains unresolved over who should be held liable in accidents involving driverless vehicles. Until it is settled, automakers are likely to continue adding autonomous features to traditional cars. Even if automakers will be liable in some cases because of this technology, the liability won't be as big as in the case of fully autonomous cars.
The greatest threat is to the insurance industry. Insurers will see fewer claims, which eventually will force them to charge lower premiums. The technology might help them boost profits in the near term, but they are likely to lose more over the long term.
It is worthwhile to note that some insurance companies including Cincinnati Financial (CINF) - Get Report and Mercury General (MCY) - Get Report are already recognizing the risks to their business posed by technology, according to an article in The Wall Street Journal.
They appear to be focused on driverless cars, however, which may not be mainstream in the next few decades. Other technology could affect their business before then, and investors in auto insurers need to keep an eye on these trends in coming years.
This article is commentary by an independent contributor. At the time of publication, the author held no positions in the stocks mentioned.