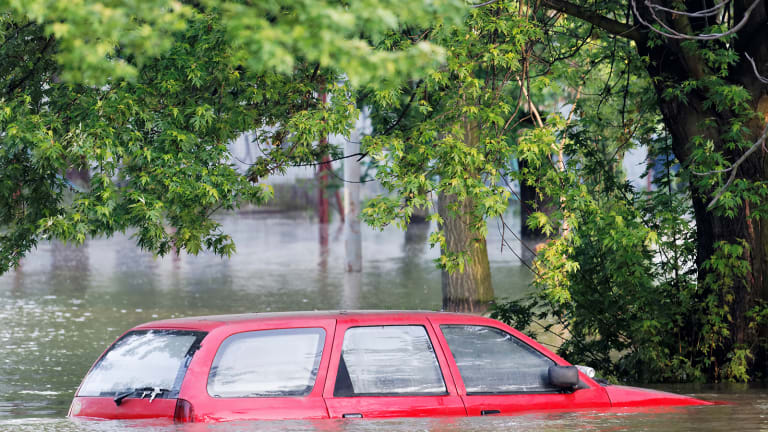 Does Your Insurance Cover Dog Bites, Flooding or Your Dashboard Change?
Auto insurance, homeowners insurance and renters insurance don't always cover everything that happens to your car or home. Here's how to get the most coverage for your money.
What does renters insurance, homeowners insurance or liability insurance cover?
Most of you don't know if any of those insurance policies cover dog bites, the loose change in your car or the valuables beneath a foot of water in the basement.
In any situation where you can be held liable for someone else's injury, misfortune or death, liability insurance comes in handy. Shomari Hearn, a certified financial planner with Palisades Hudson Financial Group in Fort Lauderdale, Fla., notes that if a guest at a party you're throwing drinks too much, gets into a car and cripples someone, you could be held liable.
"Not having adequate liability insurance is one of the most common holes in a financial plan," Hearn says. "Paying a big judgment out of your own pocket could be financially devastating."
Meanwhile, insurance information site InsuranceQuotes found that most people generally have no idea what, exactly, a homeowners insurance policy covers. Yes, 81% know that valuables stolen from their homes are covered under a standard homeowner's policy, but only 28% know renter's insurance would cover valuables stolen from their cars. Renter's insurance generally covers personal property, liability and loss of use, but only 58% of renters ages 18 to 36 have a renters policy.
Meanwhile, 56% are under the impression that a standard homeowners policy covers flood damage. It doesn't, but that doesn't prevent 67% of young renters and homeowners from believing it does.
"Being misinformed about your home policy can be an extremely expensive mistake -- especially when a few inches of water in a 1,000 square-foot home can easily cost over $10,000 in repairs," says Laura Adams, senior insurance analyst at insuranceQuotes.
Those myths don't help when 54% of all consumers and 67% of Millennials don't know that a standard homeowners or renters policy would cover dog bites. That even includes incidents where your dog bites someone at the dog park, on the street or at any other location away from your property. However, it's not as if covering damages sustained by the people your dog bites on your own doorstep is necessarily a terrible thing.
According to the United States Postal Service, the number of postal employees attacked by dogs nationwide reached 6,755 in 2016 -- that's 200 more than the year before. It's reached the point where postal workers' scanners now indicate if there's a dog on the property they're visiting next.
"Even good dogs have bad days," says USPS safety director Linda DeCarlo from Los Angeles, where postal workers were attacked by dogs 80 times — the most for any city in 2016.
With more than 50 letter carriers per city being bitten in Houston, Cleveland, San Diego and Louisville, and 4.5 million U.S. citizens bitten by dogs each year, according to the Centers for Disease Control, it's enough to warrant concern.
Consider the impact of dog bites alone. According to the Insurance Information Institute and State Farm, dog bites and other dog-related injuries accounted for more than one-third (or $570 million) of all homeowners insurance liability claims paid out in 2015. While the number of dog bite claims nationwide decreased 7.2% in 2015, the average cost per claim for the year was up 16%. The average cost paid out for dog bite claims nationwide was $37,214 in 2015, compared with $32,072 in 2014 and $27,862 in 2013. Also, though dog-bite claims have dropped 9.3% since 2003, the cost per claim has nearly doubled in that time.
"The average cost per claim nationally has risen more than 94 percent from 2003 to 2015, due to increased medical costs as well as the size of settlements, judgments and jury awards given to plaintiffs, which are still on the upswing," said Loretta Worters, a vice president with the Insurance Information Institute.
Flooding, however, is a concern all its own. While flood coverage is available thorough a separate policy from the National Flood Insurance Program (NFIP), your position within a flood plain or other high-risk area can change that. According to Federal Emergency Management Association (FEMA) data, the average flood policy in 2016 cost $700, and the average total paid claim was about $31,000. If you live outside of a high-risk flood area, though, the Preferred Risk Policy starts as low as $127 a year.
"It's critical for consumers to thoroughly explore their options and really understand the protections that are included or excluded with a standard renter's or home insurance policy," Adams says. "Don't wait until right before a big storm is headed your way to get coverage because there may be a waiting period."
While homeowners' insurance has broad liability coverage, there are scenarios in which it isn't enough. Robert Passmore, senior director of personal lines at the Property Casualty Insurers Association of America says homeowners' policies generally cover gun owners' firearms as personal property and reimburse damage to or loss of a weapon. While the liability portion of a policy offers some protection if a homeowner accidentally injures someone else with a firearm, that coverage has its limits and might require extra coverage in the event of serious injury or death.
Hearn notes that homeowners insurance usually includes up to $300,000 of personal liability coverage. The typical renters' policy, however, offers just $100,000 of coverage. Auto insurance typically covers up to $250,000 for each person and $500,000 per accident involving bodily harm, and less for incidents that involve only property damage. If you have more significant assets or earning power, Hearn suggests backing up your homeowner's insurance with a personal $1 million umbrella policy that the Insurance Information Institute (III) says costs $150 to $300 a year.
Though some assets are protected by law -- a court can't force you to liquidate a 401(k) to pay a judgment, for example, and states protect both traditional and Roth IRAs -- second homes, non-retirement investment accounts and future earnings are all up for grabs. If a lawsuit judgment or settlement stretches into millions of dollars, that's going to eat through your homeowners or auto insurance coverage pretty quickly.
"Most companies that sell umbrella insurance require customers to increase their base liability coverage to fill such gaps, but it's wise to check," Hearn says. "Sticking to one company for home, auto and umbrella gives you discounts. It also makes the process simpler in the case of a lawsuit, since you will not have two separate companies handling two portions of your coverage."
This article is commentary by an independent contributor. At the time of publication, the author held no positions in the stocks mentioned.