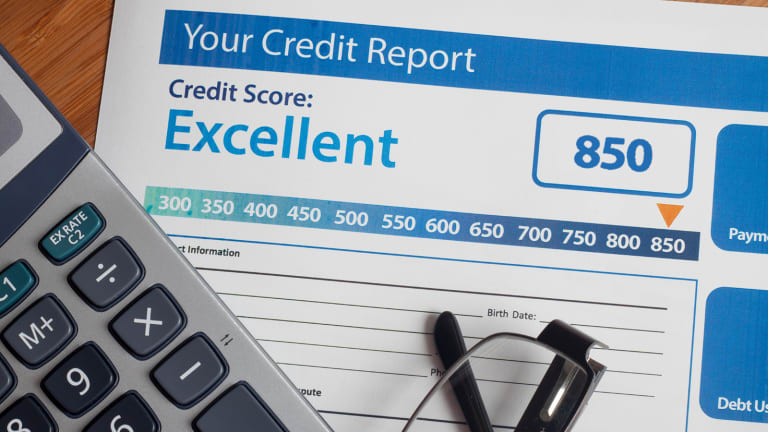 Can Regularly Checking Your Credit Score Improve It?
Looking to improve your credit score? How often you check your score could have an impact, a recent Discover survey found.
Editors' pick: Originally published July 28.
Looking to improve your credit score? Checking those numbers frequently could influence your score's direction.
Whether you are buying a home, applying for a credit card, or securing a job, the importance of your credit score is not a new phenomenon, and according to a recent survey conducted by Discover (DFS) - Get Report , consumers who keep track of their credit scores see positive benefits. 
Seventy-six percent of those surveyed, who checked their credit scores seven or more times in the past 12 month, said their credit scores improved, while 73% said they handled their credit better based on this one action.
"The greater the awareness of your score and the greater the awareness of what impacts your score, the more a consumer can stay on top of their credit and the more they can take those positive actions that will help them in all these aspects," Laks Vasudevan, Discover vice president of products & innovation said in a phone interview. 
The Riverwoods, Ill.-based banking holding company provides credit cards and personal and student loans to consumers and was the first major credit card issuer to offer its card members free FICO scores on its monthly statements, the company said. 
Making timely payments, monitoring your amount of debt and keeping track of your number of accounts and inquires is essential to your credit score. 
That's because, if you want to rent an apartment or get a loan, what's the first thing that is checked? Your credit. 
But the survey found that many underestimate the impact of their credit standing on different aspects of their lives. 
Nearly 64% said their credit had "little or no impact" on landing a job, 47% said it didn't largely impact their insurance rate or ability to rent an apartment, while 32% said it barely affected their ability to get a personal or student loan. 
But that's not the case. 
The Fair Credit Reporting Act, or FCRA, a law that allows for the accuracy and privacy of information from the credit reporting agencies, says insurers, employers, creditors and other businesses have a "legal right to access your report." 
However, you do have to give your employer permission to review your credit report, although it may not look good to tell your employer to "back off" if you want that new job title. 
Millennials, consumers between the age of 18 and 34, aren't taking their credit scores for granted. The Discover survey found that 46% of Millennials associate credit with their "self worth," while 64% associate their credit standing with "their sense of freedom." Older generations were less inclined to feel freedom from a good credit score: 56% of Generation X, ages 35 to 54, and 40% for Baby Boomers, ages 55 to 69.
To help consumers better manage their credit, Discover now offers a free online report, called the Credit Scorecard, which shows your FICO score and other aspects of your credit, like missed payments, total accounts, length of credit, recent inquires, and revolving credit utilization. This report is a snapshot of your credit behaviors and not the full report. 
"Checking your credit score is one of the simplest things anyone can do to get on the path to understanding their credit health," Julie Loeger, Discover executive vice president and chief marketing officer said in a statement. "One of the reasons we launched Discover Credit Scorecard is to help people stay on top of their credit by gaining more knowledge of key factors that go into their score."
Consumers don't have to be Discover-card customers to use the Scorecard -- anyone can utilize the online free credit report and can login anytime to see their scores.  However, credit scores are updated every 30 days. 
"Every credit decision we make, we base on every individual's credit behavior," said Vasudevan. "What we do offer through the Scorecard is the FICO score, which is used by 90% of top lenders, including us."
If you would like to obtain a full credit report, every 12 months the U.S. government allows consumers to obtain a free copy from each of the consumer credit reporting agencies Experian, Equifax, and TransUnion at annualcreditreport.com. 
"Consumers should continue to manage their credit proactively," said Vasudevan. "They should definitely understand not only their credit score, or FICO score, but also the factors that impact their credit score, so they can stay on top of their credit."