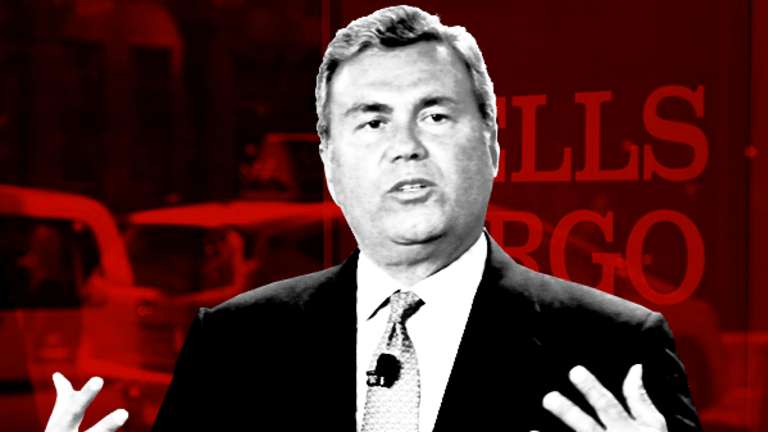 California Treasurer Calls for Ouster of Key Wells Fargo Director - EXCLUSIVE
California Treasurer John Chiang is turning his sights on Enrique "Rick" Hernandez Jr., a Southern California businessman who served in key roles on the bank's board of directors.
California Treasurer John Chiang is calling for the removal of a key Wells Fargo & Co. (WFC) - Get Report board member in the wake of this week's disclosure that the U.S. bank has uncovered some 3.5 million bogus accounts, nearly twice the original estimate.
Chiang singled out Enrique "Rick" Hernandez Jr., who joined the Wells Fargo board in 2003 and served on committees responsible for oversight, ethics, integrity, finances and corporate reputation. As California's treasurer, Chiang is responsible for allocating some $2 trillion in annual banking transactions as well as managing a $75 billion investment pool. Chiang also determines which U.S. banks underwrite bonds for the state, the nation's largest issuer of municipal debt.
Last year, Chiang suspended Wells Fargo as a provider of lucrative banking transactions to the state and is currently reviewing whether to extend the sanctions beyond this month.
"Given the avalanche of mistakes, scandals and problems that have come out of Wells Fargo in the last year, it is clear to me that Hernandez has been a negligent leader and ineffective steward," Chiang said in an e-mailed statement Thursday. "His silence damaged Wells Fargo's customers, employees and shareholders. For that reason alone, he should go."
Neither Hernandez nor Wells Fargo press officials responded to requests for comment.
The San Francisco-based bank's stock price has tumbled 7.1% this year, following revelations that an aggressive sales culture led bank staff to open millions of accounts that weren't authorized by customers, and more recently that it erroneously charged some 490,000 car-loan customers for insurance they didn't need.
The unauthorized accounts dated back at least to 2009, but the board wasn't aware of the scope of the problem until early 2014 after the Los Angeles Times published newspaper articles on the topic, according to a report in April by Hernandez and other independent board directors. Even then, the board didn't take aggressive action to address the issues until 2015. The scandal led to regulatory fines, criticism from U.S. lawmakers and eventually the departure of former CEO John Stumpf.
This week, the bank disclosed that an expanded review of the scandal revealed some 3.5 million potentially unauthorized accounts, up from the original estimate of about 2 million.
Hernandez, the CEO and majority owner of Inter-Con Security Systems Inc., a Pasadena-based private-security firm, was a high-profile member of the Wells Fargo board as head of the bank's risk and finance committees, and he was a member of the corporate responsibility committee.
At the bank's annual meeting in April, Hernandez received just 53% of shareholder votes, the lowest among the 15 board nominees. Such a result was seen as a harsh rebuke, since directors run unopposed; it's rare in such corporate elections to receive approval ratings below 90%.
"As a member of the corporate responsibility committee, Hernandez is not only charged with protecting Wells Fargo's reputation but, more importantly, the trust between the bank and the customers it serves," Chiang said in the statement.
Hernandez was largely spared in a Wells Fargo board shakeup last month that entailed the departure of Chairman Stephen Sanger and two long-serving directors. He was replaced as head of the board's risk committee, but he kept his role as head of the finance committee.
In September 2016, following the initial account-scandal revelations, Chiang said the California Treasurer's Office would suspend new investments and transactions with Wells Fargo for at least a year. He also said he would use his position as a trustee of two big state pension funds, the California Public Employees' Retirement System and California State Teachers' Retirement System, to push for changes in governance and prevent a repeat. According to a statement at the time, the two funds held a combined $2.3 billion in Wells Fargo stocks and bonds.
Marc Lifsher, a spokesman for Chiang, said a decision would be made by the end of this month on whether to extend the suspension, "in light of the continuing revelations of bad behavior by the bank."
Hernandez, 61, is notable because he has deep experience serving on boards of big U.S. companies. He is chairman of fast-food giant McDonald's Corp. (MCD) - Get Report and serves as a director for oil behemoth Chevron Corp. (CVX) - Get Report , where he heads the committee that sets CEO compensation. Previously he sat on the boards of Nordstrom Inc., Tribune Co. and the now-defunct banks Washington Mutual Co. and Great Western Financial Corp.
He has come under fire from corporate-governance experts because Inter-Con has won contracts to provide private security to Wells Fargo branches, totaling at least $24.4 million of payments since 2005. That figure that doesn't include his regular compensation as an independent board member, amount to about $421,000 last year.
The arrangement with Inter-Con wasn't illegal, but critics say such side deals put board members in the nearly impossible position of providing tough oversight of a CEO on behalf of shareholders, all the while trying to avoid upsetting a valuable customer.
"Whether his silence and failure to act were driven by a desire to not make waves for an important client of the security firm in which he is CEO, I will not speculate," California's Chiang said in the statement. "What we can say is that Hernandez no longer should be serving on the board of directors."
More of What's Trending on TheStreet: