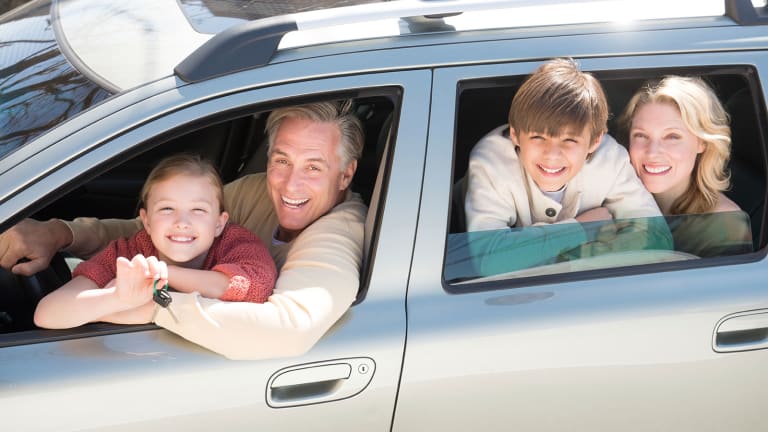 Best Mobile Travel Apps for That Awesome Road Trip
When you hit the open road this year, download some helpful mobile apps to make your trip a blast.
When you hit the open road this year, download some helpful mobile apps to make your trip a blast.
Hey American wanderlust set -- are you up for the ultimate road trip?
This map, created by data visualization expert Randy Olson with as assist from Tracy Staedter, a senior producer at Discovery News, creates an unbroken roadway path through all 48 contiguous U.S. states, covering 50 prominent American landmarks and national parks.
Don't back out of the driveway, though, before adding a helpful array of mobile phone travel apps that can make your trip throughout the entire U.S. an easier, and more memorable one.
Specifically, try these road-friendly mobile apps on for size; it's a great bet you'll use most or even all of them as you cross the fruited plains and beyond:
 - Road Trippers - The Allstate Blog list this app at the top of its most recent list of great road trip apps. It's free and easy to use, the blog reports. "Select the kinds of sights you want to see, and this mobile app designs a route specifically for your interests," Allstate notes. "Want to see where a movie was filmed? Scenic pullouts? World's largest ball of twine? This apps for you."
 - iArrow - Dan Nainan, a New York City-based comedian who travels frequently throughout the U.S., is a big fan of iArrow. "I absolutely love it," he says. "Not only does it tell me exactly how far away I am from any point in the country or the world, if I park in a strange parking garage or airport parking lot, I push a button, and the app directs me back to where I parked my car, so I never get lost."
- WorldMate Gold - People who travel frequently need some way to manage their hectic schedules. That's where WorldMate Gold can help. "I used to travel 40 weeks a year and still travel at least once a month," says Amy Wenslow, CEO at ProductsToProfits, in Pasadena, Calif. "This app makes collecting all my travel itineraries so easy. All my assistant and I need to do is forward reservation confirmation emails to a particular email address. The service then assembles the itinerary, points out if there is something missing like a night at a hotel or transportation." It also connects to LinkedIn so users can connect with contacts going to the same conferences, Wenslow adds.

 - Bring Fido - Last fall, Wenslow and her significant other completed a five-week cross-country road trip. "It was mostly for our business, but we did brought our dog along," she says. "We used Bring Fido to find everything from dog friendly hotels and restaurants to dog parks all across the country. It even has the pet policy of each hotel clearly spelled out. I love this app -- we tell all the dog owners we meet about it."
- Urgent.ly - If you find yourself with car troubles, you'll need an app that can get you roadside help, and fast. Urgent.ly certainly fits the bill. This mobile travel app offers a nationwide network that connects drivers to roadside service providers and a broad range of mapping and connected car platforms (including AT&T Drive, MapQuest, Zendrive and others.) Unlike traditional auto clubs, consumers who use Urgent.ly don't pay any membership fees and can save cash by only paying for the service they need, when they need them. The app also tracks service provider response times in real time, and offers cashless payment, as well.
 - Beermapping.com - O.K., all of this driving on the highway may leave you parched. No worries -- Bob Tuppers, author of the Drinking In the Culture: Tuppers' Guide to Exploring Great Beers in Europe has your back with a cool app he recommends called Beermapping. "We've had good luck with it in tracking down beers for our blog," he says. "Just go to the website and download the apps for the Android, iPhone, and your GPS device." With over 4,300 breweries in the U.S. today, he adds, there's no good reason why you can't wet your whistle once in a while on your epic road trip.