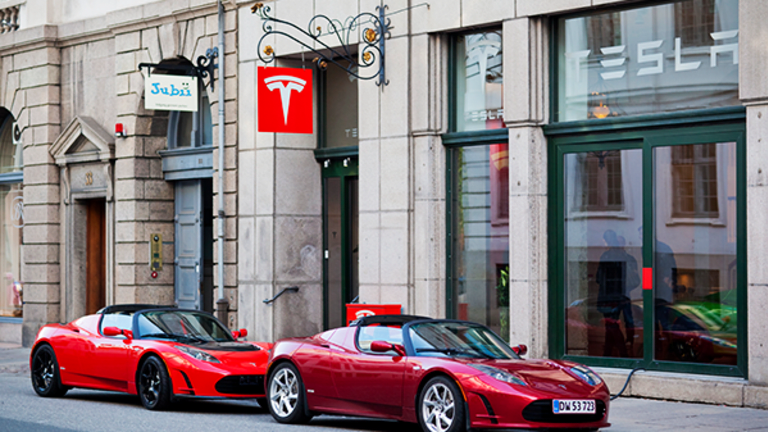 Tesla Is Selling $80,000 Cars That Most of America Can't Afford, This Data Shows
An affordable car price for some cities was nearly 60% below that average sticker price.
Don't get too attached to that new 2018 model-year vehicle.
A majority of Americans cannot afford average-priced new cars, according to a report released on Tuesday from Bankrate Inc., a consumer financial services company. Despite growth in recent years in the automotive industry, stagnant households incomes have made it difficult for consumers to keep up with rising vehicle prices, Bankrate analyst Claes Bell told TheStreet.
"Although we've had pretty good car sales in recent years, they're not as a high as they should be," Bell said. "The typical household is not doing all that much better than what they were a few years ago. I think it's pushing down demand."
Between September 2009 and December 2015, vehicle sales increased by more than 80%, according to TradingEconomics.com. From 2009 to 2015, real median household income saw an increase of 2.7%, the U.S. Census Bureau reported.
In an analysis of median household incomes in 25 major U.S. metropolitan areas, only one could afford the payment of the $35,368 average-priced new car with a 20% down payment, a four-year loan and insurance payments comprising 10% of a household's gross income. An affordable car price for some cities was nearly 60% below that average.
"They're going to be underwater in that car," Bell said. "That's not good for households, and it's not good for automakers."
Even the averaged price new car at $19,200 would be difficult for consumers in eight of the largest 25 metro areas to afford, according to Bankrate.
Bell recommended that consumers pay attention to the total price of a car when they are looking to buy over the monthly payment price to better consider the interest they will pay and for how long they will need to make payments. He said more low- and middle-income households are having to stretch loan terms to six, seven or eight years to afford the transportation.
Here are the 25 largest metropolitan areas in order of affordable car prices.
Editors' pick: Originally published June 29.