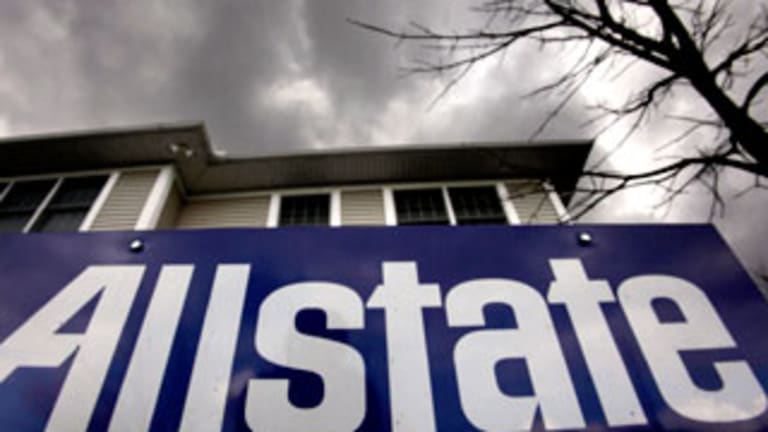 Allstate Fights Back Against Geico With Esurance and Clever Marketing
Allstate wants Geico customers to know that 15 minutes isn't what it used to be.
NEW YORK (TheStreet) -- Allstate (ALL) - Get Allstate Corporation Report has seen customers come and go over the years to rivals like Geico, a unit of Berkshire Hathaway (BRK.B) - Get Berkshire Hathaway Inc. Class B Report. Geico, known for its clever commercials, is now seeing competition for online customers from its competitor Allstate. Allstate, which operates a large agent network around the country, appears ready to attract new customers with a "speed matters" approach for the digital age.
At 2:53 p.m. today, Allstate was trading at $53.99, up 0.24% today, and flirting with the 52-week high of $54.30. Geico was trading at $113.67, up 0.43% for the day.
Geico has long been known for its catchphrase: "15 minutes could save you 15% or more on car insurance." This motto and an aggressive advertising campaign powered Geico to be one of the leaders in online care insurance. Berkshire Hathaway bought Geico in 1996 and has controlled it ever since.
To compete in the same online market, Allstate decided to also go the acquisition route. In 2011, Allstate bought Esurance for $1 billion. The largest publicly traded U.S. home and auto insurer, Allstate is now using Esurance to take on Geico directly. In new commercials narrated by actor John Krasinski, Esurance tells customers that "15 minutes for a quote is crazy. With Esurance, seven-and-a-half minutes could save you on car insurance. Welcome to the modern world."
While Esurance doesn't make the same promise to save 15%, it does offer an appeal to time-sensitive customers and takes a swipe at Geico. Esurance has also been a key source of growth at Allstate. In the fourth quarter, net written premiums for Esurance increased 23%. Policies increased 26.7% at Esurance in the fourth quarter. For the full fiscal year, Esurance saw net written premiums increase 27.9%. That is a key piece for Allstate, posting revenue of $34.5 billion. That's an increase of 3.6%.
Allstate is not only making it better for customers with increased speed. They are continuing to make investment in the company more attractive with an increasing dividend and share buyback plan. The company recently released it yield of more than 2% annually. Allstate also increased its share buyback to a level above $2.5 billion, representing more than 10% of current market capitalization.
Time doesn't always matter to customers -- car insurance shoppers likely care more about pricing and benefits. However, as investors will find out, Allstate is a huge insurance company growing year after year. The double-digit growth seen by Esurance is a true catalyst for the company going forward. An added marketing and promotional campaign could lead to an inflow of customers.
Allstate surprisingly increased its agency count to 11,600 at the end of 2013. The company continues to expand its physical presence in many regions in the Western and Southern parts of the U.S. With the increased push for Esurance, Allstate will continue to prove to investors that "you're in good hands."
At the time of publication, the author held no positions in any of the stocks mentioned.
This article represents the opinion of a contributor and not necessarily that of TheStreet or its editorial staff.