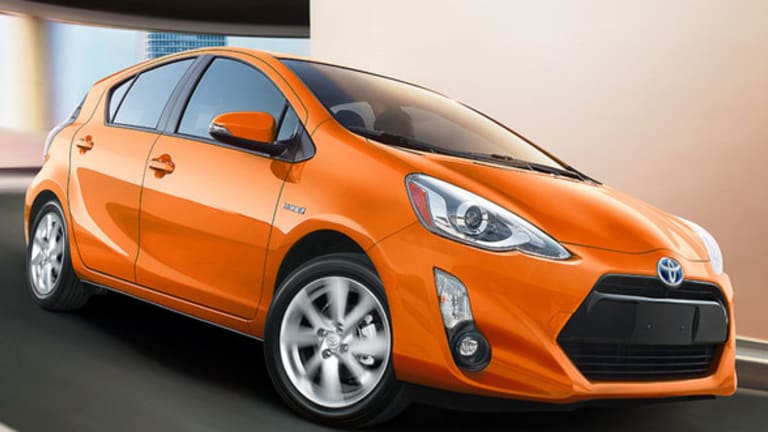 7 Hybrid Vehicles That Get 40 MPG Or Better Without A Plug
The hybrid's thunder has been stolen by plug-in hybrids and all-electric vehicles, but hybrid vehicle mileage has improved substantially since everyone stopped paying attention.
NEW YORK (MainStreet) –- When you can plug in and recharge can batteries and do without gas altogether, it's easy to lose sight of just how efficient the hybrid engine has become.
Once the lauded, eco-friendly mileage king of dealer lots, the hybrid electric-combustion engine is losing some of its luster. Tesla actively targets Toyota Prius drivers and is getting closer to the Prius's price after announcing a Model 3 that will sell $35,000 when it's finally finished. That doesn't factor in $7,500 in federal electric vehicle incentives, which drop its price closer to $27,500, but that's still a lot more affordable than Tesla's Model S and its starting price of nearly $70,000.
General Motors, meanwhile, is revamping its quiet-but-underwhelming Chevrolet Volt plug-in hybrid and announced the Chevrolet Bolt electric vehicle at this year's Detroit Auto Show. GM claims the latter will offer 200 miles of electric range for $30,000 after incentives. That's actually 65 miles less than the Tesla Model S, but it's also considerably less expensive than Tesla's only offering -- which won't be followed up by the Model X until later this year or by the Model 3 until 2016 at the earliest. It's also more than double the range of the current fleet of non-Tesla electric vehicles, which is led by Toyota's Rav 4 EV crossover and its nearly $50,000 price tag.
This is all making hybrid vehicles look like stopgap measures, which isn't too far from the truth. Consider that the revived Mitsubishi Mirage gets 44 miles per gallon on the highway and combined 40.5 miles per gallon from a combustion engine alone. The most efficient plug-free hybrid gets 53 miles per gallon and 50 mpg combined, which means either the hybrids have to get more efficient or automakers have to find electric alternatives.
Why? because the Environmental Protection Agency says vehicle fuel efficiency standards have to reach a combined 54.5 miles per gallon by 2025 for entire corporate fleets. The Environmental Protection Agency notes that cars and light trucks built during the 2013 model year, the last year for which such data was available, got an average of 24.1 miles to the gallon. That's still less than halfway to the EPA and Department of Transportation's goal that it set back in 2012, but all the changes are pulling the auto industry closer to that mileage number. As it stands, there are more than 30 new vehicles in the U.S. achieving more than 40 miles per gallon in combined mileage. However, low-priced hybrid vehicles are making up a larger portion of that group each year. In fact, the EPA counts at least 15 plug-free hybrids with more than 40 miles per gallon of combined mileage.
We checked in with the EPA and found nine original-recipe hybrids offering better than 40 miles per gallon. We've ranked them by combined mileage, which places them in five separate tiers. If you aren't ready to make the jump to electric and don't see much point in plugging in a hybrid for a handful of extra miles, here are the hybrid vehicles that give you the most mileage for your money:



7. 2015 Toyota Avalon Hybrid and Lincoln MKZ Hybrid
Starting price: $32,285 for the Avalon, $35,190 for the MKZ
Miles per gallon: 41 city, 39 highway, 40 combined for both
With its streamlined Lexus ES frame and a combined 35 miles per gallon, it has the look of an efficient Japanese luxury car. However, the Avalon is built in Georgetown, Ky., specifically for American car buyers, and all its extra room and added luxury features are somewhat surprising considering that it gets combined mileage almost 14 miles per gallon more than its strictly gas version.
Not to be outdone, the plush Lincoln MKZ hybrid is about 13 miles per gallon more efficient than its base model. Even with that cut in fuel consumption, the Lincoln manages to keep its panoramic sunroof, LED headlights, leather heated and cooled seats, heated steering wheel and touchscreen console for navigation and entertainment apps.

6. 2015 Ford C-Max Hybrid
Starting price: $26,790
Miles per gallon: 42 city, 37 highway, 40 combined
There is a reason the C-Max looks just like the Prius: It's Ford's Prius. It's meant to look like the Prius, have a price tag similar to the Prius and do some Priusy things. Nevertheless, the hybrid version lags behind the competing Prius by nearly 10 miles per gallon.
However, it's assembled in Wayne, Mich., and has "Made In The U.S.A." clout the Prius can't claim. It also gets all those sweet Prius benefits like state and federal refunds and solo carpool lane access. If you like the Prius's look, but would rather help some folks in Michigan, you're going to have to give up some fuel efficiency to do so.
5. 2015 Toyota Camry Hybrid
Starting price: $26,790
Miles per gallon: 43 city, 39 highway, 41 combined
The best-selling car in the U.S. has a hybrid version, and it's not just some lame, expensive version of the gas-powered car with five miles per gallon knocked off the mileage.
With a starting price roughly $4,000 more than the base-model Camry, the Camry Hybrid humiliates the less-expensive model's city mileage (just 25 mpg) while putting up combined mileage that's 13 mpg better than its counterpart.
Each has the same passenger and cargo space, but the hybrid throws in a noise-reducing front windshield, dual-zone automatic climate control, Smart Key entry, pushbutton starter and computerized instrumentation. While automakers have struggled to simply make hybrid versions of their most popular cars, Toyota's managed to make one that's a strong argument for skipping the gas-only model altogether.



4. Tie: 2015 Ford Fusion Hybrid, Lexus CT200h and Toyota Prius v
Starting price: $25,990 for the Fusion, $32,200 for the CT200h and $26,675 for the Prius v
Miles per gallon: 44 city, 41 highway, 42 combined for the Fusion; 43 city, 40 highway, 42 combined for the CT200h; and 44 city, 40 highway, 42 combined for the Prius v
This is quite the diverse selection at this mileage, which makes choosing between them a matter of what you're looking for.
If you need a hybrid that functions more like a station wagon or SUV, the Prius v's 67.3 cubic feet of cargo space with the seats down is considerably larger than the original Prius's 39.6 cubic feet and closer to that of compact SUVs such as Toyota's RAV4. If you're looking for an upgrade on your family's midsize sedan, the Fusion Hybrid's mileage beats its gas-only version by 14 miles per gallon while tacking less than $4,000 onto the price. If you're looking for somewhat frivolous perks like key-detecting Smart Access, push-button starter, dual-zone climate control, personalized electronic settings, a safety package with assistance or a leather-trimmed steering wheel, Lexus's CT200h is the luxury version of the Prius that can get the job done.


3. Tie: 2015 Honda Civic Hybrid and Volkswagen Jetta Hybrid
Starting price: $24,735 for the Civic, $31,120 for the Jetta
Miles per gallon: 44 city, 47 highway, 45 combined for the Civic; 42 city, 48 highway, 45 combined for the Jetta
The compact sedan is a puzzling category, to be sure. It's about the only place where hybrid engines get better mileage on the highway than they do in the city. It's also about the only place where the price of the hybrid version is considerably, obnoxiously more than that of the gas-powered standard model.
In the Civic's case, it costs about $6,500 more than the standard Civic while being only about 10 miles per gallon more efficient. To make up for it, the hybrid is loaded with automatic climate control, hill assist breaking and a bit more passenger room.
The Jetta Hybrid, meanwhile, is roughly $14,000 more than the base gasoline-powered model. However, its 150 horsepower engine is brawnier than its 117-horsepower sibling. It's also stocked with power seats, keyless entry, automatic climate control, navigation and xenon headlights to somewhat make up for that punch to the wallet.

2. 2015 Honda Accord Hybrid
Starting price: $29,305
Miles per gallon: 50 city, 45 highway, 47 combined
This is one of the best-selling cars in the U.S. even without a hybrid engine. When that engine adds 15 miles per gallon to the Accord's already impressive combined mileage, however, it's worth looking into.
With a starting price roughly $7,000 higher than the base Accord sedan, the hybrid tosses in a few perks including a power driver's seat and heated mirrors. However, considering that the hybrid retains most of the Accord's offerings from the 2013 redesign -- including an 8-inch LCD display for its information, communication and app-based entertainment system, a single angle backup camera, dual zone climate control, a lane-drift detector, a power moon roof and alloy wheels -- improving mileage without losing any of those amenities is a win in and of itself.

2015 Toyota Prius and Prius c
MSRP: $24,200 for the Prius, $19,080 for the Prius c
Miles per gallon: 51 city, 48 highway, 50 combined for the Prius; 53 city, 46 highway, 50 combined for the Prius c
The original-recipe Prius is still the hybrid champion, but it's incredible just how much its competitors have been able to close the gap on mileage. Unfortunately for the Prius, they've been able to so with vehicles that don't scream "hybrid" nearly as much as the Prius or like-minded competitors including the Ford C-Max and the recently departed Honda Insight.
Still, the Prius offers relatively cavernous 21.6 cubic feet of cargo space that turns into 40 cubic feet with the seats down, a heads-up information display on the windshield, multimedia system with app suite, an available solar roof that powers and internal fan to cool your car's interior while you're away and an available remote air conditioning system. The compact Prius c, meanwhile, offers city dwellers a slightly smaller option (with just 87 cubic feet of seating capacity and 17 cubic feet of cargo room) that fares better on urban roads and is slightly easier to park.
Automakers are gunning for the Prius with electric and hybrid cars alike, but the Prius's iconic look and its role as an eco-friendly status symbol are going to make it one tough tree-hugging car to topple.
This article is commentary by an independent contributor. At the time of publication, the author held TK positions in the stocks mentioned.