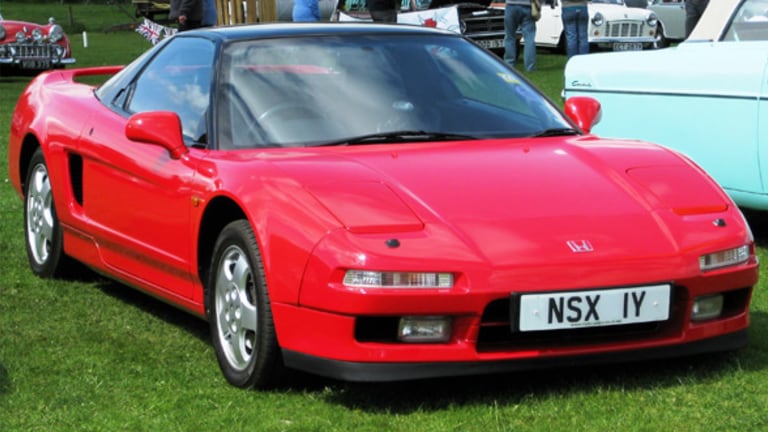 10 Vehicles That Now Qualify as the New Classic Cars
From a 1984 convertible Cadillac to a 2001 Hummer, these cars are considered classics by those who own them and the companies that insure them.
NEW YORK (MainStreet) – We don't know how else to break this to you, '80s or '90s car owner: You're likely sitting on a classic.
Granted, a 20- to 30-year-old beater that you're using for deliveries or short trips probably isn't going to qualify. But if you've been taking care of a car to the point that you're hesitant to put too many more miles on it, there's a strong chance it could.
The bad news is that it's an indication of the passage of time: The car you remember your parents driving around in years ago or that you picked up when you had your first job is now considered a bit of an antiquity or relic. The good news? You might not have to spend quite so much to insure it as you did when it was new.
"We suspect that as many as half of all casual classic car owners are using standard auto policies when they could get better coverage for less money if they bought classic car coverage for their secondary-use vehicles," says Jay VanAntwerp, product manager for the Progressive Advantage program. "Many people don't realize that this specialized insurance exists or that they could qualify for better coverage."
Even if you don't consider your car a classic, your insurance company might. Basically, if you have a car that sits in a garage during rough weather and escapes only when the temperature tops 70 degrees or so, that vehicle is well on its way to classic status.
Progressive, for example, considers a handful of criteria when evaluating a potential classic car. If an older car is an extra household vehicle, isn't driven daily, is typically used for pleasure trips, is kept in a locked garage when not in use and is well maintained, it could be a classic. Hagerty, a classic car insurance provider and Progressive partner, suggests that insuring a car as a classic can cut the cost of insurance by up to 43% compared with a standard auto insurance policy.
That doesn't mean you and your insurance company will see eye-to-eye on your vehicle's designation as a classic.
"Insurance companies use the 'classic' designation in a well-defined way, but the general public doesn't recognize one specific definition of the term as it relates to cars," says Ed Hellwig, executive editor of vehicle pricing site Edmunds.com. "Some people think the vehicle age determines it, while others consider collectability the key factor."
To remove some of the guesswork, we took a look at some of the vehicles that Progressive and Hagerty consider "classic." Some are a bit newer than you might expect, including a couple of 21st century entries:
10. 1995-2000 Acura Integra Type R
Hear that buzzing noise coming from your town's main drag? That's the legacy of the Integra Type R. Yes, it came out of the factory with only 197 horsepower from its 1.8-liter four-cylinder and front-wheel-drive, but tuners have been giving it a lot more juice in the years since. If you see one today, chances are it has a loud, oversized exhaust and isn't going to waste much time blowing by you.
9. 1994-2001 AM General Hummer
These are some of the basic specs on this vehicle: 16 inches of ground clearance, 15 feet long, more than seven feet wide, roughly 8,000 pounds of curb weight and combined fuel "efficiency" of 15 miles per gallon or less. There isn't anything practical about a military vehicle stripped of its desert camouflage and rolled onto U.S. roads that are in no way built to handle it, but if you own this vehicle you're probably not using it on roads all that often.
8. 1994-1996 Chevrolet Impala SS
It looked like a Chevrolet Caprice that was the police car and cab of choice for much of the mid-'90s. But the exterior is where this sedan's similarities to its low-rent sibling ended. The Impala's 5.7-liter, 280-horsepower V8 engine was a Corvette engine in a rear-wheel-drive sedan's body. Oh, and all of those toys that police departments got in their Caprice packages, including the suspension and wide, sticky tires? Those were standard on the SS.
7. 1993-1996 Mazda RX-7
In the mid-90s, tuners had a few choices: They could drop more than $30,000 on a Toyota Supra, Nissan 300ZX or Mitsubishi 3000GT and get more than 300 horsepower, or they could spend far less on the third-generation RX-7 and its 255-horsepower, twin-turbocharged, 1.3-liter rotary engine. This smaller, lighter sports car won a whole lot of hearts, but it took even more heats.
6. 1984-1985 Cadillac Eldorado/1984-1985 Buick Riviera
Progressive and Hagerty put these vehicles on a list of 10 classic convertibles under $10,000, but that's optimistic. The drop-top Eldorado can be found for less than 10 grand, but one in good condition can set you back $15,000 to $30,000. The Riviera, with its sloped grille and its Buick nameplate, is slightly more affordable.
5. 1991 Acura NSX
The all-aluminum NSX sure looked like a supercar, and delivered. As Car and Driver pointed out, the first NSX's 3-liter V6 produced 270-horsepower way back in 1991. It took more than two decades for automakers to produce a 3-liter V6 that came close to or exceeded that mark. We'll see if they provide the reliability that's made the NSX a 100,000-mile speedster several times over.
4. 1991 GMC Syclone/1992-1993 GMC Typhoon
A high-performance sport pickup such as this one is basically a classic from birth. But the Syclone earned its stripes when Car and Driver pitted it against a Ferrari 348 in a drag race back in September 1991. The pickup beat the six-figure Italian sports car by four-tenths of a second. With all-wheel drive and a turbocharged 4.3-liter V6, this 280-horsepower, limited-production sport truck's classic status was never in doubt.
3. 1987-93 Ford Mustang GT
The Fox-body Mustang is widely credited with reviving the American V8 and giving Ford's pony its swagger back. It also has that distinctive late-'80s, early '90s appearance that made it the stuff of Vanilla Ice videos. Whether for its power or its looks, the Fox-body Mustang remains an icon — if a divisive one.
2. 1990-97 Mazda Miata The Miata gets its fourth-generation update this year, but the models that started its run are still as popular as ever in warm climates and retirement communities. Its easy-shifting manual transmission and a surprisingly zippy four-cylinder (1.6 liters from 1990-93, and 1.8 liters from 1994-97) helped make it the best-selling sports car of all time, but having all the power of a Porsche Boxster in a more reliable, less costly roadster certainly helped as well.
1. 1989-94 Ferrari 348tb
It's the Ferrari that Ferrari folks absolutely hate, which means it's likely your best opportunity to score one. Let's put it this way: The 3.4-liter V8 engine's 296 horsepower are now less impressive than a V6 Mustang or Camaro. At the end of the day, however, it's still a red two-seater with that yellow prancing stallion badge. It's the $50,000 Ferrari, but it's still a Ferrari.
— Written by Jason Notte in Portland, Ore.
To follow the writer on Twitter, go to http://twitter.com/notteham.
This article is commentary by an independent contributor. At the time of publication, the author held TK positions in the stocks mentioned.