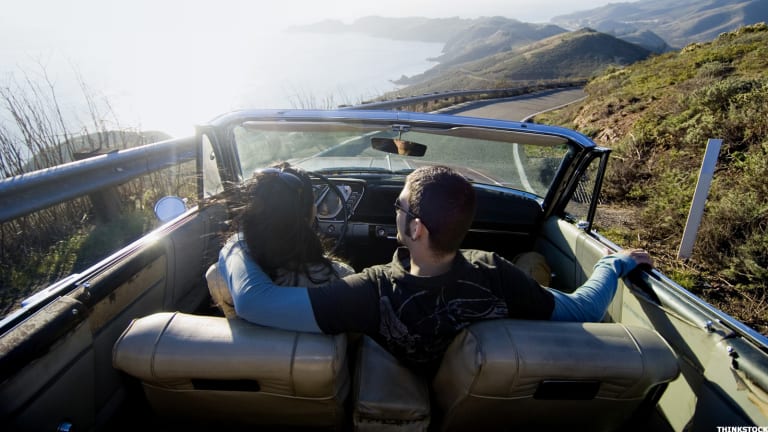 10 States That Hike Auto Insurance Rates Just For Driving
When mileage determines your car insurance premium, it pays to drive less.
Auto insurance rates can soar even if all you've done in your car is drive.
An InsuranceQuotes.com survey conducted earlier this year found that a U.S. driver who drives 5,000 miles a year pays 9% less on average for car insurance than a fellow driver who logs 20,000 miles a year -- or just slightly more than the 13,476 the average American drives annually, according to the Department of Transportation. Auto insurance rates jump 8.4% on average for drivers who increase their travel from 5,000 miles annually to 20,000, but still increase 7.1% even if that 5,000-mile driver simply doubles their driving distance.
"When determining rates, auto insurers typically use mileage as a major factor," says Laura Adams, senior insurance analyst at insuranceQuotes. "But the amount varies considerably depending on where you live. Consumers who live in states with the biggest hikes have more opportunity to save by driving less."
According to a study published by the Federal Highway Administration in February, Americans are driving more than ever. U.S. vehicles logged 3.22 trillion miles in 2016, up 2.8 % from 3.1 trillion miles in 2015. It's the fifth straight year of increased mileage, but that isn't great for drivers. The National Safety Council (NSC) reports that traffic fatalities jumped 6% in 2016, topping 40,000 for the first time since 2007. That's a 14% increase in traffic deaths since 2014, the most significant two-year spike in more than 50 years.
Worse, the NSC estimates that 4.6 million drivers were seriously injured in 2016. Meanwhile, the overall cost of motor-vehicle deaths, injuries and property damage last year was $432 billion, a 12% increase from 2015. As a result, insurance companies are paying a lot more attention to how much you drive and offering incentives to vehicle owners who drive less.
That'ss driving pay-as-you-drive or usage-based insurance programs like Progressive's Snapshot or Liberty Mutual's RightTrack -- which use small sensor installed in a car or an existing on-board communications system (think OnStar) to track your driving habits. For providers including State Farm and MetroMile, that means strictly counting the miles you're driving. For Progressive's Snapshot program, however, a small wireless device under the dashboard of a car to record how many miles are driven each day, how often a vehicle is driven between midnight and 4 a.m. and how often a drivers slams on the brakes. Other insurers including Allstate, The Hartford, Liberty Mutual, GMAC and Travelers have similar programs that record how many miles you drive each day, how often you drive between midnight and 4 a.m. and how often you slam on your brakes. Good drivers can get discounts of 5% to 30% if these devices -- or even telematics systems or smartphones -- like what they see.
Progressive's Snapshot program, for example, has collected enough data to figure out that not only were school driving manuals wrong about keeping four seconds between you and the driver in front of you, but that it takes even the most aggressive stoppers 12 seconds to come to a complete halt when traveling 60 miles per hour. The average driver takes 24 seconds -- or roughly 420 yards -- to come to a stop at that speed.
"After analyzing Snapshot driving data, we've found hard braking to be one of the most highly predictive variables for predicting future crashes," says Dave Pratt, general manager of usage-based insurance for Progressive. "We know that one of the main contributors to hard braking is tailgating, so we're using our data to help drivers be as alert and aware as possible on the road. We've gathered billions of miles of driving data and are only just beginning to scratch the surface in terms of the types of predictive behavior our Snapshot analytics can reveal."
Naturally, more privacy-minded U.S. drivers are a bit freaked out by the monitoring aspect. In fact, a majority of U.S. drivers (51%) told InsuranceQuotes that they would never joining a pay-as-you-drive insurance program, according to a new report from InsuranceQuotes.com. That's actually up from the 37% who were dead-set against pay-as-you-drive insurance in 2014.
The National Association of Insurance Commissioners (NAIC) predicts that 20% of all U.S. auto insurance companies will incorporate some form of pay-as-you-drive program by 2020. That isn't as scary as most drivers would believe. More than half of those surveyed by InsuranceQuotes said they think insurers can monitor whether or not they've been drinking and driving (they can't), while 35% say they think insurers can jack up rates for driving in "neighborhoods with a lot of crime" (they don't).
However, 26% of respondents dismissed pay-as you-drive insurance solely, because "I don't understand how it works." That's been less of a problem with younger drivers, as 47% of drivers between the ages of 18 and 29 are aware of pay-as-you-drive programs compared to 22% percent of drivers 65 or older. As a result, only 15% of Millennials share their elders' privacy concerns and 43% of drivers between the ages of 18 and 29 said they would consider enrolling. That far outpaces the 36% between the ages of 50 and 64 who'd do the same and the 28% of respondents over 65 who'd give it a shot.
"If you think you're a good driver and you're not opposed to sharing some of this data about how you drive with an insurance company, I say give it a shot," Adams says. "If it doesn't save you money, you can always switch back to the regular insurance and there's no downside."
With help from InsuranceQuotes, we found the ten states that are most likely to penalize drivers just for putting miles on their tires. While driver monitoring make help keep insurance costs down in some of these areas, the clear message is that insurance companies and states themselves feel far more at ease when drivers spend less time on the road:
More of What's Trending on TheStreet: