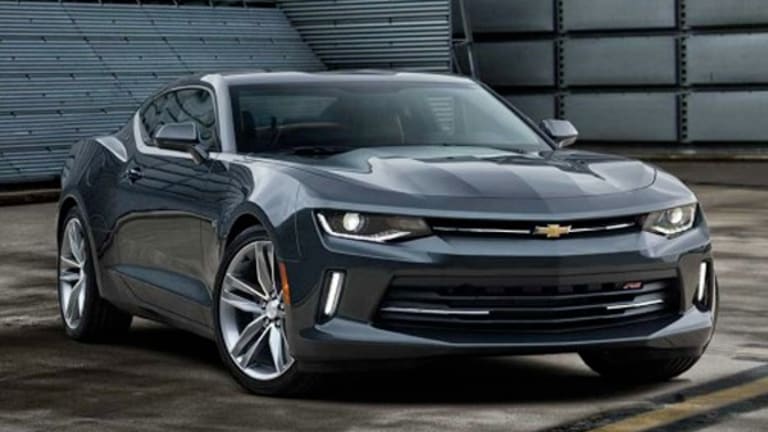 10 2016 Cars That Will Hold Their Resale Value Years Later
You car is going to depreciate in value no matter what you buy, but some in-demand vehicles depreciate less than others.
Editor's pick: Originally published Jan. 5.
Sure, you love your car now. But how are you going to feel about it in a few years?
When the pedals soften, the belts squeak and the features start fizzling out, your dream car gets just a little less dreamy. However, even after a car is loved well into its dotage, there's a chance that its value can drop without completely diminishing.
Unless you decide to drive it into the ground or buy a less reliable model to save money in the short-term, your vehicle with still have significant resale value tens of thousands of miles down the road. Still, the folks at auto pricing and valuation site Kelley Blue Book note that depreciation costs a car owner more than gas, maintenance or insurance during the first five years of new-car ownership.
Kelley Blue Book has been publishing its residual value guide since 1981 and has been tracking resale value ever since. The "blue book" value used car buyers talk about when pricing a vehicle was written by these folks, who've been handing out their Best Resale Value Awards since 2003.
KBB named Subaru and Lexus the brands with the best resale value for the 2016 model year, despite the fact that Lexus didn't place a vehicle among the Top 10 in resale value. However, even Subaru keeps a relatively low profile in the U.S. The 526,000 vehicles it sold here through November is roughly how many Chevrolet Silverado pickups were sold here during that same span.
Still, there aren't a whole lot of vehicles out there that give car buyers the majority of their investment back five years later. As we learned from Kelley Blue Book, the following vehicles are a buyers best chance of getting half of their money back or more once it's time to sell:

10. 2016 Subaru Forester
MSRP: $22,395
Resale value retained after five years: 47.3%
It's a car that prides itself on consistency, which is why this all-wheel drive wonder has such a strong following in the snowier, wetter corners of the country.
The newer models have even reverted to the boxy wagon look of their predecessors, while retaining the standard all-wheel-drive for Bohemian Bourgeois parents trying to balance shuttle runs to lacrosse practice with trips to Whole Foods or Trader Joe's.
The Forester's combined 28 miles per gallon isn't a vast improvement over the 2013 model's 24 mpg, but its interior is bigger than both the Honda CR-V and Ford Escape and includes 34 cubic feet of cargo space with the seats up. Subaru's added Bluetooth connectivity to all its models, made rearview cameras standard, added its Starlink touchscreen information and entertainment system and threw in options including a power liftgate and voice-activated GPS. It's a school shuttle, but all that space and storage comes in handy in the stadium parking lot on a Sunday.

9. 2016 GMC Sierra
MSRP: $27,515
Resale value retained after five years: 48%
It's not as "American Made" as the competing Ford F-150 or Ram, but it did just get a facelift in 2014 and hadn't received one since 2006. That tells you just how little GM likes to fiddle with it and its sibling, the second-best-selling vehicle in the country Chevy Silverado.
Its new V6 engine increases the base Sierra to 305-horsepower but only increases its highway mileage from 22 miles per gallon in the old model to 24 mpg today. However, adding updates like Chevy's MyLink audio system with color screen, USB ports and an audio jack on top of features including Bluetooth connectivity, OnStar telematics and SiriusXM satellite radio bring the cab up to date. The Sierra's payload and towing capacities have never been the problem. Its antiquated features were, and the updates like in-car Wi-Fi are, far easier to resell half a decade down the road.

8. 2016 Chevrolet Camaro
MSRP: $25,700
Resale value retained after five years: 49%
Nearly 400 pounds lighter, a bit wider, lit in 24 colors and rocking a 6.2-liter V8 with 455 horsepower on the high end (even the four-cylinder base engine produces 275 hp), the redesigned Camaro is a crowd pleaser.
Hooked up with Apple CarPlay, a 7-inch touchscreen, available MyLink navigation, an available phone charging pad, available in-car Wi-Fi, voice-activated controls and smartphone-activated locks and starter, this Camaro is certainly smarter than its predecessors. However, since it doesn't give up any of its trademark brawn to take on that added intelligence, the Camaro makes itself even more desirable years down the road to someone who wants one for a slight discount.

7. 2016 Subaru WRX
MSRP: $26,595
Resale value retained after five years: 50.8%
There are two Subaru cultures: the one that shuttles kids to school, lacrosse practice and the organic grocer of your choice and the one that tunes up the WRX and tears up the streets.
That flat-four Subaru Boxer engine delivers more than 260 horsepower from the base 2.0-liter model and more than 300 hp from the 2.5-liter upgrade. Want to hook it up with paddle shifters, a spoiler, sport-drive transmission and the Starlink infotainment system? Why? If you're really serious about tweaking a WRX and taking it to the streets, chances are you aren't tapping the folks at Fuji Heavy Industries on the shoulder for extra parts. Strip off the emblems, get your candy paint and order all of your upgrades straight from Japan. This isn't a polite parent's Subaru: it's the one their neighbors complain about.

6. 2016 Toyota Tundra
MSRP: $28,640
Resale value retained after five years: 53.8%
Even with less than 10% of the U.S. truck market – compared to nearly 30% for Ford, General Motors and Chrysler – Toyota's big pickup fares just a bit better on used car lots than those of the Detroit Three.
Toyota's created a niche market for pickups like the Tundra and the Tacoma and has seen its U.S. truck sales grow almost 12% through November. The Tundra, much like the Silverado, hadn't had an update since 2007. It received a makeover two years ago that mostly involved giving it a bigger grille and sprucing up the interior with more comfortable seats and touchscreen-driven tech toys. A backup camera now comes standard, as does the Entune audio and information system with touchscreen and Bluetooth connectivity. The 4.0L V6, 4.6L V8, and a 5.7L V8 engines remain, as does the pokey combined 18 miles per gallon, but the payload, towing capacity and -- above all -- reliability are what give the Tundra such a huge following.

5. 2016 Jeep Wrangler
MSRP: $23,895
Resale value retained after five years: 54.9%
Its interior sounds like a tent in a windstorm, its combined 19 miles per gallon isn't exactly efficient and it's a little cozy unless you spring for the stretched out Unlimited version. However, that iconic look and off-road performance don't have an acceptable understudy.
The ground clearance and four-wheel drive come in awfully handy in miserable winter weather, while that removable hardtop makes it a sweet open-air ride in the summer. Carbuyers don't pick up a used version of the Wrangler, because they want to truck the kids around or make grocery runs. They buy it, because they want a "Jeep," and all the fun that conveys.

4. 2016 Chevrolet Colorado
MSRP: $20,120
Resale value retained after five years: 58.3%
In its original incarnation, the Colorado was an Isuzu in General Motors clothing. Jointly designed by the two automakers, the Colorado is still sold as the Isuzu D-Max abroad and once sold as many as 163,000 vehicles in the U.S. before the recession.
However, after Ford dropped its Ranger line of small pickups a few years ago, General Motors began to rethink the Colorado and gave it a more fuel-efficient engine with a combined 21 miles per gallon. It also made the Colorado look a bit more like GMC's Sierra just for the sake of continuity. Assembled in Wentzville, Mo., it's definitely aimed at the U.S. truck buyer who long ago switched to smaller trucks from Japanese automakers.

3. 2016 GMC Canyon
MSRP: $20,995
Resale value retained after five years: 58.6%
Pickup buyers hate change, but the fact that the Colorado and Canyon are basically the same vehicle with different body styling is still tough to swallow considering just how often GM used to do this with other vehicle lines in the past. GM throws just enough luxuries into the GMC version to make it worth the slightly higher price -- it really likes to push the GMC as an optional 4G Wi-Fi hotspot -- but you're basically looking at the same vehicle with similar resale value.

2. 2016 Toyota 4Runner
MSRP: $35,385
Resale value retained after five years: 60.3%
This list was once dominated by SUVs, but the emergence of the crossover has made true SUVs rare beasts. The 4Runner is a mix of the big school and soccer shuttle families want and the gear-hauling weekend vehicle its remaining adherents desire, but it's definitely seen better days. Toyota was selling 114,000 4Runners in 2004, only to see that number drop to less than 76,900 last year.
Sure, it only gets a combined 20 miles per gallon, but it's re-envisioned itslef a tailgater's dream with a power outlet in the cargo space for hooking up a television or other electronic devices, nearly 90 square feet of cargo room and an optional sliding cargo deck. That last feature basically takes out the need for a folding table by providing counter space strong enough to hold 400 pounds of food and beverages.
Even with 15% growth year-over-year, however, the midsize SUV's days are numbered. Crossovers account for 4.1 million of the 5.6 million SUV sales through November. Midsizes? Just 850,000. By comparison, Ford and Chevrolet have sold more F-Series and Silverado pickups than that somewhat small number.

1. 2016 Toyota Tacoma
MSRP: $23,300
Resale value retained after five years: 61.7%
The Tacoma has taken this award 12 times for the reason that every other Toyota is on this list: it's durable. That's a big deal in the Tacoma's world, where carbuyers who don't feel they need all the size and strength of a Ford F-Series or Chevy Silverado are drawn to its off-road agility, flexible cargo options and easy handling.
This year, however, its been completely refurbished (though you wouldn't know it from the combined 22 miles per gallon that is actually less efficient than the model it replaced). Just graduated from the "make it look mean" school of automotive redesign, the Tacoma now has the angular features, menacing grille and leather interior trim to help you stand up to all those domestic pickup owners who won't give your small hauler so much as a sniff. However, with dual-zone climate control, push button start, a GoPro camera mounted on the windshield, a wireless charger, the Entune audio system, backup camera, blind spot monitor and off-road features, the Tacoma is built more for play than for pretending you're taking it to a work site.
This article is commentary by an independent contributor. At the time of publication, the author held no positions in the stocks mentioned.