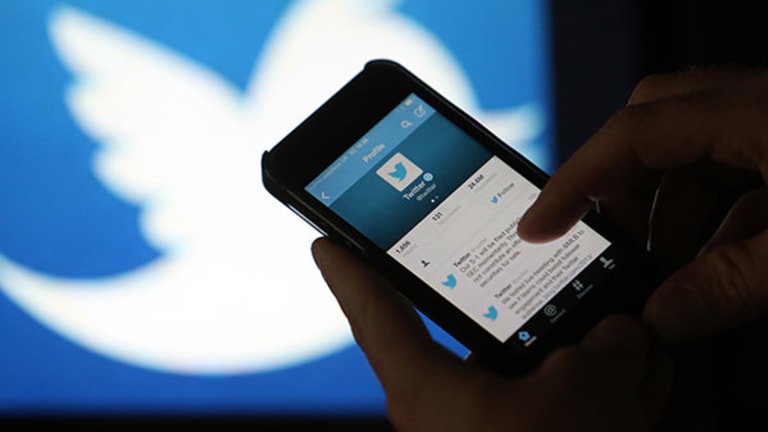 In Twitter IPO, It's Not the Margins That Kill -- It's the Multiples
Look around, investors, and you'll see that the company story is only half about the price of the stock.
NEW YORK (
) -- When it comes to
Twitter
-- and for that, matter
Google
(GOOG) - Get Alphabet Inc. Report
and
Facebook
(FB) - Get Meta Platforms Inc. Report
and
LinkedIn
(LNKD)
and all the rest of the pure-play Internet companies -- it isn't the margins that get you murdered.
It's the macroeconomics.
Is it just me, or is everybody fighting major mental lactic acid buildup tracking the ludicrous looming Twitter IPO narrative? By now, I should be ravenous for the inside dirt on the operation, like
New York Times
columnist Nick Bilton's
on Twitter exec Jack Dorsey throwing his buddy Evan Williams under the bus to gain control of the company.
I know I certainly ought to have dissected many times over Twitter's pre-IPO,
S-1 Securities and Exchange Commission disclosures
of soaring $316 million 2012 revenues looking for inconsistencies. And I should be fascinated by how the once-vaulted
New York Stock Exchange
has been reduced to -- a la Bialystock and Bloom of
The Producers
fame -- running what amounts to a
for the public offering, probably around Thanksgiving, to be sure all goes as planned.
But none of that -- or really, anything else about Twitter -- gets me anywhere close to overcoming the mental bone weariness of covering yet another wave of investors about to get mowed down by the same old Information Age fact: When it comes to tech, the company story is only half about the price of the stock. The other half is the available wealth in investors' pockets to pay that price for the stock.
And, according to alarming new figures from Bureau of Labor Statistics, the core, large-scale macroeconomic productivity that drives demand for tech equities is bleeding from the Information economy like just so many Justin Bieber tweets. 

Also see: #Digitalskeptic: Microsoft Flirts with Free Software>>
The less-productive information economy
In late September, the U.S. Department of Labor
its latest data on
Multifactor Productivity for Manufacturing Industries
(2011 is the latest year for it has released such findings). Here the combined inputs, outputs and total multifactor productivity were ranked and compared for all American market verticals. Percentage gains and losses for everything from motor vehicles to medical equipment, turbines and transmission equipment -- and, yes, computer and peripheral equipment -- were ranked and compared.
Not only did the computer and peripheral sector lead the decline in total productivity, but its drop was in the double digits, falling by easily in the upper mid-20% range by some measures -- despite an overall increase in generic semiconductors and electronics components.
"Double-digit percent increases in output occurred in 15 industries," the report began. Increases in output, it said, were particularly large in turbine and power transmission equipment, metalworking machinery, agriculture, construction, mining machinery railroad rolling stock and audio and video equipment.
Then: "Output declined the most in computer and peripheral equipment and in apparel knitting mills."
That is correct, tech investors: The key productivity inputs of the Information Age are collapsing at the rate of the key inputs of the Textile Age. And this retrenchment is having startling effects on our domestic economic recovery.
In last month's BLS
, the fastest-growing counties in terms of percent of employment were not in tech hubs such as Silicon Valley or suburban Boston, but in Fort Bend and Midland, Texas; Elkhart, Ind.; Douglas, Colo.; and about a dozen other fast-growing energy, mining and agricultural centers.
And get ready for
, San Mateo hipsters: Even though the bureau's data indicate your county saw wages increase by stunning 14.8%, that was just a fraction more than the 14.3% bump in wages made by those who live in little, old Benton, Ark.
Also see: #DigitalSkeptic: Payments Industry Proves Disrupting Is for Losers>>
The shrinking information pie
Be honest: Is this macroeconomic sucking sound in information technology really such a shock? Of course it isn't, if investors really look at the fundamentals of Twitter. Based on the 500 million tweets the company's S-1 says it handles each day, that grosses up to roughly 182 billion tweets per year. Assuming $316 million in annual revenue, Twitter's revenue per tweet is just $0.0017. And worse, that per-tweet revenue does nothing but decline as traffic explodes faster than new dollars flow in.
It's a troubling slip in per-unit revenues that plagues the entire Internet economy.
So now the stormy macroeconomic mountain pass that investors must trudge through is revealed through the digital-age mist. Yes, riches are certain for those insiders, such as the founders of Twitter and Google and Facebook, lucky enough be at the head of the Information Economy wagon train. But for the rest of us settlers, pretending we are at the front of the line when we are most definitely at the back, life is far grimmer.
Yes, Twitter may follow Google to hit $1,000 a share in the next few years. But given the overall macroeconomic step backward inflicted by the information economy, does anybody expect a major equity index such as the
Dow Industrial Average
to break even 20,000?
The long ride ahead will be a zero-sum game where the only way one investor gets paid is to eat another. On a ride like that, nobody gets rich.
This commentary comes from an independent investor or market observer as part of TheStreet guest contributor program. The views expressed are those of the author and do not necessarily represent the views of TheStreet or its management.