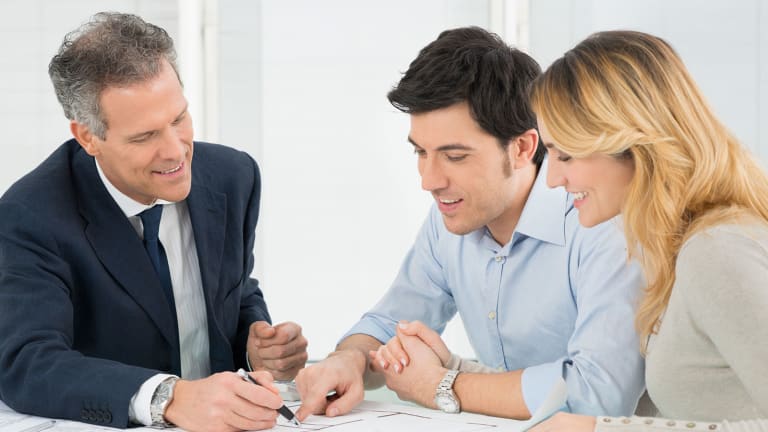 In an Age of Robo-Advisors, Does a Human Touch Still Reign King?
Today's financial advisor is part guru, part therapist, and part friend. Can he cater to you better than a robot or algorithm?
Today's financial advisor is part guru, part therapist, and part friend. Can he cater to you better than a robot or algorithm?
NEW YORK (MainStreet) -- Today's financial advisor is part guru, part therapist and part friend. This person's efforts to humanize difficult conversations about retirement planning can improve a client's attitude and outlook. But, it's a technology question about access as much as a psychology question about control—and social platforms are offering answers to both.
As robo-advisors rise in prominence with billions of dollars under management at platforms like Wealthfront and Betterment, the ease of use and low expense ratios are attractive to tech-savvy clients.
But a social media presence is seen, industry wide, as a solution for human financial advisors to appear more approachable and, perhaps even sexy. Many advisors and firms were slow on the uptake a little less than a decade ago in 2006 when Twitter launched and LinkedIn reported its 20 millionth user, as compliance issues cast social media as having perhaps more risk than reward.
Today, though, Twitter and LinkedIn are awash in friendly financial folks who want to help you manage your money. They are also filled with articles and posts that seem useful, but feel a little uninspired and impersonal. "The key to building relationships is custom content," says Matt Peterson, founder of AdvisorSocial.com, which offers social media setup, integration and marketing to advisors, and president of Make It A Great Day, which offers services such as presentations, tutorials, copywriting and search engine optimization.
Peterson says that it's not just about simply having a digital presence. It's about also cultivating trust by having a reliable and thoughtful brand.
"Clients are smart and savvy enough to sense if a post or an article is canned," he says. "Custom content is more credible. And, being credible separates advisors from their competition."
Credibility as determined by a blog post seems far-fetched at first blush—especially for financial matters. But, it's also about more than money. It's about getting comfortable with a long-term commitment to your financial future, which will include ups and downs, recessions, Wall Street rallies and geopolitical uncertainty. That's not a scientific process, and embracing those blog posts—custom or not—is a good way to get a handle on trends that may be mid-swing or on the horizon.
"Topical content is also more credible [than evergreen content], and we've devoted a lot of coverage over the last two months to Greece, and how Greece may impact an individual's portfolio," says Peterson. Once advisors and clients establish a rapport, it's the same relationship as a brand maintaining a consumer's fondness and trust. With wealth management, the stakes are obviously higher, but the principle of having client or consumer know that a person is behind the machine is no different.
"We have [social media] icons that link to advisor profiles [and] we can pull in tweets," says Peterson, in an effort to reinforce the digital persona of an advisor apart from the big corporate entity that the advisor represents. "It's not just a company profile now," he adds, "it is a series of individual profiles and accounts associated with brand."
Real-life, human advisors, in other words, are critical part of the consumer/client digital equation.
In its 2015 report "Retirement Throughout the Ages: Expectations and Preparations of American Workers," the Transamerica Center for Retirement Studies (TCRS) notes that 73% of American workers who use financial advisors rely on them for a specific, but critical, range of services. The report notes that 56% of twenty-somethings seek out advice on calculating a retirement savings goal and 43% are in it for tax preparation services. 59% of thirty-somethings most often seek out advice on general financial planning, and a full 87% of sixty-somethings are in it for investment recommendations so that their golden years don't tarnish.
"What I tell people is: saving and planning for retirement is as much of a journey as it is a destination," says Catherine Collinson, the president of the Transamerica Institute and TCRS, as well as the author of the report. Taking that journey with a trusted advisor can lead to more prudent decision-making and reduced stress.  "There are so many things we can do along the way to improve our outlook," she says. Of course, enhancing one's financial strategy can be leveraged by technological add-ons to the human advisor experience. Collinson points to online tools, such as TCRS's free retirement calculator, as well as basic principles such as "save more, spend less," or "invest wisely."
The most critical tool for Collinson? A mirror and some harsh lighting -- especially when meeting with a financial advisor.
"Be honest with yourself—completely honest—in mapping out your future," she says. "It's a financial health check, and just as you wouldn't lie to a doctor, you shouldn't lie to yourself. Often the anxiety of uncertainty is far worse than knowing where you stand."
Other online tools can stem some of that anxiety. So-called "robo-dashboards" give clients and advisors a digital common ground to see milestones, adjust goals, and interact in a transparent way. As with the other ways we choose to embrace personal metrics—tracking our health with Fitbit, monitoring our credit scores on the fly with Credit Karma, real-time updates to our phones on energy usage at home—why should our retirement portfolio or financial status be any different?
Arguably, it all started with Mint.com, founded in 2006. Who didn't give it a whirl by adding accounts, setting goals and tracking spending? And, who didn't let out a forlorn sigh when the readings on your "net worth" widget looked like the prairie flatlands? At the very least, Mint (acquired by Intuit in 2008 and integrated into tax software like TurboTax) was the first time many average joes could see all of their accounts in one place. Sure, it seemed like a potential security nightmare waiting to happen. It also functioned as the kind of financial health check that many people hadn't performed in a long time (or ever). But, that's all it was: a checkup. Seeking out actual advice—and a pipeline to a personal advisor that doesn't require going into his or her office—is a different cloud-based solution altogether. Financial advisors, as a result, are amping up their technological capabilities to offer up efficient tech services along with their carefully cultivated bedside manner.
And, that bedside manner is still essential to the financial picture for consumers. It's not the wood paneled office experience with a Frederic Remington bull statue on the corner credenza, necessarily, but advisors are retooling their approach to meet clients halfway on their tablets or laptops.

"Advisors understand that their clients and prospective clients want access to their thinking and social media provides that," says says David Lyon, CEO of Main Street Financial, which offers a tool called Oranj—a dashboard and digital common space for advisors and clients to interact. "Ultimately making the advisor more accessible and convenient, and helping their clients stay better connected to their financial life."
Chicago-based Main Street Financial operates Oranj at four price points for advisors to manage client wealth (starting at $250 per month) based on number of users, from solo practitioners all the way up to large firms or institutions with multiple advisors. The interface allows advisors to monitor their clients' performance, send and receive secure messages, view real time analytics on overall management performance and run reports. On the client side, the dashboard for Oranj lets individuals working with an advisor track goals, investments, risks, and liquidity, as well as manage accounts, monitor net worth, and aggregate important files and documents in the "vault," such as deeds, wills, statements, and appraisals.
"It is really all about collaboration and goal setting, without relying on algorithms that don't take human behavior into account," says Lyon.
The convenience of a dashboard like Oranj addresses financial anxiety, in the sense that monitoring even the smallest fluctuation in performance at least offers the illusion of control. You still need to have a relationship with your advisor, but at least that relationship can extend beyond the physical quarterly meeting (or, as Lyon notes, barely annual meeting, in most cases) to discuss your status and future.
"Technology and social media," says Lyon, "is not an either/or proposition."