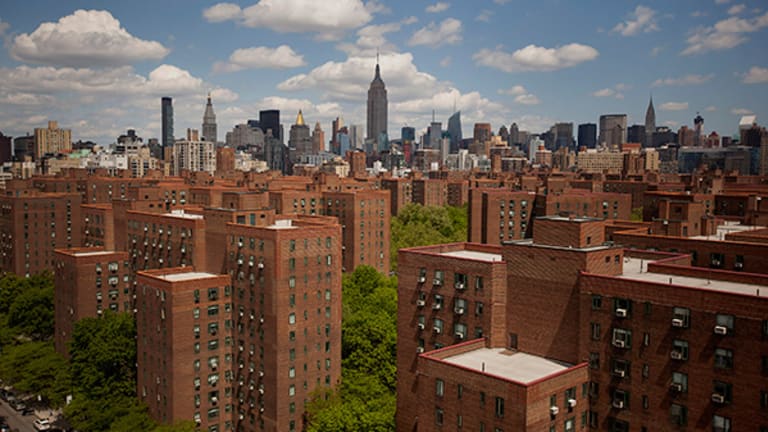 Improve Your Credit Score By Renting An Apartment -- A Little-Known Trick
Your credit score could improve after just one month into a new apartment lease.
NEW YORK (MainStreet) — We pay a lot of bills every month that generally don't get considered when computing our credit score. The cable or satellite TV bill, utilities – and especially rent. That's no small deal: the national average monthly rent just topped $1,000, according to TransUnion, rising more than 3% year-over-year, from $984 for the same period in 2013. And the cost of rent went up in every property category, from newer institutional properties to older rentals in less desirable areas that require renovations and updating – which saw rents rise nearly 8%.
While credit reporting agencies are beginning to factor in some "alternative payment data," TransUnion offers a service to encourage property managers to report the payment histories of their tenants – and that could be a big boost for consumers as well as landlords.
TransUnion says for renters with below-par credit scores, including rental payments in their credit histories could cause nearly 80% of consumers to see a boost in their score after just one month into a new apartment lease.
"Many consumers are still recovering from the economic malaise brought on by the past recession, but those consumers who wish to rent can now see meaningful improvements in their credit score after making their first on-time payment," said Michael Doherty, senior vice president of TransUnion's rental screening solutions group. "This can help renters who want to purchase homes or cars receive better loan terms, potentially saving them thousands of dollars."
This could be of major benefit to the 40 million Americans who rent. First-time home buyers in early 2012 saw a 5.2% increase in their credit score over the year following their purchase, because their payment history was reported to credit agencies. But renters, whose monthly payments are not usually reported, saw a slight decline in their credit score during the same period.
"We continue to see improvement in the credit risk of renters, which gives them more opportunities to receive better rental terms," said Doherty. "This is a continuation of a trend we have now observed for the last few years. With the advent of rental reporting… improvements in credit risk will also help renters build their credit by making on-time, monthly rental payments."
Other than paying your rent on time, there is little you can do to push this process forward – other than perhaps asking your property manager if they report rental payments to credit agencies. When they raise their eyebrows in response – wondering what your ulterior motives may be – you can reassure them of the benefits on both sides of the transaction: They can better manage their credit risk while rewarding prompt payers with favorable credit histories.
--Written by Hal M. Bundrick for MainStreet