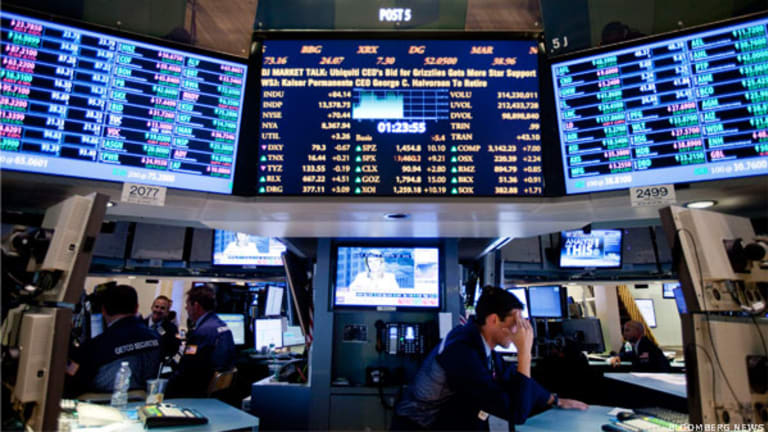 iMoney Patent and Other Digital Wallet Patent Battles
If you thought the mobile patent wars had reached a crescendo with the Apple v. Samsung battle over design patents, think again.
By Preetam Kaushik
NEW YORK (
)--If you thought the mobile patent wars had reached a crescendo with the
Apple v. Samsung
battle over design patents, think again.
With digital payments shifting to the mobile
, the patent battleground may just have shifted to innovations in the field of digital wallets.
Do No Evil
For a change, it is Google that's been made out as the bad guy. In 2011 it was hit by a lawsuit by PayPal, whose honchos were angered that two of its top executives jumped ship to head to
Google Wallet
. PayPal claimed trade secrets were stolen and that the ex-employees violated their terms of employment by engaging in discussions with Google while still being at Paypal.
Read: Digital Wallets Suffer Lack of Collective Spirit
Google was also sued in the same year by Peter Sprogis, CEO of Molo Rewards, a loyalty start-up which claimed that its
NFC-based innovations
were infringed upon by Google. This was preceded by a patent litigation filed by E-Micro against Google where interestingly the situation was resolved when E-Micro's mobile payments patent portfolio was acquired by Google for an undisclosed sum, and the lawsuit withdrawn.
Unfortunately for Google, its wallet has not been the runaway success like some of its other products. It's blocked on Verizon, AT&T, and T-mobile phones and after investing a rumored $300 million in digital wallet technologies, Google CEO Larry Page recently replaced the ex-Paypal executive heading the business, replacing him with a Google insider.
However, as Google's shown in social media, the giant does not give up easily, especially on a market that is estimated by Forrest Research to reach $90 billion by 2017. "Payments are a big part of what people do everyday, and we're committed to making them easier for everyone," says Google spokesman Nate Tyler.
Pay for Portfolio
The E-Micro example underlines the growing importance mainstream investors must assign to the value of patent portfolios held by a company. Leading patent attorney Roman Tsibulevskiy of Goldstein Patent Law, a firm specializing in providing custom IP strategies to both large corporations and individuals, observed after the Samsung judgment that "this and other legal patent battles bolster the claim about the value of patents."
The best illustration of the value of patent portfolios came in July 2011 when bankrupt Canadian telco
Nortel
sold its 6,000 odd patents for an eye-watering $4.5 billion to a consortium of tech giants that included
RIM
,
Sony
,
Microsoft
and
Apple
. Google had already acquired a $900 million tranche of patents from Nortel before the competition woke up to the huge opportunity.
iPatents
Apple stirred the digital payments industry
recently by applying for a wallet patent that combines virtual currency--which can be used for rewards, and digital payments. Referred to colloquially as "iMoney" in the business media, the patent also mentions an advertising plugin where iOS device users could get paid for watching ads.
"Patents come with a right to exclude," Tsibulevskiy said. "If this patent is actually granted, then this patent family can allow for creation of another front of a patent war relating to mobile devices, similar to Samsung."
While Apple is no stranger to digital wallets, with its
PassBook app
, this patent is significant for a few other reasons. Technologically, it involves the use of NFC technology, something Apple has been resistant of until now (It has also developed a non-NFC technology called Airdrop). Commercially, it opens up new segments for Apple as the virtual currency feature could put it on par
with players like Bitcoin
, though according to Tsibulevskiy the two models are very different with Bitcoin being fragmented and Apple highly centralized.
IPR-wise, it underscores a philosophical shift that Apple has made to acquiring patent portfolios, from its earlier exclusive focus on in-house patent creation. The "iMoney" patent traces its lineage to a Finnish duo working for a British company, CVON innovations, who filed this patent originally in June 2007. This was part of the London-based company's portfolio of 35 patents dealing with data transmission, messaging, and payments in a networked environment, which were acquired in 2011 by Apple.
Envision IP, a consulting firm specializing in intellectual property carried out an extremely interesting research of Apple's patent trends. In 2008, the company acquired just 12 patents which jumped to 291 patents by 2010, in areas as diverse as operating systems technologies and cable connector hardware. However, it was in 2012 that Apple acquired a massive 1,264 patents including 810 from just Nortel alone while its own patent applications have been stable at around a 1,000 every year.
Apple's unveiling a slew of patents related to mobile payments. It was recently granted a patent that allows an individual to set up subsidiary financial accounts for a spouse, child, or employee that can be administered through a new iTunes mobile payment service.
The Wallet Wars
Consumers, though, do not care about patents. As far as they are concerned a
digital wallet should make payments simple to execute, secure, and give them a wide range and flexibility in payment options. Lower transaction fees help too.
Read: The True North Goes Digital
Traditional payment heavyweights like Visa and Mastercard have watched as first online payment specialists PayPal, and now disruptive mobile payment start-ups like Dwolla and Square have captured center stage. PayPal clocked $14 billion in mobile payments in 2012 and expects to do $20 billion in 2013.
Dwolla has disrupted the industry by bypassing credit card networks
completely and building its own ecosystem--offering customers a flat transaction charge of just 25 cents and no fee at all for purchases of $10 or less. Square pioneered the mobile device- as-a-card reader concept, allowing even small retailers to become part of the m-commerce boom--which made the company around $275 million in transaction processing fees.
Late to the party, Visa launched its wallet V.me, and Mastercard extended its
NFC-payment service PayPass
to other devices with a new PayPass Wallet (
since rebranded to MasterPass
) service. By the end of 2012, V.me was available to over 55 million Visa cardholders, and around 50 banks and 20 merchant partners had joined the program.
MasterPass interestingly was
first launched in Australia and Canada
before debuting in the U.S. where it can be used at 180 merchants. The point of sale version of MasterPass aims to be a single window solution supporting QR codes and NFC besides conventional electronic payments.
Fast Forward
While the current digital wallet debate is synonymous with payments, expect the future digital wallet to combine all three elements that constitute an individual's real world wallet today: identity, loyalty and payments.
The digital wallet will reside overwhelmingly on mobile devices, so it is no wonder then that Apple is keen to leverage its captive user base of approximately 400 million iOS users worldwide--a strength the payment processors do not have. Industry watchers like Credit Suisse research analysts James Kissane and Moshe Orenbuch believe that the PassBook app combined with the iTunes service that stores personal information gives Apple the tools to be a truly disruptive player in the digital wallet space. With Apple stock rated as "Outperform" by Credit Suisse, Apple seems to be willing to put its money where its mouth is.
Read: The Great Urksby: Princeton Revisited
However, Apple can expect stiff competition from the likes of Square founder Jack Dorsey who famously was quoted as saying, "We are the only payments company in the world that's concerned with design." Patents will be the means to deliver a superior customer experience, and mobile wallet solutions they can become the wallet of choice the players in this industry have a few battles still to fight, both in the market and in the courts.
--Written by Preetam Kaushik