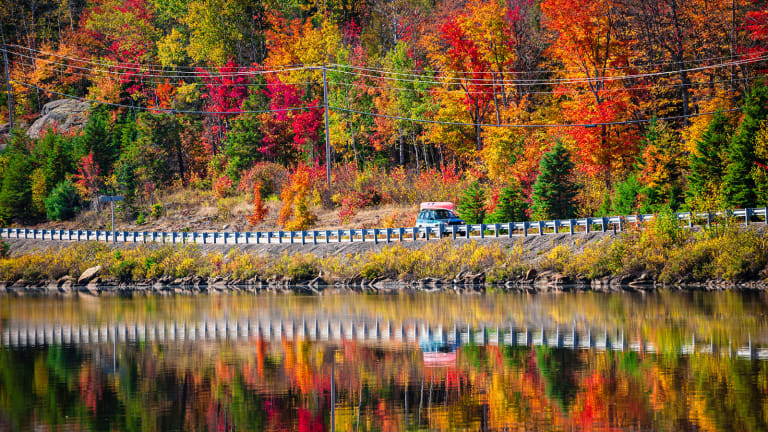 If You're Not Booking Travel in the Fall Now, You're Getting Hosed
Not only are airfares at their cheapest from now until about Thanksgiving, but even international destinations are accessible at a discount.
Actual fall is still a bit away, but fall travel season and its deals have already begun
Savvy travelers know where to look for off-peak travel dates and deals in the early weeks of December, much of January and even early summer, but pricing rarely gets better than what you see in late August and the September weeks following Labor Day. Rick Seaney, chief executive of travel site FareCompare.com, notes fall bargain travel season kicked off on August 23 and sent prices plummeting. With kids headed back to school, college freshmen weeks into their first semester and parents finally finished with back-to-school shopping, Seaney notes that demand for hotel rooms and flights dives on that first day, recovers somewhat for Labor Day and slides into deep autumn discounts.
"As for airfare prices, they can drop as much as a third or more over summer airfare," Seaney says. "For my money, autumn is the best time of the year for a vacation: it packs the one-two punch of great weather and great airfare prices."
In May, travel site Hopper noted that projected airfare peaked at an average of $252 in June, but steadily slides to $213 by October. It might be tough to book anything earlier than late September now, but much of October foliage season and pre-Thanksgiving November falls within FareCompare's recommended booking window of 30 days to three months before departure. If you book online on a Tuesday at about 3 p.m. Eastern, you stand the best chance of hitting an airline sale and getting the best price on tickets. Meanwhile, if you fly on a Tuesday, Wednesday or Saturday, you stand to get a better deal than at any other time of the week.
Hopper notes that the price of jet fuel, though more than 40% above its low point at the end of 2015, is still cheaper than it's been since 2009, giving airlines some room for discounts. Overall, prices are already down about 8% compared to the same time last year, and 15% compared to two years ago as airlines have played along. TripAdvisor-owned travel analysis site SmarterTravel notes that JetBlue and Southwest have already slashed fares for the season, and more sales may be on the way.
But where do you go? Well, Hopper suggests that a Brexit-weakened British pound and plummeting post-Brexit fares make this a good time to hop the pond and hit London, Edinburgh and other U.K. spots. Round-trip fares from the U.S. have plummeted below $700 and are heading lower as we get deeper into the fall travel season.
Also, go where the people aren't. You won't be the first genius to think of hitting New England to grab some cider doughnuts and watch the leaves turn colors, and you'll be far from the only traveler who thinks hitting wine country during harvest season is a great idea. As Hopper notes, you should consider going to the places that other folks are getting ready to leave.
With summer ending, airfare to Dallas or Austin is slated to drop by roughly 25%. Meanwhile, Miami, West Palm Beach, Orlando and Fort Myers are all seeing about 20% shaved off of their ticket prices as Florida heads into a vacation lull with the kids back in school. Meanwhile, if you want to take advantage of a 20% discount to walk the waterfront in Chicago or tour the monuments in D.C., we'd suggest doing so before either gets snowed in.
Meanwhile, if it's in the Caribbean, it's going on sale. Airfare to Grenada, Costa Rica and the Dominican Republic drops by roughly 30% around this time of year as the region goes into the lull before the holidays and the winter peak season. Rio gets about 25% cheaper with the Olympics finally out of the way, while either Cancun to the south and Vancouver to the north beckon with 22% discounts.
But act soon, while others are distracted.
This article is commentary by an independent contributor. At the time of publication, the author held no positions in the stocks mentioned.